Navigating the high seas of the crypto ecosystem can be daunting. There is a vast array of cryptocurrencies and instruments available in the market for you to potentially turn a profit. 
But whether you're old or new to the crypto world, one strategy continues to reign over all: dollar-cost averaging (DCA). 
Originally used to invest in traditional financial instruments like stocks and bonds, this tried-and-true approach works exceptionally well for crypto, shielding you from its volatile price swings.
And yes, DCA is well-suited to the two crypto giants: bitcoin (BTC) and ether (ETH). 
Read on to learn more about how you can use DCA to build a resilient crypto portfolio with these two assets.
What is Dollar-Cost Averaging (DCA)?
Before comparing DCA for Bitcoin and Ethereum, let's recap what DCA entails. 
Short for dollar-cost averaging, DCA is a long-term investment strategy where you buy a fixed dollar amount of an asset, regardless of price. 
In practice, DCA enables you to buy more of an asset when the price is low and less when it's high.
DCA completely ignores prevailing market movements, ensuring you stay on track with your long-term investment goals. It helps you negate the impact of market volatility and (potentially) accumulate more of the asset over time.
DCA for Bitcoin: A Strong Foundation
Is DCA Good for Bitcoin?
Bitcoin (BTC) has built a reputation for being a solid store of value in the crypto world. Backed by strong fundamentals since its creation in 2009, BTC has remained steadfast even through periods of market turmoil and negative sentiment.
However, like most other crypto, BTC's price tends to fluctuate significantly and can be hard to predict. DCA serves as a strong buffer against this volatility, giving you several advantages when you use it for BTC:
1. Mitigate volatility: DCA helps you avoid the stress of trying to time the market and instead capitalizes on the long-term growth potential of BTC.
2. Investment horizon: DCA is ideal if you're an investor with a long-term investment horizon. If you believe in Bitcoin's potential to revolutionize finance, DCA helps you accumulate it without getting caught up in the day-to-day market noise.
3. Reduced risk: By spreading your investments over time, you reduce the risk of making poor investment decisions driven by short-term emotions.
Check out our deep dive into using DCA for Bitcoin.
DCA for Ethereum: A Dynamic Choice
Is DCA Good for Ethereum?
Like Bitcoin, Ethereum is backed by strong fundamentals. However, in Ethereum's case, these are rooted in it being the founding father of smart contracts, decentralized applications (dApps), and decentralized finance (DeFi). 
Ethereum continues to be actively developed even today, having recently completed major upgrades to improve its scalability, efficiency, and long-term prospects.
However, like Bitcoin and other cryptocurrencies, Ethereum's token ether (ETH) is also subject to market volatility. DCA is your best bet against these price swings, ensuring you continue to accumulate a steady stream of ETH over time.
Check out our deep dive into using DCA for Ethereum.
Is it Better to Trade BTC or ETH?
There's no right or wrong answer to this question. The choice depends on your investment style. 
Bitcoin is a "digital gold" store of value, while Ethereum is the backbone of smart contracts and decentralized applications (dApps). 
If you believe in the future of decentralized finance (DeFi) and want to diversify your crypto portfolio, ETH is an excellent choice. Alternatively, if you just want to work with a relatively safer option in the crypto world, BTC is the crypto for you.
You can also consider adding both coins to your DCA portfolio - after all, there's no harm in diversifying your investments with the two strongest cryptocurrencies in the world.
DCA Bitcoin and Ethereum with Bake
Bitcoin and Ethereum are clearly strong contenders for your investment portfolio. You can start your DCA journey for both coins by setting up recurring buys with Bake now. 
With the lowest fees in the market and guaranteed rewards, Bake ensures you maximize your returns by staying consistent in the long haul.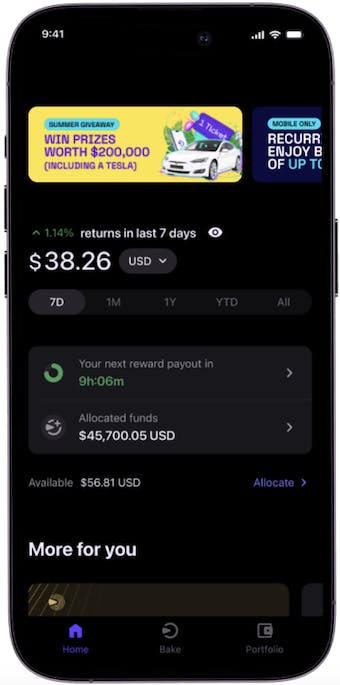 That's not all - from now until 01 November 2023, you can win a Tesla and a share of US$200,000 in prizes in Bake's "Baking Hot Summer Giveaway." 
Win tickets for every BTC and ETH recurring buy you make, and increase your chances of winning by inviting your friends to sign up for a Bake account. Beyond the tickets, you'll also earn referral commissions for every successful sign-up.

DISCLAIMER: Please note that the information on this blog and in any articles posted on this blog is for general information only and should not be relied upon as financial advice. Cake Pte. Ltd., Bake, UAB, and its affiliates (the "Cake Group") are not licensed financial advisers. You may wish to approach your own independent financial advisor before making any decision to buy, sell or hold any product and/or digital assets mentioned in this blog.
Any views, opinions, references, assertions of fact and/or other statements are not necessarily the views held by the Cake Group. The Cake Group disclaims any liability whatsoever that may arise out of or in connection with such statements. Always do your own research before investing in any financial assets and consult a qualified financial advisor if necessary.