Dear Cake Customers, Partners, Team Members and other Readers,
It is my pleasure to unveil our company's 2023 Q1 transparency report, providing you with valuable insights from a broader perspective. Before delving into the details, allow me to briefly reflect on the crypto market in the previous quarter, which witnessed a series of unanticipated outcomes. We observed three distinct phases that shaped the crypto markets:
January: The Resurgence of the Bull Market and Underperformers' Comeback
In January, the markets experienced a bullish correction as they bounced back from the downturn observed in Q4 2022. This recovery period showcased revitalized investor confidence, laying the groundwork for the months that followed. Interestingly, the industry sectors and assets that underperformed the most in 2022 experienced the strongest rebounds, suggesting a potential change in market sentiment and a renewed interest in previously struggling sectors.
February: The Sideways Shuffle
As February unfolded, the market transitioned into a phase of stagnation, characterized by minimal price fluctuations. This sideways phase offered a brief respite from the price volatility witnessed in the months before and after, with investors carefully monitoring the evolving landscape.
March: Banking Crisis and Crypto Crackdown
During March, the crypto world was shaken by two significant events occurring simultaneously: a banking crisis and a crackdown on major cryptocurrency platforms, such as Coinbase, Kraken, BUSD, Silvergate, USDC, Binance, and Paxos. The confluence of these events led to a massive sell-off in stablecoins, primarily BUSD. This, in turn, sparked a price increase for cryptocurrencies, with bitcoin primarily reaping the benefits as it was perceived as a safeguard against the beleaguered banking sector. This did affect us dramatically, prompting us to adopt an even more cautious approach concerning regulatory compliance.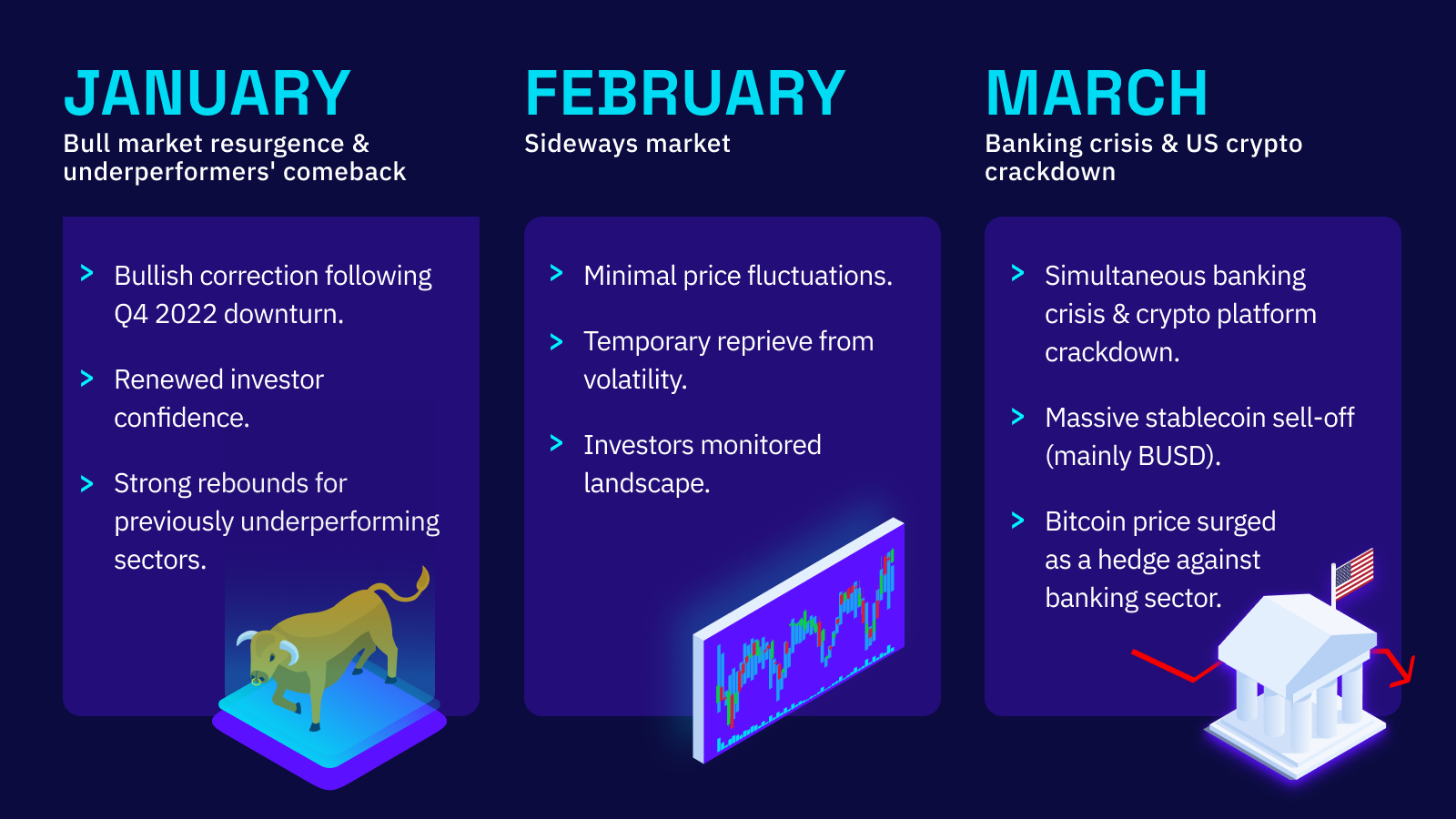 If I had told you at the beginning of Q1, how wild the events would turn out, I'm not sure you would have predicted that crypto markets would have experienced one of their strongest quarters ever, with bitcoin surging by a staggering 70%. With the bullish sentiment making a comeback in the markets, it comes as no surprise that we as a group did well from a financial standpoint. Yet, it wasn't merely the favorable circumstances that helped us; we also delivered extremely well on all fronts, as evidenced by our progress on our Q1 OKRs!
GROUP level (CDH)
On a GROUP level (CDH), we managed to achieve all our OKRs:
Overall, we generated a strong profit in Q1 2023, marking a remarkable turnaround from the previous quarter's losses.
We remain committed to maintaining our target runway of three to four years if crypto prices were to plummet to zero, or seven to ten years at current prices. How many other companies can boast the same?
Our team expanded from 164 members at the beginning of Q1 to 171 members by the end of the quarter. We welcomed 22 new members while also replacing those who underperformed. Our HR team sifted through approximately 5,000 resumes, leading to over 400 job interviews, to achieve this growth.
Our target is to have close to 190 team members by the end of Q2, which is in line with our 2023 target of 210. We invite you to explore our current job openings at: https://cakedefi.com/jobs
I decided to restructure the Operations team, integrating it into the Finance team, which yielded significant improvements in Q1. This was one of the most difficult choices I faced in the past quarter, but it has proven to be incredibly rewarding.
We adhered to our plan of forgoing team trips or events in Q1, but have now scheduled a company-wide off-site event in Phuket. This enables us to bring together nearly the entire team at a reasonable cost.
We have successfully opened our new office in Kuala Lumpur, and once MiCA is ready for Europe, we plan to establish an office there as well, accompanied by lots of local activities.
In light of the ongoing crypto crackdown, our Legal, Risk and Compliance team is taking additional measures to ensure all our entities operate legally. They have meticulously reviewed all our T&Cs and the legality of our service offering.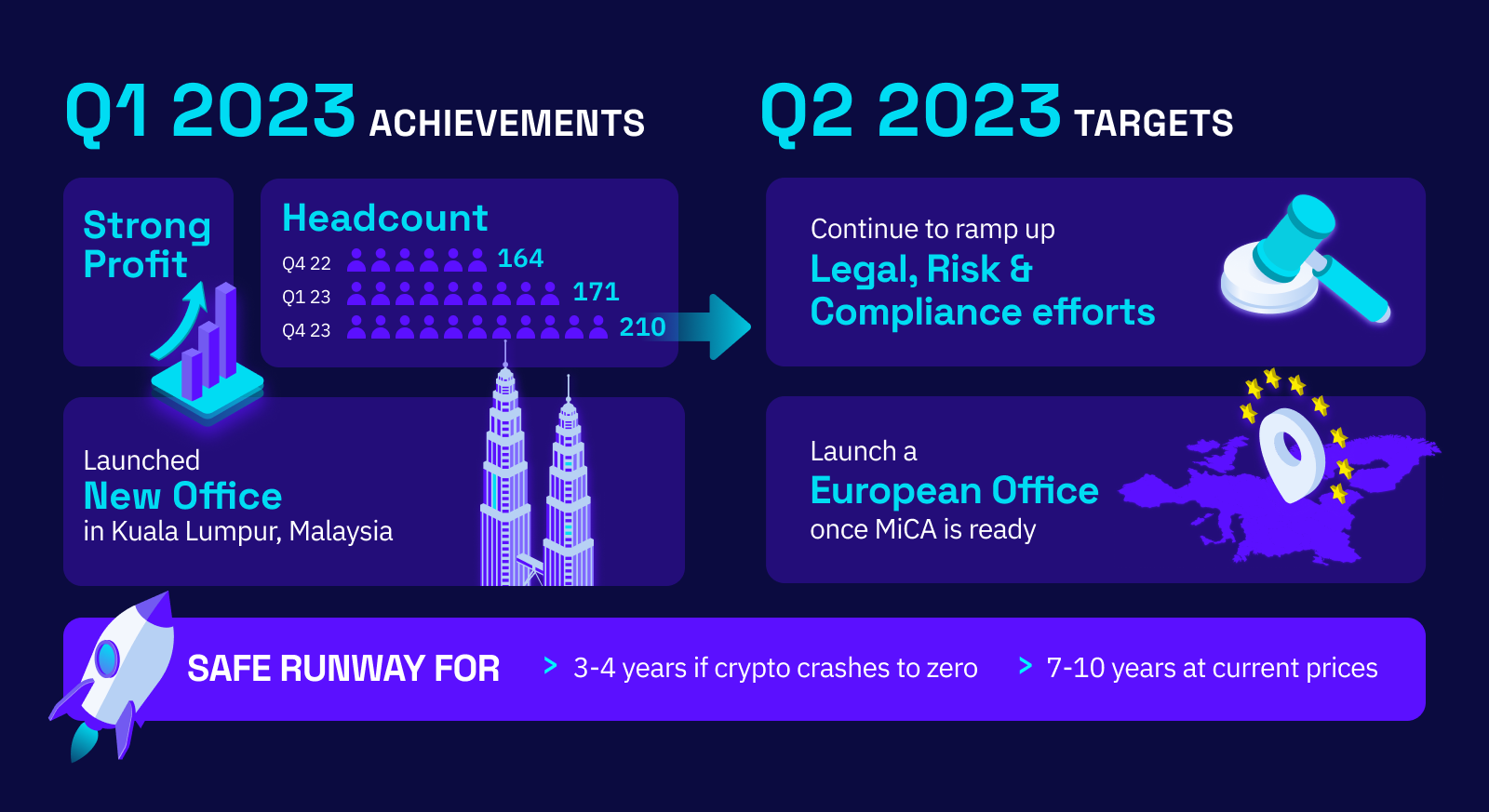 RETAIL (CDF) arm
On the RETAIL (CDF) side, we performed exceptionally well, particularly on the product front:
In Q1 2023, we paid out approximately 9.3 mil USD in rewards to our users.
We added two new coins, MATIC and EUROC, in line with our OKRs and plan to add more in Q2: https://cakedefi.com/staking
The launch of our on-chain lending service, YieldVault, has gained massive traction, offering transparent yields for Bitcoin, Ethereum and Stablecoins: https://app.cakedefi.com/yield-vault
We launched cakeELITE, which was received with great enthusiasm. We intend to further enhance the program significantly in Q2, introducing exciting new benefits: https://app.cakedefi.com/me/elite
Last year, the marketing team was part of our weakness. That should be all fixed now going into Q2. In Q1, we brought on senior team members on the content and social media side, and have a new CMO and VP of Content confirmed to start in Q2. Additionally, given the  increased scrutiny of crypto in general, I prefer to err on the side of caution rather than aggressiveness in our user growth right now. This stance may change, but at the moment, I want us to prioritize safety.
We are also in the final stages of launching our revamped app, which will provide a solid foundation for a super simple AI-assisted service approach catering to everyday users. This will set us on the path to becoming a one-stop platform for taking control of your financial destiny!
In terms of hiring, we have assembled many of the essential team members and will help them settle in during Q2. Nevertheless, we continue to seek a Head of Product, content writers, designers, JS engineers, data engineers and DevOps engineers. Should any of these positions interest you, please visit our jobs page: https://cakedefi.com/jobs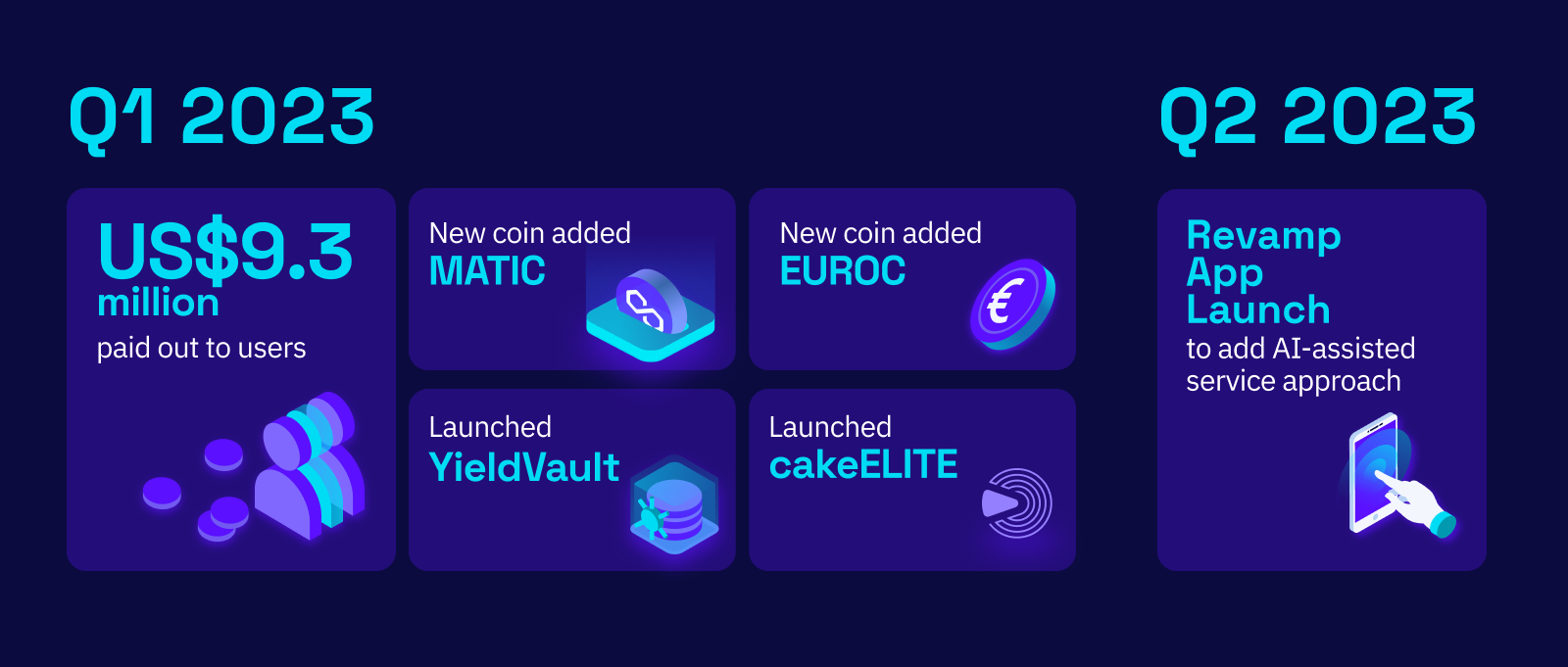 Open-source RESEARCH AND DEVELOPMENT  (OSS) arm
On the open-source RESEARCH AND DEVELOPMENT side (OSS), we have also achieved our OKRs:
On DeFiChain, we have facilitated the launch of on-chain governance and released a roadmap to help with the launch of MetaChain in Q2.
We have also released the Quantum Bridge, which connects DeFiChain with Ethereum, and has the potential to connect numerous other blockchains in the near future. The Quantum Bridge will also get a queuing function in Q2.
DFI underperformed against BTC in Q1 2023. However, this was primarily due to BTC's strong performance, as many other altcoins also fell short. In Q2, we plan to explore ways to support the DFI price. We prefer to keep these strategies under wraps, focusing on taking actions rather than discussing our plans publicly.
We also have developed something very exciting on top of the Bitcoin blockchain, which will be launched in Q2, either under our own brand or a separate one. This new project will generate substantial network effects for our current products.
Similar to our retail side, we are fine-tuning our marketing strategy for the open-source sides, and are currently looking for a Marketing- and Product-Lead. Additionally, we hope to bring on board a developer evangelist, who can work with projects and connect them to our launch pad. As always, we are constantly looking for talented JS and C++ developers on https://cakedefi.com/jobs.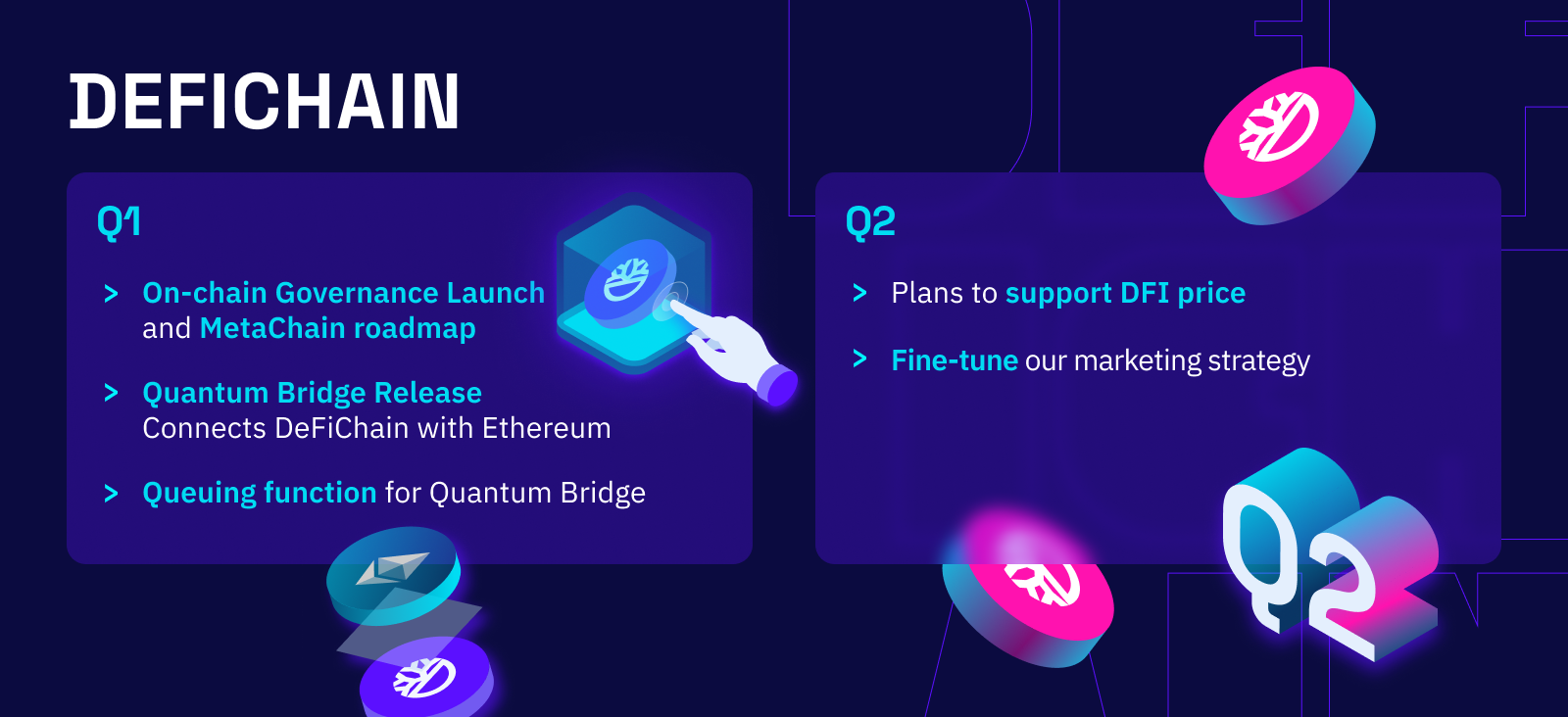 ENTERPRISE (CDE) arm
ENTERPRISE (CDE), the latest addition to the Cake Group, has made significant progress in Q1:
Our enterprise custody solution is now ready, and our inaugural clients are ready to go: https://enterprise.cakedefi.com/
Following the addition of Ethereum and ERC20 in Q1, we aim to add UTXO blockchain support in Q2. We are also considering the integration of other highly sought-after blockchains, such as Arbitrum or similar blockchains.
Our primary focus, in addition to sales and the provable security system, will be the development of a robust marketing funnel. We are seeking a Marketing Lead to help us achieve our annual OKRs, with the goal of becoming one of the top players in this field by the end of 2023.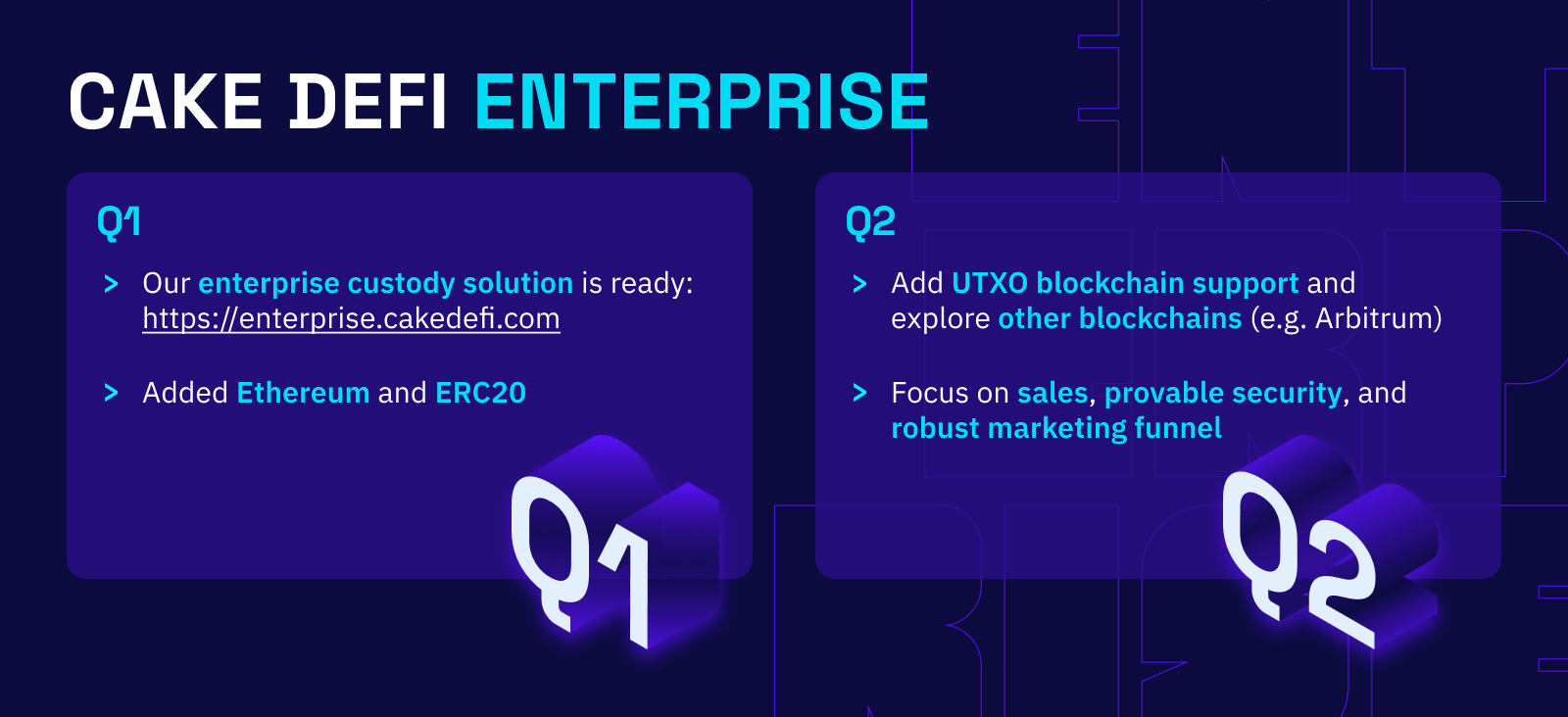 Things to watch in Q2
Naturally, the above-mentioned thoughts and goals for Q2 depend highly on the general crypto market sentiment in Q2. I do see 10 things that we need to watch closely:
Market Correction: After an incredibly strong Q1, we may witness a market correction in Q2, as the factors that drove Q1 prices could reverse.
Shapella ETH Unstaking: The scheduled Shapella ETH unstaking event on April 12th has the potential to cause market fluctuations.
DCG Loan Due: A $575 million DCG loan is set to be repaid to Genesis in May, which could potentially affect market liquidity.
US BTC Sale: The US might sell $1 billion worth of BTC, potentially impacting crypto valuations.
Crypto Crackdown: The ongoing battle between Binance and the CFTC could lead to further crackdowns throughout 2023.
Economic Crisis: There is the potential for a full-blown economic crisis that could significantly impact financial markets.
Real Estate Issues: Real estate problems may arise, contributing to market instability and uncertainty.
MiCA Regulation: The expected approval of the MiCA regulation in Europe could introduce new rules for the crypto industry.
FED Balance Sheet & Rate Hikes: The Federal Reserve's balance sheet and potential rate hikes could influence market dynamics and investor sentiment.
USD Hyperinflation: The risk of USD hyperinflation looms, which would have far-reaching implications for the global economy and financial markets.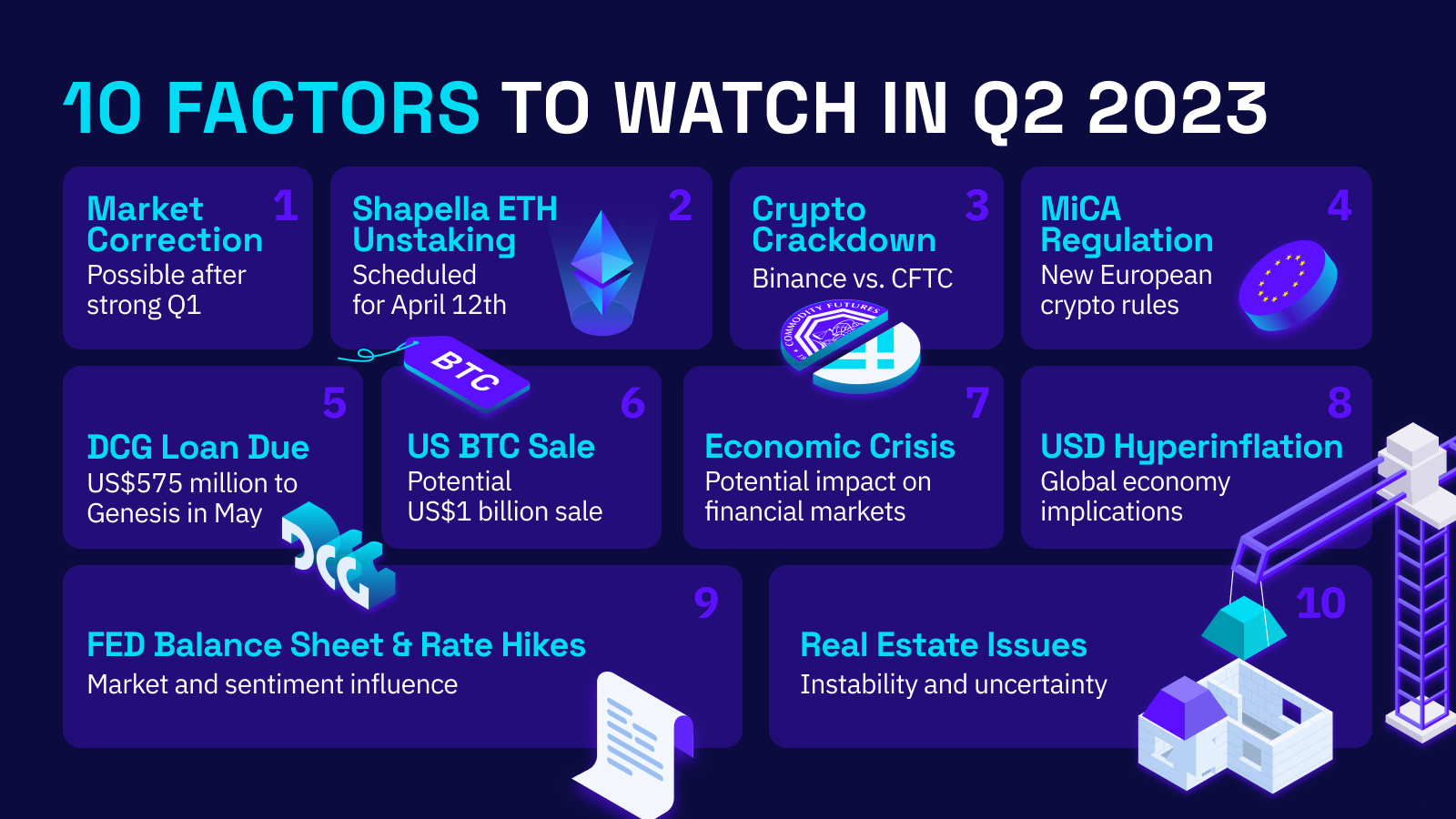 Once again, our Q2 targets are ambitious, and while we may not accomplish them all—particularly if market sentiment turns bearish—I believe it's better to aim for the moon and land with the stars, than to never reach escape velocity. It is an immense privilege to embark on this journey alongside you, empowering you to take control of your financial future with us. Your trust, support, and patronage mean the world to us. Thank you.
Julian
CEO & Co-Founder Cake DeFi