Dear Community, Partners and Investors!
Even though Q2 of 2022 has been one of the worst quarters for the cryptocurrency industry and entire investment sector, Cake DeFi has seen its strongest quarter yet when it comes to customer growth, funded accounts and payouts! Your continued trust and support are what have enabled us to accomplish all of these things. Thank you very much for that!
Before I go into the last quarter's outcomes and reflections, I would like to provide a glimpse into a recurring situation my co-founder U-Zyn and I had faced over the past three years. Cake DeFi might not be here today had we made a single different decision. As with any crypto company, we always needed external partners, either for aggregation or simply access to deals. We can't think of a single company that has been in the news the past few months that had not approached us with a business opportunity. They always offered us some of the most attractive opportunities ever, and there were many times U-Zyn and I just sat there asking ourselves: "Are we the idiots here, or is everyone else?". We stuck to our guns and rejected any offer where we did not know where the users' funds were placed or if we did not receive more collateral than what we provided. This cautious approach may have slowed us down in the short term but paid off in the long run. With all this madness unfolding around us, Cake DeFi remains one of the few yield generation aka CeDeFi platforms still standing.
Reflecting on Q2, the team worked hard and stayed focused to achieve the best results possible. Our very first OKR was to be a multichain service provider and to add more coins to the platform. The goal appeared to be easily achievable at first. Unfortunately, in the wake of the Terra Luna debacle, many CeFi platforms became insolvent. As a result, Bitcoin lost almost 70% of its value from its highs in 2021, while many altcoins lost 80-90%. Consequently, it wasn't the easiest quarter for any crypto company to scale. Several product launches had to be put on hold as we focused on stabilizing the existing infrastructure. In particular, this meant launching a transparency page (www.cakedefi.com/transparency) to reassure our customers and ensuring we had close to zero uncollateralized exposure to external parties.
Our second OKR was to maintain a positive cashflow. Not only did we accomplish this, but we also had our strongest growth in customer numbers ever. It was largely due to our fully developed marketing team, which invested heavily in social media and referral strategies. Our week-over-week growth was higher than some quarters in the past, despite the negative market sentiment. In spite of the massive growth, we were able to maintain the proportion of active customers, and we never saw a single week with declining funded accounts. Switching to an automated KYC system with 3-minute approval times and improving the user experience in our mobile app also helped greatly. 99% of all withdrawals are now processed within just a few hours, as our operations team has worked hard to improve withdrawal times while still prioritizing security. In Q2, we paid out a total of US$58 million in customer rewards. The goal remains to stay cashflow positive going forward. Even in the unlikely event that revenue would dry up completely, our treasury provides for at least 4 years of runway.
Our third OKR was to complete the PCAOB audit, which our finance team completed right at the beginning of Q3. As a result of the current market conditions, we decided to delay any plans to go public and instead are keeping our options open. After the audit has been completed, it's all about finding the right partners and the right timing. We may release the audit independently to the public as it underlines how well-governed the company is. It will also reaffirm statements made in the past around our finances and growth, and give our customers, partners, and investors assurance of our operational soundness. This will help us attract further talent, customers, and if strategically needed, investors.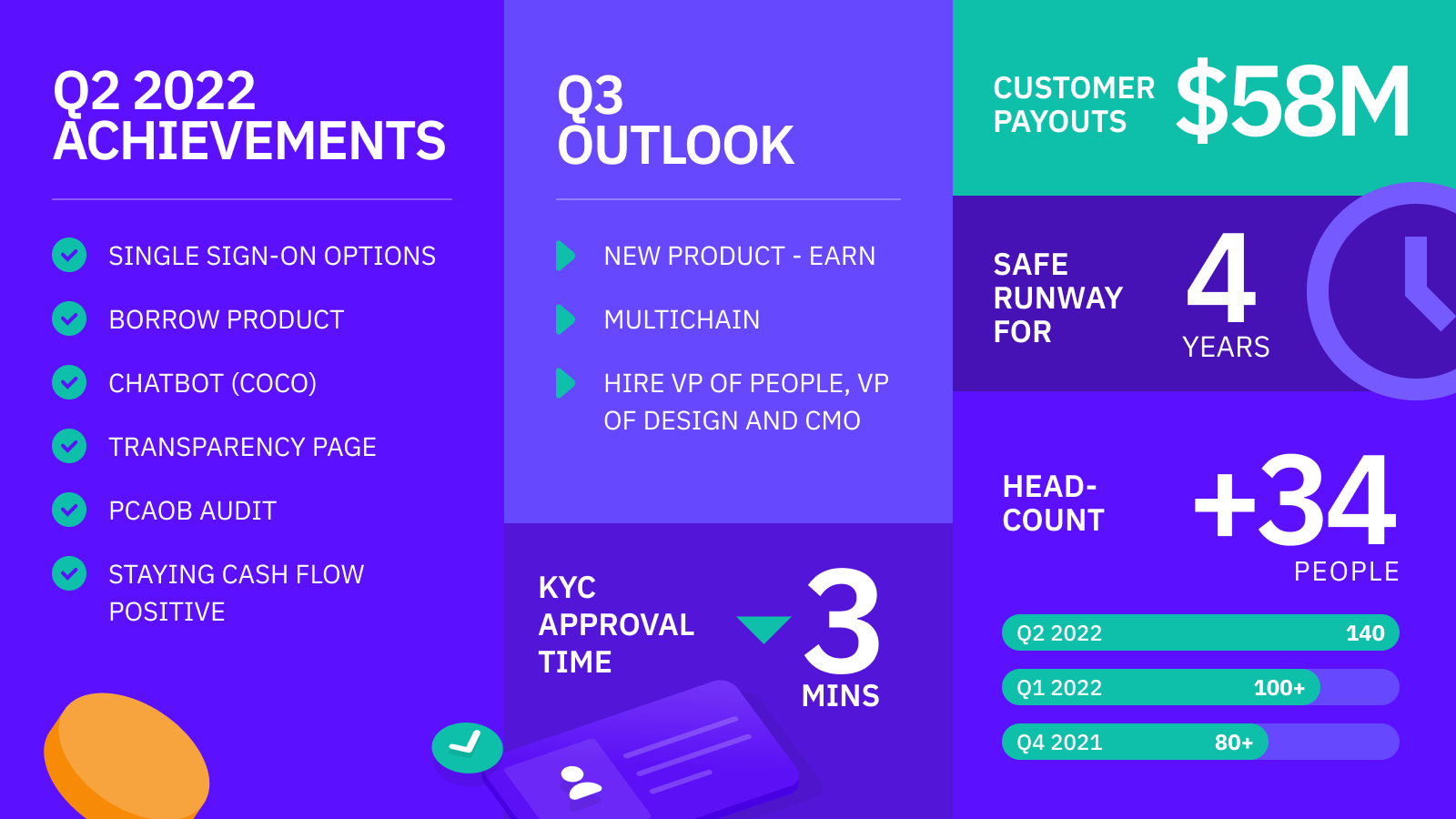 Building on the company's financial strength, our Board has signed off on diversifying our treasury even further, and we will be publicly investing 15 million dUSD into decentralized assets such as dTSLA, dTLT, and a few others. This will ensure a strong diversification of our treasury. Also, considering how far prices have dropped in the general markets, this may provide great potential upside. We will make this completely public, so people can actually monitor this progress.
Aside from OKRs, our team is growing rapidly. We started the quarter with 110 team members. While we had to let a few go due to performance reasons, we did hire 34 new team members, finishing the quarter with a headcount of 140 people. Over half of them are based in Singapore, where we are looking to move into a new office at the beginning of Q4. Cake therefore remains one of the few crypto companies still hiring. In Q3, we expect to hire a VP of people, a VP of Design, and a Chief Marketing Officer. We are planning to hold our next company-wide retreat in Singapore in October, after the success we had with our Dubai retreat in May. In addition, we are simplifying the ESOP structure and portal, which will boost our employees' upside in tandem with the company's growth. Check out our job openings at www.cakedefi.com/jobs if you want to be part of this rocket ship.  
Because of the crypto market uncertainty, we did not launch many products in Q2. We instead focused on streamlining our customer experience. For sign-ups and log-ins, we added single sign-on options for Google, Facebook, and Apple accounts. We also implemented a new chatbot (Coco) on our web app to improve our customer support. On the product front, we launched the Borrow feature exclusively on the mobile app to enable customers to borrow against their crypto assets. There are two major releases scheduled for Q3: Multichain by implementing other blockchains and providing even more DeFi services, and Earn which splits up existing DeFi protocols and allows for easier usability to make yield generation even more accessible.
Despite market conditions, we have seen growth across all social media channels. During Q2, Instagram was one of our strongest growth channels as we shifted from long-form blogs to social-driven snackable videos. Our influencer marketing efforts have achieved 5.8 million impressions on various video platforms: Wolf of Dubai (video 1, video 2), Cryptonaut (video 1, video 2),  Monte Kripto, Topraktan Altcoin, Chainbreaker. With that, we saw the strongest customer growth in Asia in Q2.
Our PR and Communications efforts got us great exposure worldwide: Tech In Asia, CoinMarketCap, Yahoo Finance, Investing.com, Crypto Daily UK, Coin Journal, Mein Stuttgart, EsportsAsia, Sports Business Journal, BTC Echo, Coin Quora, The Edge, Asia TechDaily, Tatler Asia, Nasdaq, Tech Startups, Crypto Daily UK, Mashable, Blockchain Reporter, Straits Times, Blockhead, Welt TV, Stern roundtable discussion among many others. As Singapore eased its COVID-19 restrictions, we have started to organize regular local company meet-ups as a way to build our thought leadership in the market on crypto, DeFi and Web3, while also been speaking at various industry events such as Blockchain Festival and APAC Bloomberg Crypto Forum. Our partnership with Razer is going well and we expect to see even greater results in Q3.
In light of Q2 being a tough quarter for anyone involved in crypto, here are a few thoughts on why we do what we do. We hope this helps you stay with us on this journey! We believe the root of all evil is not the lack of money, but rather a lack of purchasing power. Due to high inflation and the current economic uncertainty, crypto has become pretty much the only place to get capital gains and a good yield. This is our WHY or MOTIVE. We provide financial freedom to anyone, and we started by proving cashflow and financial rewards on cryptocurrency! We call this our MISSION or HOW. Our goal is to build the world's best plug-and-play Web3 infrastructure. We call this our WHAT or VISION.
Thank you for your continued support and trust. We will never take this lightly and constantly step up our game to provide you the best service imaginable.
Julian