O'zapft is! The smell of fresh brezels and tart beer is in the air – so get your lederhosen and dirndl dresses out of the closet and join in with Cake DeFi to celebrate Oktoberfest. Jump onto the bench, lift your beer kegs up and practice your jodeling, because what we have cooked up for you goes beyond anything we've ever done in the past.
Experience the spirit of the Oktoberfest firsthand by participating in our Cake DeFi Oktoberfest promotion. From September 16, 2021, 08:00 UTC to September 30, 2021, at 08:00 UTC, you'll have the chance to earn unlimited DFI referral rewards bonuses! Do you have what it takes to drink your friends under the table ;-)?

During the promotional period, you'll have the opportunity to earn increased sign-up bonuses:
For every successful referred user (identity verified and with a minimum deposit of $50), you will receive $20 in DFI — as the referrer. That's double the normal referral bonus for the referrer!
Your referees will also receive $30 worth of DFI deposited into their Cake DeFi account.
After you have successfully referred a total of 3 people, you will receive a one time bonus of $40 in DFI on top, for being able to offer a good and tasty beer to each of your friends. That's a total of $100 DFI for the first completed round of beer kegs!
But that's not all…
The best part is that there is no referral cap, so you can earn an unlimited amount of bonus rewards! After you have treated the first three friends with an ice cold beer, nothing stops you from becoming even more generous and inviting even more of your friends for more free beer. Starting with the second round of beer kegs, the following terms apply:
For each subsequent referred user you will still receive $20 as well as the $40 bonus on top for each fourth referred user who successfully signs up for Cake DeFi. So for every subsequent beer keg you complete, you'll get a total of $120 worth of DFI!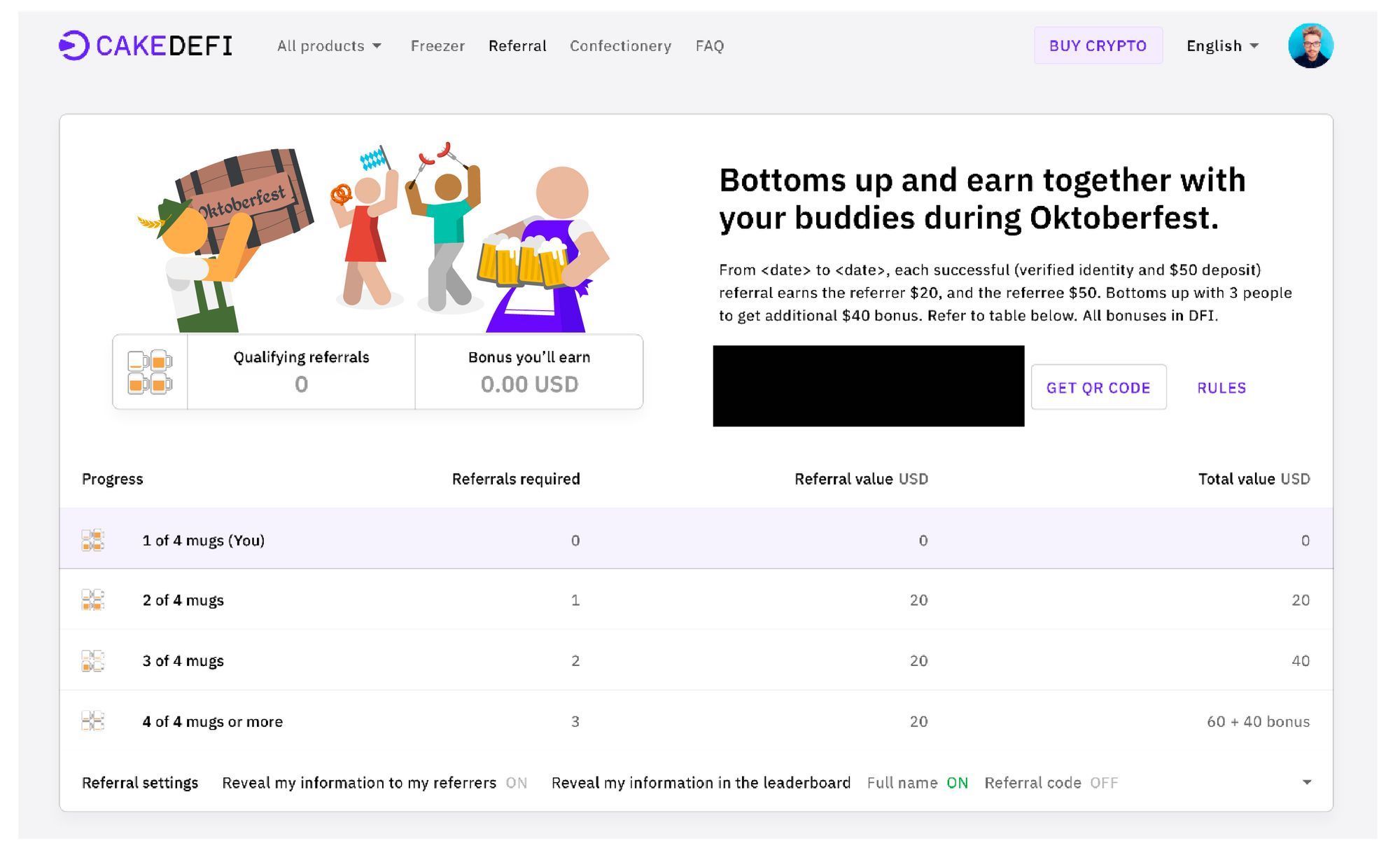 Referral bonuses will be added to your Freezer account for 180 days, giving you an even greater reward at the end. Our valued bakers in Asia will be able to share mooncakes instead of beers – the payout structure remains the same though.
If you and your friends manage to scull the first round of beer kegs together, then you'll receive a total of $100 in DFI. If you go on and try to become the brezel king of our Oktoberfest promotion by bringing on another four qualified bakers to Cake DeFi by September 30, 2021 at 08:00 UTC, then you'll earn $120 in DFI. This goes on until we'll see you on the (in)famous "Pinkelwiese" ;-)
So, what are you waiting for? Pull up your knee high socks, get into your haferl shoes and have a blast with your friends at our Cake DeFi Oktoberfest. The best thing about it, with each beer you guys drink, you'll not only sweeten your own account by receiving a bonus in DFI, but you'll also show your friends that they can have as much fun as you by investing with Cake DeFi. The $40 Oktoberfest bonuses will be paid out into your account for you to do with as you like.
Our Oktoberfest campaign is not only a celebration of one of the world's greatest festivals, but also a celebration of all our bakers, and a fun way for us to give back to our community with amazing rewards.
So, in the spirit of the Oktoberfest, may the baker who sculls the most Maß beer top our leaderboard and win the most rewards. Proost!
Good luck, and happy baking :-)
Your Cake DeFi family