Are you tired of struggling to maximize your crypto assets' rewards and managing your investments? Look no further, because YieldVault is here to revolutionize the way you invest.
With YieldVault, you can deposit popular crypto tokens and earn attractive yields without any stress or complexity. Our platform is designed to take care of everything for you - so you can sit back and relax, knowing that your assets are in good hands and generating passive income for you.
What is YieldVault?
With the introduction of DeFiChain's DFIP #245, negative interest rates on DUSD stablecoin loans have been introduced. This has paved the way for YieldVault to take advantage of this unique opportunity to offer attractive rewards to Cake DeFi users. Essentially, YieldVault simplifies the process of earning negative interest rates on DeFiChain, making it easy for you to earn returns without a hassle.
One of the things that sets YieldVault apart from other competing yield generating products is that all transactions happen directly on the blockchain, so you can always verify what's happening with your investments. This level of transparency is crucial when it comes to investing, and we're committed to providing you with complete peace of mind.
How does YieldVault work?
YieldVault supports 5 tokens - BTC, ETH, USDT, USDC, and DFI (the same as the current Lending service, plus DFI as a new addition). Users only need to deposit one kind of token into the new product as collateral. The collateral that's taken as loans in the vault is DFI and another token.
If you invest other coins than DFI, DFI will also be deposited into the vault as collateral (50% of the collateral has to be in DFI based on the mandate to mint DUSD from a vault) – the user does not have to do anything as this is handled by Cake DeFi. The rewards are in-kind, which means that they are the same as what was deposited.
Also, it's important to stress that YieldVault is not a liquidity mining product meaning there is no risk of impermanent loss. Additionally, there is no counterparty risk, as your deposited assets are NOT loaned out to other users or institutional partners. YieldVault also offers higher APY rates than the current Lending service, making it a more obvious choice to generate passive income with.
How are the rewards generated?
Rewards are generated through minted DUSD from the vault, resulting in negative interest rates. Behind the scenes, the DUSD vault houses the collateral and mints new DUSD tokens. A bot will then swap the negatively earned DUSD into the collateral token and DFI (50% each). We would also like to express our gratitude to the community, particularly Kügi, whose script we are utilizing for our own YieldVault mechanism.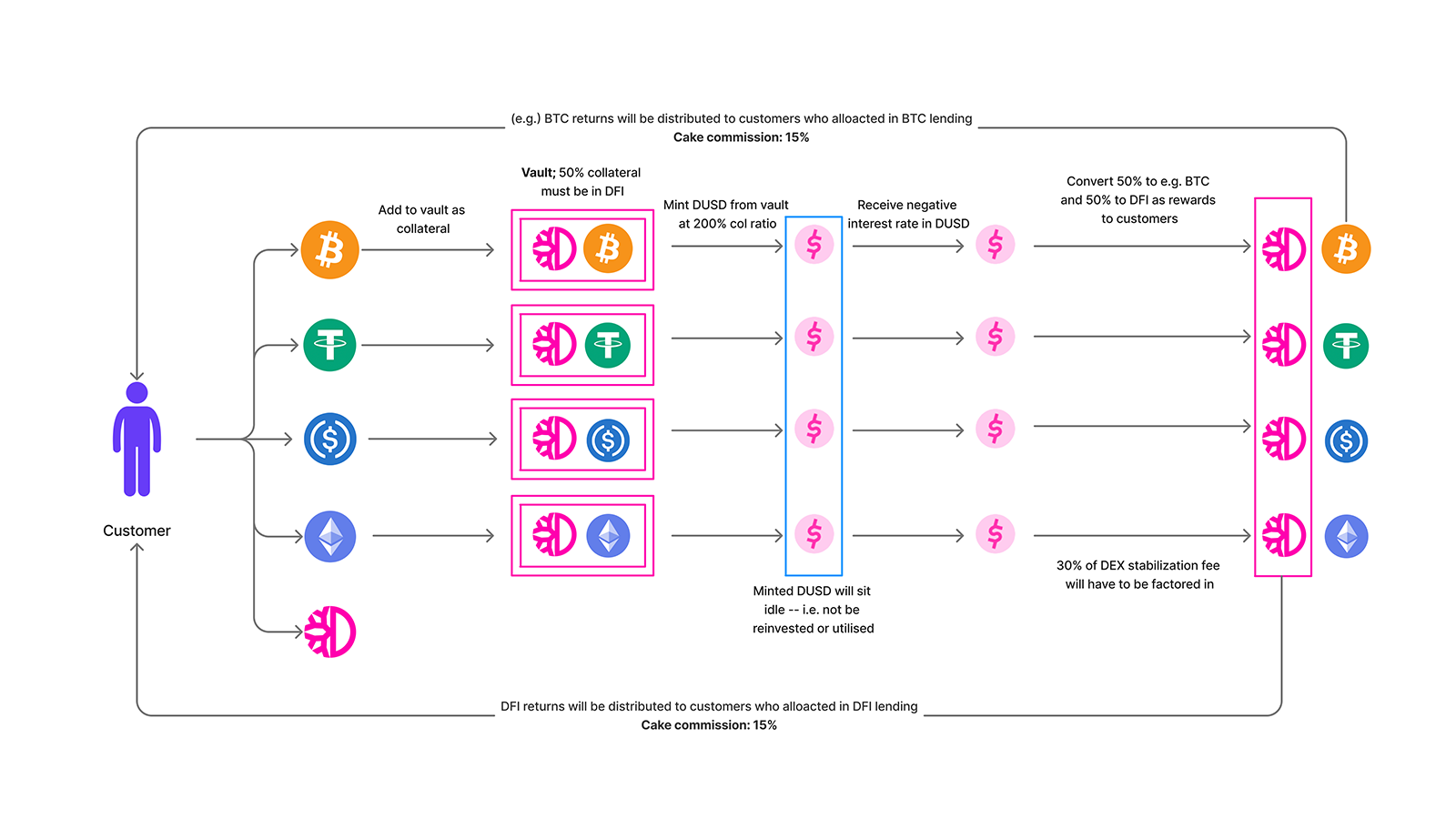 The swapped DUSD into the collateral token will be distributed to users as rewards. At launch, YieldVault is expected to offer an APY of up to 12% and will fluctuate with the negative interest rate. It's important to note that there are investment caps when allocating your coins to our YieldVault product. The following caps apply:
1000 BTC
5000 ETH
10 million USDC
10 million USDT
However, there is no cap on DFI. We highly recommend acting fast to take advantage of the attractive yields while simultaneously reducing your overall risk.
Why should you invest via YieldVault?
With YieldVault, you can earn attractive returns on popular tokens like BTC, ETH, DFI and stablecoins – paid twice daily. One of the best things about YieldVault is how easy it is to get started. Cake DeFi takes care of the entire process, so you don't have to worry about the technical details. With just a few clicks, you can start earning attractive yields on your crypto assets.
Another advantage of YieldVault is its liquidity. Rewards are paid out in the native token and can be taken out of the vault at any time, so users don't have to worry about their assets being locked up. This provides flexibility and peace of mind for investors.
At Cake DeFi, we believe in full transparency when it comes to our investment products. With YieldVault, you can trust that we provide full transparency on the assets deposited and allocated into the product. Rewards can be tracked and verified on-chain through the wallet address given on our Transparency page.
In addition to these benefits, YieldVault also provides users with access to decentralized protocols. This allows users to access DeFi services and provides a safer and more hassle-free experience to earn passive income without having to manage and operate everything themselves.
In summary, YieldVault is the easiest way to generate high yields on your crypto assets without the hassle and lock-ups. With easy-to-understand processes, liquidity, transparency, and access to decentralized protocols, you can invest with confidence and earn high returns. Try it out today and see the difference for yourself!
What are the risks?
YieldVault offers a unique opportunity to profit from negative interest rates on DeFiChain. However, as with any investment opportunity, there are risks involved. Firstly, there are no additional risks associated with receiving DUSD rewards since the product will auto-swap the minted currency. This means that users can earn rewards without any additional risks.
There are two major risks associated with YieldVault: liquidity risk and market risk. Liquidity risk refers to the possibility of vault liquidations, where a portion or all of the user's collateral may be liquidated due to unfavorable market conditions. While we take manual and automated measures to mitigate this risk, there is still a chance that it could (theoretically) occur.
A market risk refers to a potential price risk associated with the principal assets, particularly if Cake DeFi is a counterparty. This is a risk that is present in all investment opportunities, and it's important to keep in mind that the value of your investment can fluctuate.
It's also important to note that YieldVault will be updated or changed once the negative interest rates from DUSD loans stop. This means that the yield generated could be gradually reduced or converted into another yield-generating mechanism. While we do not foresee this to happen in the near future, users should exercise caution and stay informed on any changes or updates that may affect their investments.
How do you start using YieldVault?
The best thing about YieldVault is that it just takes a few clicks to enter the product and start earning rewards. To make things even easier, we've created a step-by-step infographic that provides clear and concise instructions. Simply check out the infographic below and follow the steps to get started with ease.
So what are you waiting for? Start earning rewards and enter YieldVault now!