Want to start 2023 with a bang? Allocate your Polygon (MATIC) on our newly introduced MATIC Staking service and start earning staking rewards on your favorite crypto for up to 5% APY.
That's right! MATIC Staking is the latest addition to our continuously growing list of amazing DeFi services that allows you take control of your financial destiny.
What's so amazing about MATIC Staking?
Similar to our other staking services, MATIC staking is easy-to-use and allows you to earn competitive staking rewards at competitive rates (up to 5% APY).
What makes MATIC Staking so easy-to-use?
It's no secret: staking your crypto directly into DeFiChain requires a certain level of expertise and knowledge, and may also require you to own and be able to run nodes. With MATIC Staking, you don't have to worry about any of those. All you need to do is to deposit ERC-20 MATIC tokens on the Ethereum network (not Polygon) and you're all set - it's really that simple!
What's more, you can stake just a small amount of crypto using MATIC Staking - which is something that you, normally, won't be able to do if you stake directly into DeFiChain.
What are the other advantages of using MATIC Staking?
APY - is net of all fees and it auto-compounds so users get the best APY. There is no need to re-stake manually.
Stake and Unstake Anytime - there's no lock-up period. You may easily stake and unstake crypto at your convenience.
Receive Rewards 2x a Day - staking rewards are paid out every 12 hours.
Gain Full Transparency On Your Rewards - rewards can be tracked on-chain via a staking address. To get the link to the MATIC Staking address, you may visit our transparency page.
Benefit from Other Transparency & Security Protocols - as a Singapore-based fintech company, we continuously find innovative ways to provide security and transparency to our users. For more information, you may click here to read about Proof-Of-Reserves and Liabilities or here to read about relevant platform features and protocols.  

How do I start using MATIC Staking?

1. If you haven't registered yet, click here to create a Cake DeFi account.
2. Upon successful completion of the KYC process, click here to go to our Staking page and choose MATIC. Similarly, if you're using the Cake DeFi mobile app, simply go to the "Bake" section, choose Staking and then select MATIC.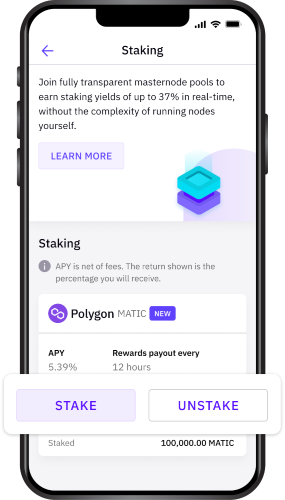 3. After clicking "STAKE", enter your desired amount. If you wish to deposit more MATIC into your account, simply click "DEPOSIT MORE".  

You must acknowledge the disclaimer to proceed.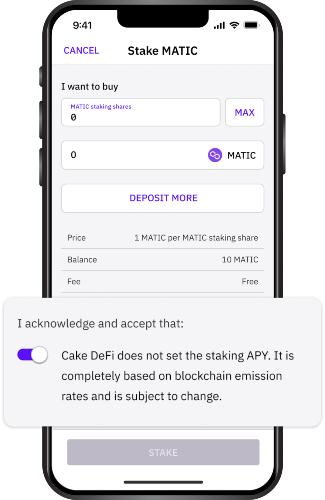 4. When depositing funds, you must ensure that you're depositing into the Ethereum network and that you're sending MATIC. Sending to the wrong address or other types of cryptocurrency may result in irreversible loss of funds.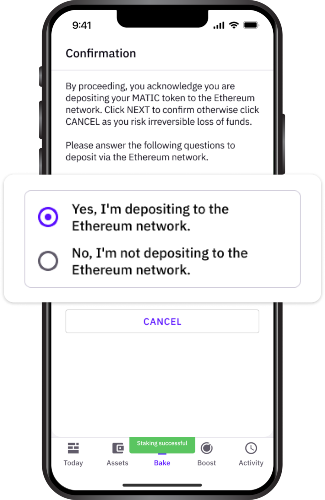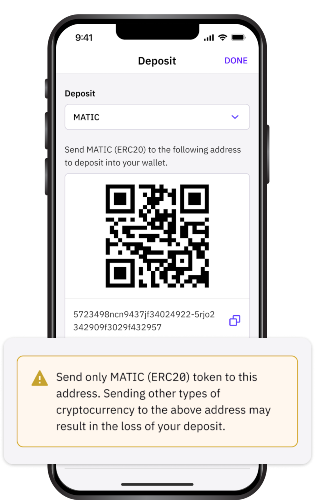 5. To auto-stake your rewards, enable Auto-compound.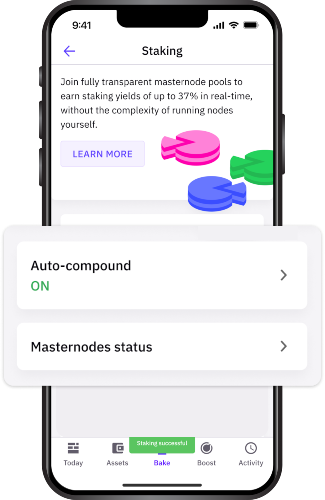 And that's it. Very simple, right? If you want to use our MATIC service but haven't registered yet, click here to create a Cake DeFi account.

Also, to further generate wealth on your crypto, we invite you to participate in our F.I.R.E. (Financial Independence and Retire Early) campaign. By simply allocating assets into our Staking or Liquidity Mining services, new users can receive up to US$1,000 worth of rewards in DFI.
So, what are you waitng for? Sign up, stake your MATIC and participate in our F.I.R.E. campaign to gain full control of your financial destiny!