Are you interested in making money with cryptocurrency but are put off by the volatility of the crypto market? Enter stablecoins, the solution to crypto's wild price swings. Stablecoins provide a stable value as they are pegged to real-world assets like the US dollar, making them an essential part of the crypto landscape.
In this article, we'll explore how stablecoins work, their importance in the world of cryptocurrency, and most importantly, how you can make money by investing in them.
What are Stablecoins?
A stablecoin is a digital asset that is designed to maintain a stable value or minimize price volatility. This is done by pegging it to the value of a fiat currency such as the US dollar or other assets that are more stable such as gold. The most popular stablecoins are USDT, USDC and EURO COIN. USDT is issued by Tether, while USDC and Euro Coin (EUROC) are both issued by Circle.
Various Use Cases for Stablecoins
There are several use cases for stablecoins, including payments, liquidity provision, yield farming and decentralized finance (DeFi).
Payments - stablecoins can be used to make payments for goods and services. This is because stablecoins are not subject to the same volatility as other cryptocurrencies.
Liquidity provision - stablecoins can be used to provide liquidity to decentralized exchanges (DEXs). This allows users to trade cryptocurrencies without having to go through a centralized exchange.
Yield farming and DeFi - yield farming involves lending stablecoins to decentralized finance protocols in exchange for a yield on your investment. DeFi platforms also allow users to earn interest on their stablecoin holdings by lending them out to other users.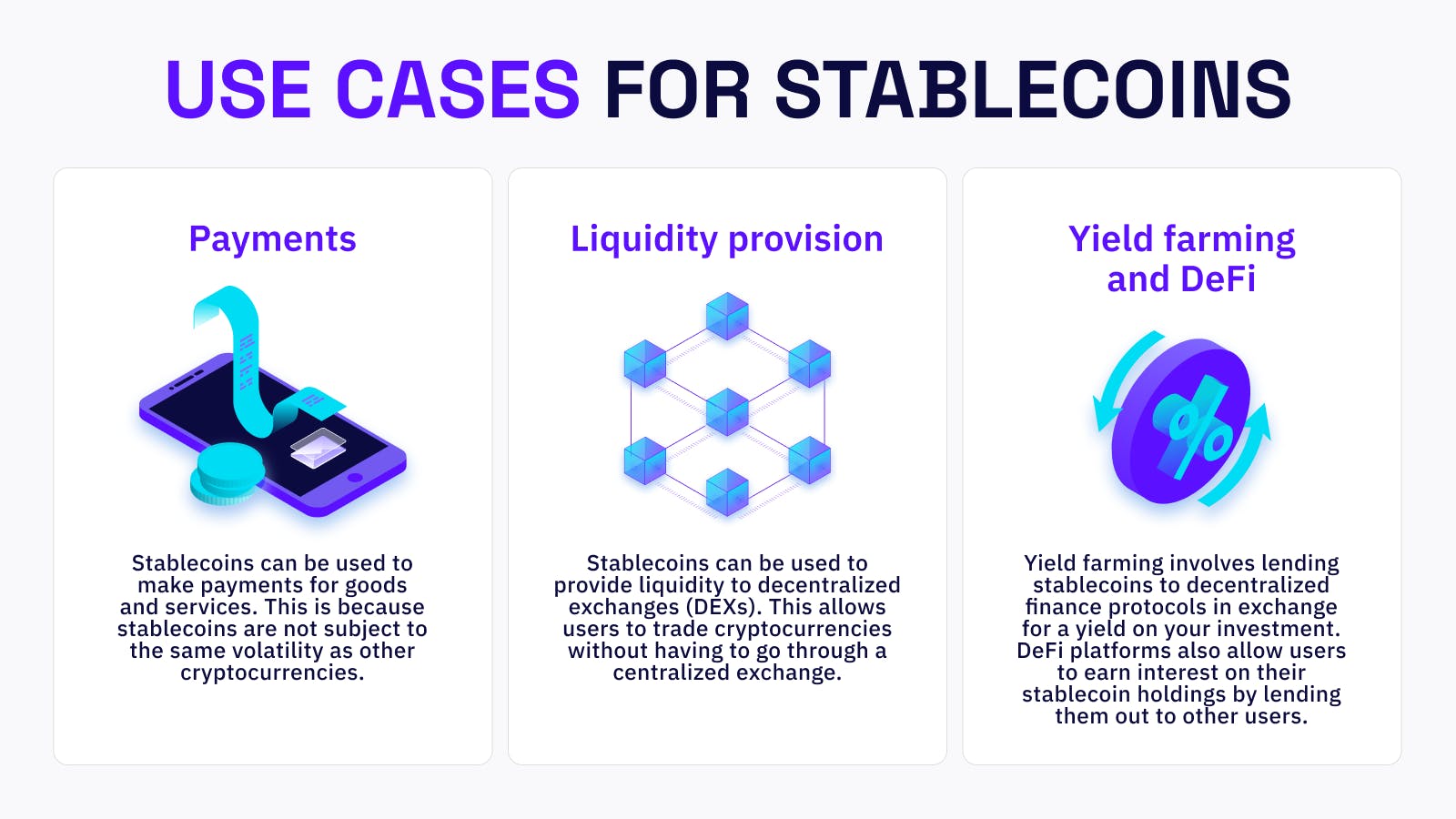 Risks Associated with Stablecoins
While stablecoins are designed to be stable, they still carry some risks. One of the primary risks associated with stablecoins is the risk of a peg break, where the stablecoin loses its peg to the asset it is supposed to be pegged to. Another risk is counterparty risk, which is the risk that the institution or company issuing the stablecoin may face financial difficulties. Therefore, it's important to understand these risks and take steps to manage them.
Do you want to know more about the risks associated with stablecoins? In that case, watch this video featuring our Co-Founder & Chief Technology Officer U-Zyn Chua.

How to Purchase and Trade Stablecoins
The easiest way to purchase stablecoins is by going to cryptocurrency exchanges such as Binance or Coinbase. Before you do so, however, it is crucial to do thorough research to determine which stablecoins align with your investment strategy and which exchanges are secure.
After acquiring your chosen stablecoin, you can either use it to invest in other types of cryptocurrency or exchange it for fiat currencies.
Use Our Services to Generate Passive Income With Your Stablecoin
Are you looking to maximize your earnings with your USDT, USDC and / or EUROC? Look no further! Our user-friendly and secure services offer a range of options for generating passive income, putting you in charge of your financial future.
YieldVault is a tool that allows users to easily generate crypto rewards with just a few clicks, while also enjoying the added-value of transparency.
What are the key advantages of YieldVault?
Ease-of-use: YieldVault simplifies the process of earning negative interest rates on DeFiChain.
Transparent transactions: All transactions occur directly on the blockchain and can be verified on our Transparency Page.
No lock-up period: You can withdraw your crypto at any given moment.
Low minimum allocation: In most cases, as little as $1 worth of crypto is needed.
Covered by cakeELITE: You can boost your Yieldvault rewards if you sign up for cakeELITE membership.
Opt-in for competitive rewards: To maximize gains, choose Decentralized USD (DUSD) as your preferred payout.
For more information on YieldVault, click here. To start using YieldVault click here.
Liquidity mining is an innovative way to reward users that have allocated a pair of crypto assets (e.g., EUROC - DUSD) in order to provide liquidity for DeFi projects. The rewards typically consist of the same type of crypto pairs that were initially allocated by the user.
Competitive yields: Earn highly competitive percentages (e.g., EUROC - DUSD at 30.98% APR).
Dual-crypto rewards: Generate rewards on the crypto pair you allocate.
Easy to use: Participate without technical skills or owning large funds.
Accessible: Available on web and mobile.
Boosted rewards: Further boost your rewards with cakeELITE membership.
Boost Your Crypto Rewards With cakeELITE
Join our new membership plan, cakeELITE, and boost the crypto rewards that you generate from our YieldVault and Liquidity Mining service for up to 2.5X. To join, cakeELITE click here.
For more information on cakeELITE, click here. To be a member of cakeELITE, click here.

Looking to use Cake DeFi's services but haven't signed up for an account yet? No problem! Click here to create an account and start generating passive income with stablecoins and other cryptocurrencies.
DISCLAIMER: Please note that the information on this blog and in any articles posted on this blog is for general information only and should not be relied upon as financial advice. Cake Pte. Ltd., Cake DeFi, UAB, and its affiliates (the "Cake Group") are not licensed financial advisers. You may wish to approach your own independent financial advisor before making any decision to buy, sell or hold any product and/or digital assets mentioned in this blog.
Any views, opinions, references, assertions of fact and/or other statements are not necessarily the views held by the Cake Group. The Cake Group disclaims any liability whatsoever that may arise out of or in connection with such statements. Always do your own research before investing in any financial assets and consult a qualified financial advisor if necessary.