Launched in 2020, the blockchain platform known as SOLANA and its native cryptocurrency SOL offer crypto investors a wide range of new opportunities to make money, create passive income streams and bolster their crypto portfolios. What are these opportunities? Read on to discover some of the most popular ways to make money with Solana today.
SOL trading
When it comes to making money with Solana, the most popular method is trading the cryptocurrency SOL. This is due to the ease and simplicity of the process: buyers can purchase SOL, and then trade it on exchanges for a profit in either fiat currency or another type of cryptocurrency.
How to start trading SOL?
Crypto investors who wish to make money with Solana by means of trading can purchase (or sell) SOL directly with fiat currency on major crypto exchanges such as Binance and Coinbase, though you should always check the official website for the latest list of supported exchanges.
Most exchanges offer basic features like order types, charting tools & market data analysis to help you make informed decisions when trading SOL. However, it's important to note that each exchange operates differently - which is why it's necessary for you to familiarize yourself with their individual processes before you start trading SOL using any of these platforms.
Is trading SOL suited for you?
As a relatively new cryptocurrency, the price of SOL can be highly volatile - which makes it attractive to traders who are looking to make money with Solana based on short-term profits. However, due to these same market fluctuations, trading can be risky and can lead to substantial losses.
To ensure you understand the risks involved in trading SOL and that you can manage potential financial losses, be sure to do your own research and practice caution when trading this digital asset.
SOL lending
You can also make money with Solana through lending. What is it? It's a process that allows users to lend their cryptocurrency holdings in exchange for interest payments over a specific period of time. It works by having two parties agree upon an amount of SOL (the crypto being lent), as well as the amount of interest payments due and the duration of the loan. The lender provides the funds while the borrower pays back both the principal amount and any accrued interest.
How to start lending SOL?  
Making money with Solana through lending is as easy as how we described it earlier: you lend it and make a profit from the interest. The higher the interest rate, the more profit you'll earn.
So, where can you lend your SOL? Some of the most popular platforms for SOL lending are BlockFi and CryptoLend. When choosing a preferred lending platform, make sure that your platform of choice not only offers competitive interest rates but is also secure, transparent and easy-to-use.
Is SOL lending suitable for you?
Making money with Solana through lending is incredibly popular among crypto investors, especially beginners or those who lack the skills and knowledge to try more complex methods like trading. That said, it's important to remember that while SOL lending can yield a high return on investment due to its interest rates, the risk of default is also higher. Make sure you do your research and understand the risks before lending your SOL — as this could result in a significant loss of funds if not handled correctly.
SOL staking
Arguably the most popular method to make money with Solana is by earning rewards from your SOL holdings through staking. This involves locking up your SOL in order to participate in network consensus protocols and to secure the network. In return, you can receive regular rewards based on the amount of SOL that you staked.
How to start staking your SOL?
There are several options for staking SOL If you have technical experience and resources available, you can set up your own validator node to validate transactions on the blockchain directly. You can then bolster your support by getting others to delegate their SOL holdings to you.
To find out more about the requirements that you'll need to meet in order to become a validator, click here.
If you're an intermediate user, you can start earning rewards and help secure the network by staking your SOL to one or more validators on Solana's Mainnet Beta. Also, anyone who holds SOL can stake with a stake-supporting wallet via SolFlare.com, which can be used with a Ledger Nano or a native SolFlare key file.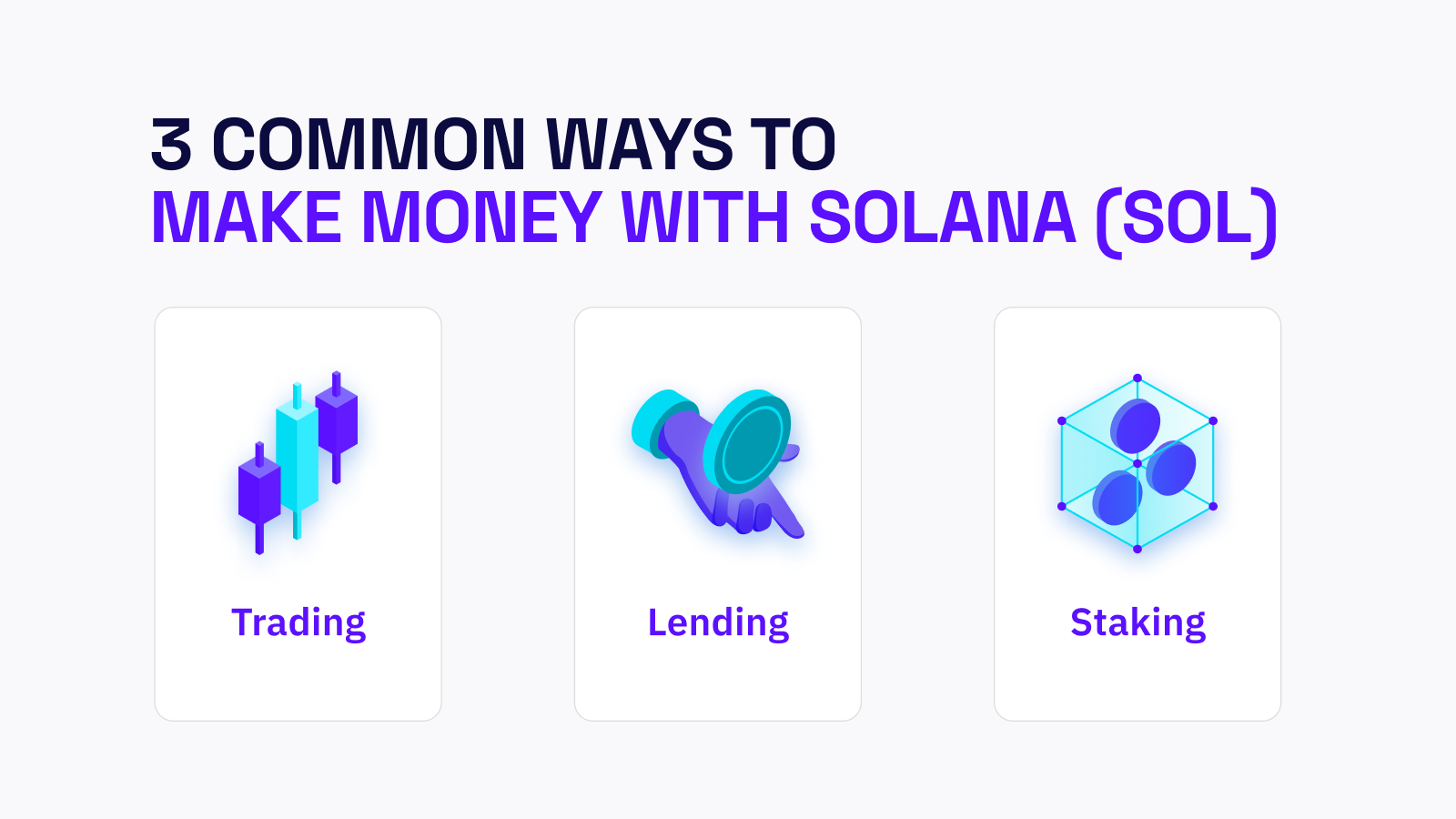 Make money with SOLANA by using Cake DeFi's SOL Staking service
We're excited to announce that we're set to launch our SOL Staking service before the end of April 2023 to allow users to easily and securely participate in staking with just a click of a button and with no specific amount of SOL required.
Stay tuned for the official announcement and make sure that you sign up for a Cake DeFi account, if you haven't yet, so you can take advantage of this amazing opportunity.
So, what are you waiting for? Click here to sign up for a Cake DeFi account and take control of your financial destiny!
DISCLAIMER: Please note that the information on this blog and in any articles posted on this blog is for general information only and should not be relied upon as financial advice. Cake Pte. Ltd., Cake DeFi, UAB, and its affiliates (the "Cake Group") are not licensed financial advisers. You may wish to approach your own independent financial advisor before making any decision to buy, sell or hold any product and/or digital assets mentioned in this blog.
Any views, opinions, references, assertions of fact and/or other statements are not necessarily the views held by the Cake Group. The Cake Group disclaims any liability whatsoever that may arise out of or in connection with such statements. Always do your own research before investing in any financial assets and consult a qualified financial advisor if necessary.