Today, we're thrilled to introduce the long-awaited new Bake mobile app with the debut of new features to help you control your financial destiny.
Go behind the scenes into  the creative process that birthed the mobile app andmeet key members of the company along the way. Discover  the game-changing features that make the new Bake app your ultimate tool in charting the course to your financial destiny.
Forged with Clarity, Reliability and Control
How does one create an amazing mobile app? 
Ying Zhong, VP of Product credits the genesis to a steadfast customer-focused approach. Zhong underscores - that at Bake - we hold customers in the highest regard - a sentiment that guided the design of our new mobile app. The Bake app is built upon three fundamental tenets:
Clarity - ensuring the app's features are intuitive and user-friendly, providing a seamless experience for both new and seasoned investors.
Reliability - a critical component of our commitment to safe, predictable returns. The new app enables users to anticipate their payout up to the minute, straight from the home screen.
Control - a feature highly requested by customers. Now users can compare between different asset and service combinations  with ease using the new return prediction calculator.
Crafting with User Experience at the Forefront
At Bake, we believe that design is more than just aesthetics. This belief shines through in the Bake mobile app's development, where Maik Lutze, VP of Design, emphasizes the importance of resonating with customers.
"Design is about more than just appearances. It's about how it feels, how it works, how it integrates into your life. To create a unique experience, we started from scratch, investing over 250 hours in conversations with our customers," he explains. 
In line with this vision, Maik revealed innovative features users can anticipate in the new Bake mobile app:
Rewards Countdown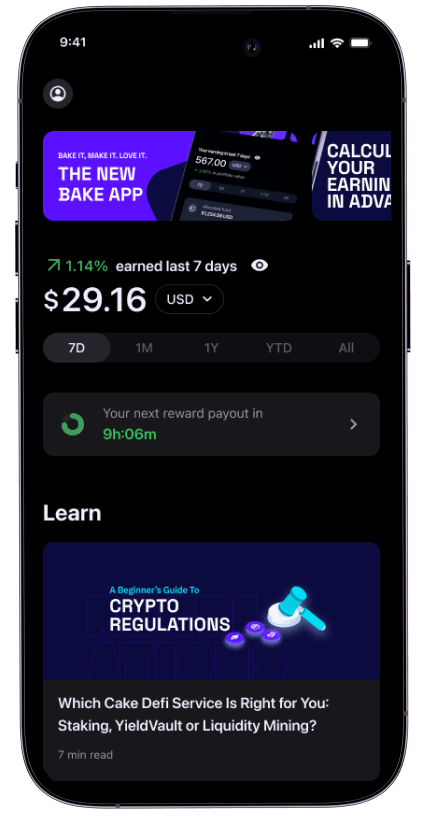 Bake's core value proposition lies in generating returns on your assets, regardless of market conditions. This is done with rewards delivered reliably twice a day, every day, for certainty of returns. 
This is why, in the new Bake mobile app, the first piece of information you'll see is your earnings. To enhance clarity on your returns, we now display exactly when you can expect your next reward. It's the reassurance your assets continue to generate reliable returns, regardless of market conditions.
Calculator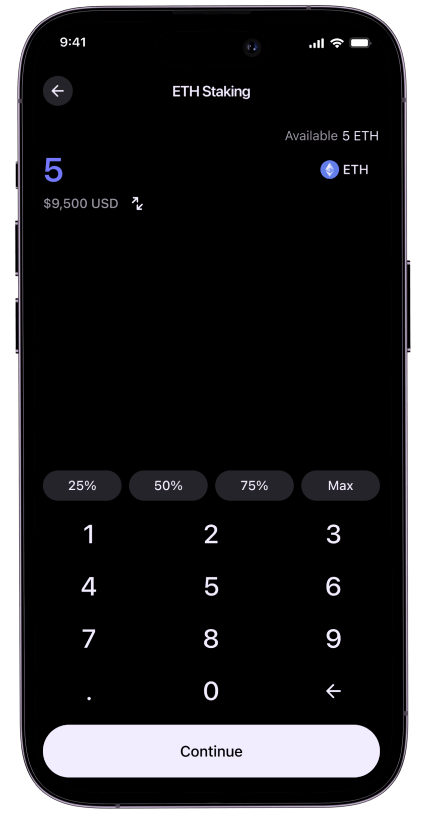 Once users sign into the Bake mobile app, they'll notice the new 'BAKE' feature prominently displayed on the main navigation menu. Here's where and how to amplify your returns. Recognizing users have diverse needs and goals, the new calculator allows you to project potential earnings based on different scenarios, such as owning Bitcoin or having a fixed amount like US $5,000 to invest. This feature empowers you to plan your financial growth strategically.
Merge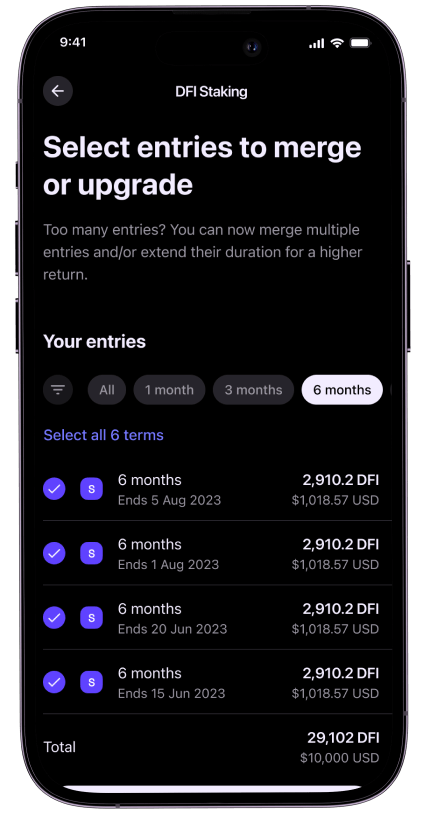 New merge function allows you to consolidate allocations and rewards, providing a streamlined portfolio overview. Merging or extending the tenure period for multiple entries at the same time, helps you maintain an organized portfolio with enhanced clarity.
Personalization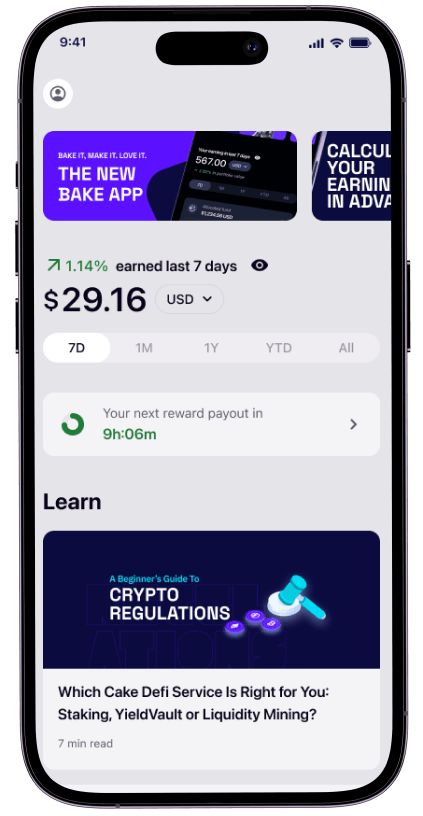 Now you can view the new Bake app the way you want with Light and Dark modes.
Choose your mood and personal style. 
For our ELITE members, we've created an exclusive UI design featuring stunning black and gold elements, taking your app experience to a whole new level of sophistication.
Engineering Excellence in Action
Petar Vudragovic, Engineering Lead, highlights the team's goal to create a robust, intuitive and user-friendly platform by introducing pioneering initiatives:
Built from scratch - a complete rebuild of the Bake mobile app from the ground up. Doing so eradicated lingering bugs and tech debt and provided developers a coherent and streamlined framework for implementation.
Old and new combined -  maintaining previous versions of the app while simultaneously birthing a brand new one - no easy feat.
Improved codebase - the team enhanced our codebase, drawing from four years of valuable experience. This included rectifying all existing bugs and crafting a codebase that can be effortlessly localized for emerging international markets, simplifying tasks such as language and currency changes.
Designed for customization - the new mobile app is designed for easy customization to accommodate new products and services, laying a solid foundation for an array of exciting features slated for release in the coming months.
Component library - to bolster consistency and expedite app development, the team integrated a design system via a component library. This ensures uniformity in appearance and user experience across the app, enhancing its usability.
Improved testing process - the team refined its application testing methodology, enabling them to conduct tests five times faster by dedicating more time to automating QA processes.
As Petar emphasizes, these enhancements collectively represent Bake's steadfast dedication to providing an app that merges reliability, user-friendliness and efficiency. Not only do these improvements fulfill our current objectives, but they also pave the way for continuous enhancements in the future. This aligns with our ultimate goal - to equip you with the confidence required to navigate your financial journey with surefootedness.

Get the New Bake App Now
Android Users
Update your app now to access the new features right away.
iOS Users
An email invitation for early access will be sent to a select group of ELITE members, with priority given to those on the ELITE Yearly plan who use iOS. Please keep an eye on your inbox as we will be sending you detailed instructions on how to participate.

For other users, please bear with us as we await final approval from Apple's review process. In the meantime, please continue using v 4.4.0 of our app and be assured that we will notify you as soon as the app is made available to the public.
FAQs

1. How long will the Apple review take?
That completely depends on Apple. But rest assured we'll let you know as soon as we have a release date confirmed.
2. Can I continue to use the Web App?
Yes, absolutely.
3. What about Freezer?
Freezer will be renamed to Fixed Term Staking or Fixed Term Liquidity Mining across all our platforms, including for iOS app users in the latest iOS app version 4.4.0. You will still be able to allocate your assets into either Flexible Term or Fixed Term.
4. Why do only some users get early access to the new app on iOS?
As part of the launch of the new app and as an exclusive benefit, a small group of ELITE members, starting with ELITE Yearly, will be invited to get early access. Keep an eye on your inbox for instructions on how to participate.
For more information, please watch the video below.
The Journey Has Just Begun
At Bake, the launch of our new mobile app has sparked immense excitement and anticipation for the potential it holds. The new Bake mobile app represents an ongoing innovation journey. We promise to continue refining the app, adding new features and improvements that not just meet user needs but also equip them to take charge of their financial future.
For any questions or feedback about the new Bake mobile app, please click here.

Don't delay, start today! If you haven't done so yet, download the new Bake mobile app. Bake it, make it. Love it. Your pathway to financial control starts now.
DISCLAIMER: Please note that the information on this blog and in any articles posted on this blog is for general information only and should not be relied upon as financial advice. Cake Pte. Ltd., Cake DeFi, UAB, and its affiliates (the "Cake Group") are not licensed financial advisers. You may wish to approach your own independent financial advisor before making any decision to buy, sell or hold any product and/or digital assets mentioned in this blog.
Any views, opinions, references, assertions of fact and/or other statements are not necessarily the views held by the Cake Group. The Cake Group disclaims any liability whatsoever that may arise out of or in connection with such statements. Always do your own research before investing in any financial assets and consult a qualified financial advisor if necessary.