Congratulations - you're the proud HODLer of Ethereum (ETH). Maybe you dollar-cost averaged (DCA) into ETH, or accumulated your ETH through a lump-sum investment. 
Either way, you got ETH, and staking your ETH is now a reality. But there's a wait to stake your ETH, and time is money, after all. Unfortunately, staking ETH isn't as straightforward as it should be.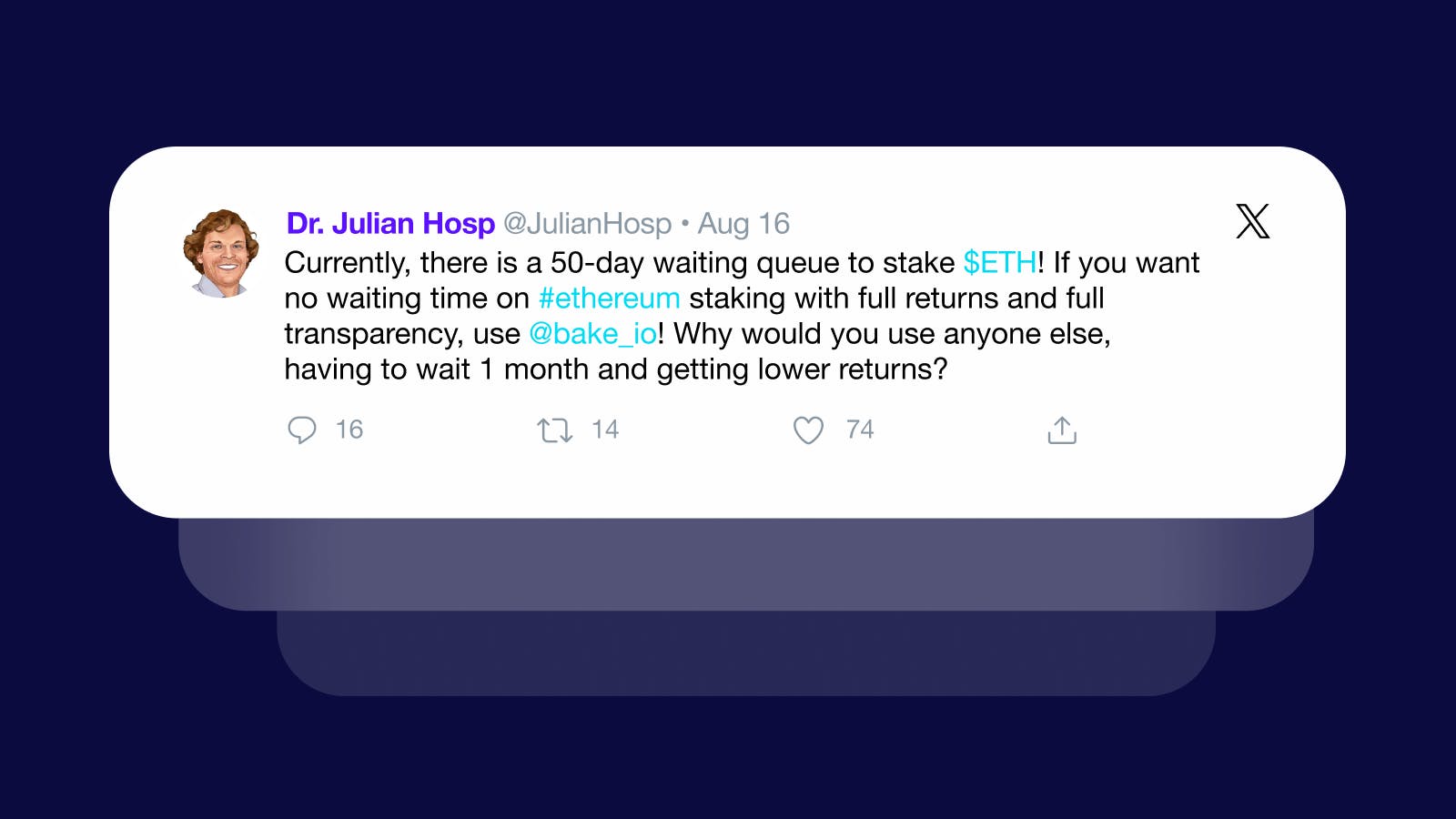 As Cake Group's CEO Julian Hosp recently highlighted on X, ETH staking has a long waitlist across many platforms - some up to 50 days. At Bake, we think this is a lost opportunity. After all, time is money, and time spent waiting is an opportunity lost when you could be earning rewards on your ETH instead.
Sadly, long waiting times are a systemic problem for staking ETH and frustrating many ETH HODLers wanting to start earning sooner than later.
The good news: there's a way to stake your ETH immediately with no wait times - this works in the opposite direction too, meaning you can unstake your ETH with no lag time! But before we reveal the only platform offering instant ETH staking (and unstaking), let's compare your options by platform, annual percentage rates (APR), fees, and wait times.
What Platforms Offer ETH Staking?
ETH staking is offered by various crypto platforms as a core service, and there are several providers in the market today, including Coinbase and Binance. Below is an overview of the most popular ETH staking options available: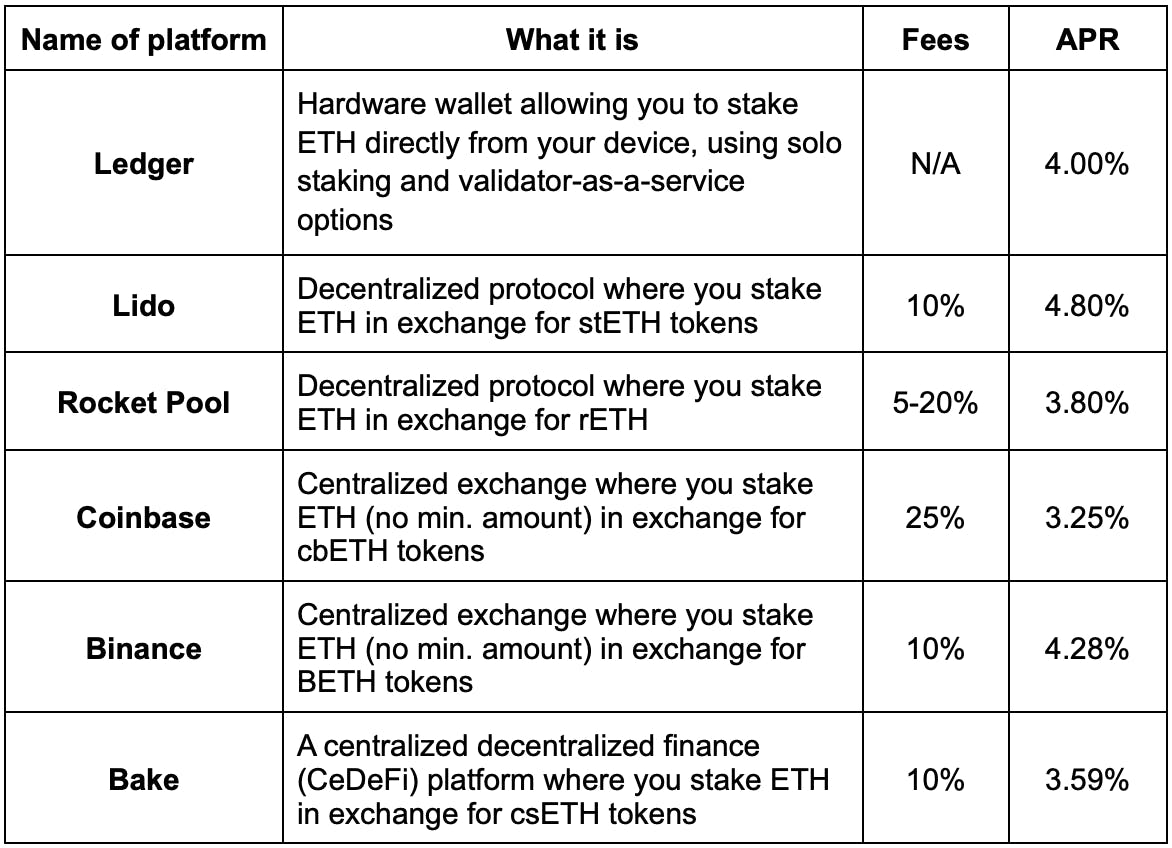 As the table shows, the reward fees and annual percentage rate (APR) for staking ETH vary across platforms. While some platforms have lower fees and higher APR, you must also factor in the time required before you can start staking. 
How Long Is the Wait for ETH Staking?
The wait time to stake ETH varies depending on the platform. The following table compares the wait time for each platform ranked from instant staking to longest wait time: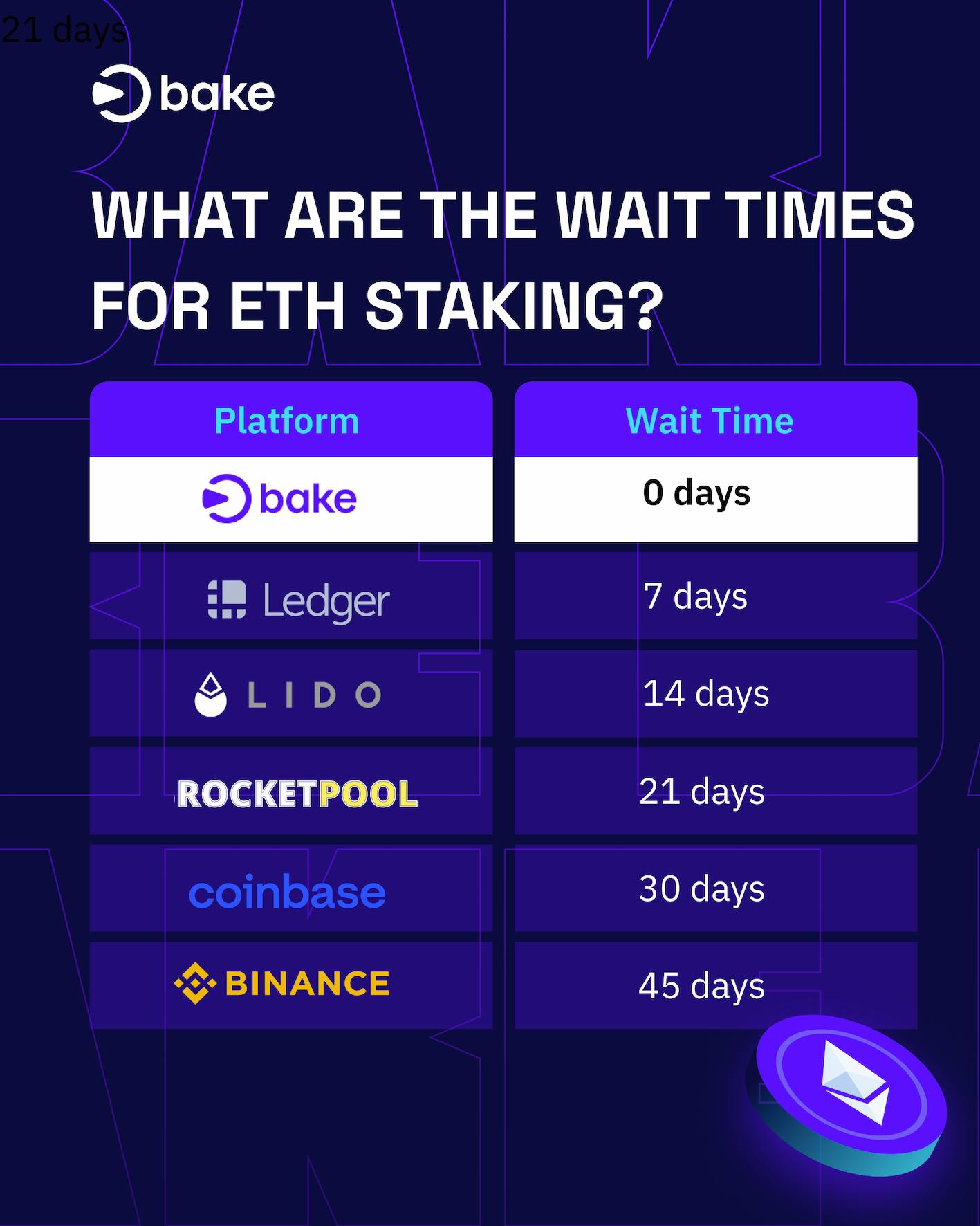 It's clear there's a long waitlist for ETH staking. According to CoinDesk, this is attributed to the surge in demand for the service, with ETH HODLers having to "wait nearly a month before they can be set up as network validators on Ethereum."
Why Does Time Matter When Staking ETH?
While all platforms (except Bake) have a waitlist, you can instantly stake your ETH on Bake and get a 45-day head start on your staking returns. So how much is 45 days of staking really worth when you compare other platforms paying a higher yield, but longer wait times?
The following table adjusts advertised APR against wait times to illustrate the actual APR, ranked highest to lowest:

Comparing ETH Staking Options
Staking ETH on Decentralized Finance (DeFi) Platforms
If you're comfortable with self-serving in the Decentralized Finance (DeFi) space, Lido, Ledger, and Rocket Pool are pure DeFi platforms. This means you're on your own, with no customer support or someone to talk to if something goes wrong. Recovering funds is usually impossible once the transaction has been settled. 
DeFi is ideal for crypto enthusiasts who are comfortable in the self-serve DeFi environment and know how to navigate the fluctuating gas fee challenges. Staking ETH via DeFi platforms (like Lido) has inherent risks tied to liquid staking, including slashing, stETH deviating from its ETH peg, and potential smart contract vulnerabilities.
Staking ETH on Centralized Decentralized Finance (CeDeFi) Platforms
If you're not 100% comfortable navigating DeFi environments on your own, there's an alternative that combines the benefits of DeFi with the security, safety, and support of CeFi - Centralized Decentralized Finance (CeDeFi).
Bake, Binance, and Coinbase offer a hybrid of centralized and decentralized finance access where customer support, security, and safety of funds come as standard. What you see in price is what you get.
When comparing Bake, Binance, and Coinbase for staking ETH, Bake pays rewards twice-daily, so you earn rewards on your earned rewards for that day, increasing your overall returns. Additionally Bake allows you flexible staking, so you can withdraw your funds at any time. There's no lockup period. Your digital assets are available on your terms with Bake.
Stake ETH and make money with Bake today
With no waiting times, plus competitive yields and auto-compounding, Bake is a solid option for ETH HODLers who appreciate time is money and don't want to wait to earn on their ETH.
Unlike other platforms requiring long wait times to stake or unstake your funds, Bake gives you complete control over your funds and allows you to withdraw or sell your staked ETH at any time. There's no lockup. Investing your ETH on your terms - flexible. 
That's not all, as Bake's mobile app helps you project your potential returns with a built-in calculator: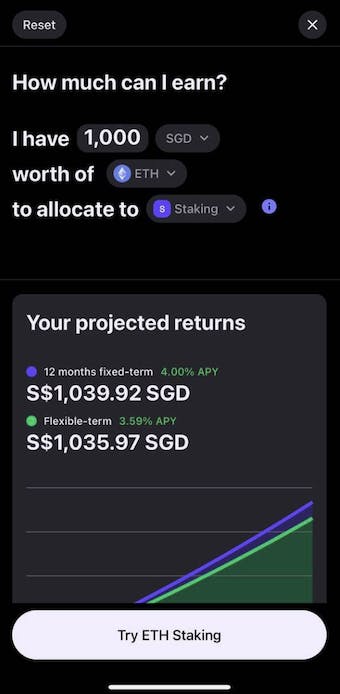 Bake also empowers you to take charge of your portfolio, enabling you to track when your payouts come in and view all your holdings at a glance: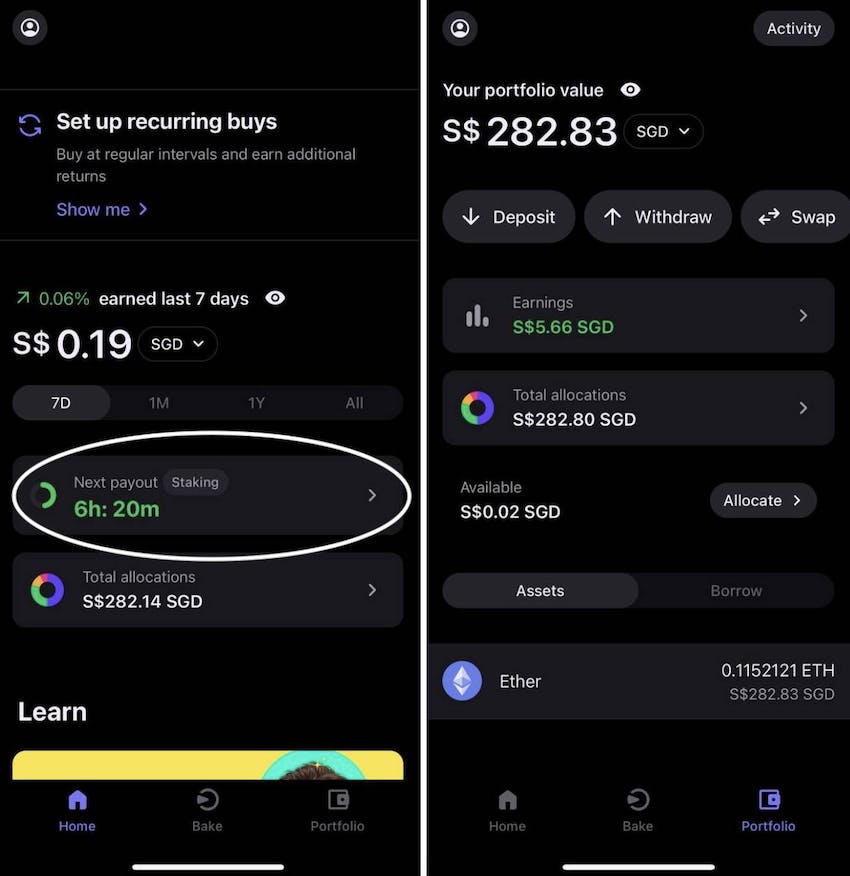 ETH is not the only cryptocurrency you can stake on Bake as well, with other top choices like Polkadot (DOT), DeFiChain (DFI), and Solana (SOL) available as well.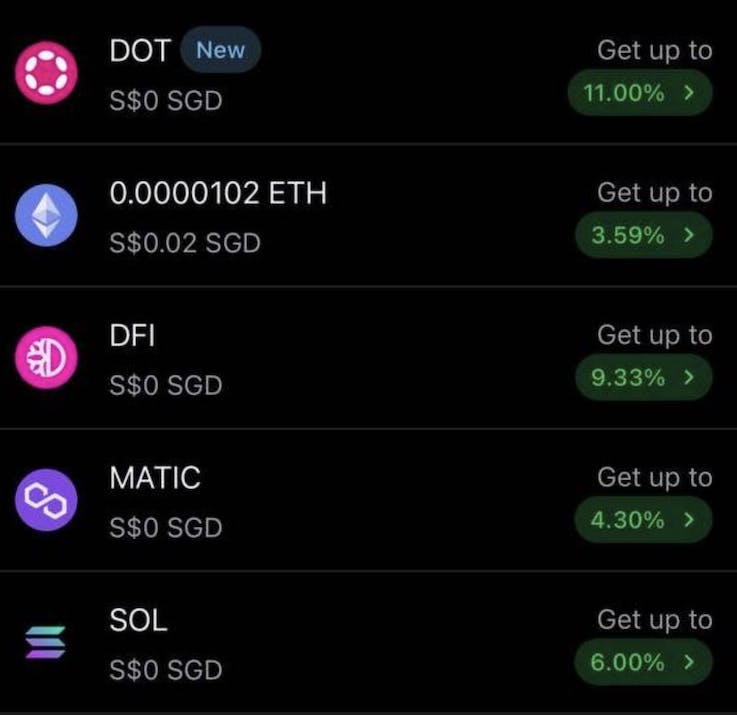 Ready to start your ETH staking journey? Sign up to get your Bake account and start staking your ETH today. 

DISCLAIMER: Please note that the information on this blog and in any articles posted on this blog is for general information only and should not be relied upon as financial advice. Cake Pte. Ltd., Cake DeFi, UAB, and its affiliates (the "Cake Group") are not licensed financial advisers. You may wish to approach your own independent financial advisor before making any decision to buy, sell or hold any product and/or digital assets mentioned in this blog.
Any views, opinions, references, assertions of fact and/or other statements are not necessarily the views held by the Cake Group. The Cake Group disclaims any liability whatsoever that may arise out of or in connection with such statements. Always do your own research before investing in any financial assets and consult a qualified financial advisor if necessary.