In a previous article, we did a deep dive on the euro-backed stablecoin EURO COIN (EUROC): what it is, why it's trending, how it works, what are its use-cases and where you can purchase it.

In this article, you'll discover the advantages of investing in EUROC and how you can generate passive income on it for the first time using our platform. Are you ready to take advantage of this amazing opportunity? Let's begin.
WHAT IS EUROC STABLECOIN?  
In early March 2023, several cryptocurrency platforms - including well-known cryptocurrency exchange Coinbase - made EUROC available on their respective platforms for their users to purchase and use. To many, this trend was a direct result of the growing concerns that crypto investors have towards US-backed stablecoins.
So, what exactly is EUROC?
EUROC is a stablecoin that maintains a 1:1 ratio with the euro and can be redeemed for that same currency. It's an ERC-20 token issued by Circle and hosted on the Ethereum blockchain.
What are its known use-cases?
According to Circle, "businesses can use EUROC to easily move euro liquidity on-chain, accept and make euro payments globally that can settle in minutes, and access crypto capital markets for trading, borrowing, lending and more."
WHAT ADVANTAGES DOES EUROC OFFER
As EUROC shares similar traits with other stablecoins, its advantages can also be classified into three main categories: low volatility, ease-of-use and that it can act as a global currency.
Low Volatility
Since EUROC is - as described by Circle on its official website - "a fully-reserved, euro-pegged stablecoin", its price remains relatively stable and does not experience wild fluctuations like other cryptocurrencies. This makes it ideal for long-term investments, as investors can rest assured knowing that their money will remain safe and secure even if there is market volatility elsewhere in the crypto space.
Ease-Of-Use
Unlike other cryptocurrencies, which require users to understand complex concepts such as blockchains and consensus mechanisms, EUROC can be used without much prior knowledge or technical know-how. This makes it ideal for beginners, those who are not tech-savvy or those who simply do not have the time to deep dive into how cryptocurrencies work.
A Global Currency
As a fiat-backed stablecoin linked to the value of the euro, EUROC can easily be exchanged across different countries and jurisdictions without having to worry about exchange rates or conversion fees. This makes it ideal for international trade and commerce, as users can easily transfer money across borders without having to worry about fluctuating prices or cumbersome regulatory requirements.
All in all…
EUROC is the perfect entry point for beginners who wish to dip their toes into the world of crypto investing. It is also ideal for crypto investors who want to transact quickly and easily across borders without having to worry about exchange rates or conversion fees.
It is also a bonus fact that the euro pushed higher while the US dollar fell sharply  in the midst of the recent collapse of several banks in the US. Investors who wish to take advantage of the current EUR/USD exchange rate and generate passive income during a bear market should definitely consider investing in EUROC.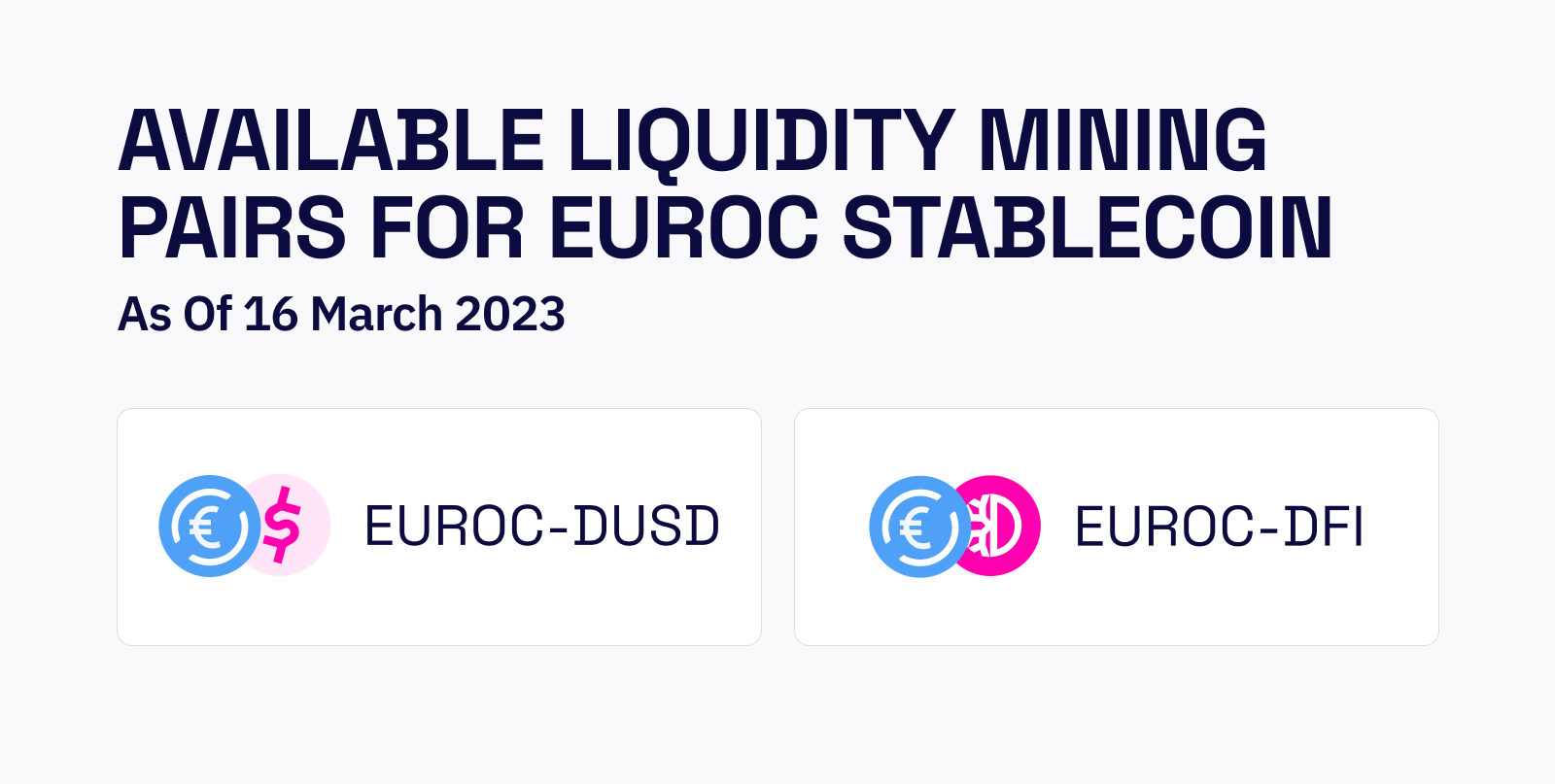 GENERATE YIELD ON EUROC FOR THE FIRST-TIME EVER

For the first time ever, Cake DeFi users can now allocate their EUROC stablecoins into our Liquidity Mining and YieldVault, and start generating yields at a competitive rate.
What are the benefits of using our Liquidity Mining service?

Ease-Of-Use - our Liquidity Mining service allows you to participate in Liquidity Mining without needing to understand the complexities involved in the process. With just a click of a button, you can start generating yields on your preferred cryptocurrency pair.
Useful Information Are Provided - we've included details such as Annual Percentage Rates (APRs), Primary Token Price and Total Liquidity are provided for you to use when making a decision on which cryptocurrency pair to invest in.
Transparency - you can benefit from the fact that your assets are deposited and locked in liquidity pools on DeFiChain. In addition, you  can go to our Transparency Page to check out Pool Addresses and other useful information, or go to  DeFiScan – which provides transparent information on the latest transactions and blocks, liquidity pools, vaults and others. Simply put, with our Liquidity Mining Service, you know where your assets are - all the time.
How do you start using our Liquidity Mining service?
Go to our Liquidity Mining page. If you prefer using the mobile app but haven't downloaded it yet, click here.

You'll find the EUROC-DFI liquidity mining pair under "Cryptocurrencies" and the EUROC-DUSD liquidity mining pair under "Decentralized Assets". Select which one you prefer and start allocating funds by clicking the "ADD LIQUIDITY" or "SWAP" buttons.

Sit back and enjoy your Liquidity Mining rewards, which are paid out every 12 hours and are made available directly on your Cake DeFi wallet.
If you want to know more about our Liquidity Mining service or further understand what liquidity mining is, click here to read a blog article that we've written on both subjects.
What are the benefits of using YieldVault?
Ease-Of-Use - YieldVault simplifies the process of earning negative interest rates on DeFiChain. Rather than spending time to understand the complexities involved in the process or taking on the risk of making mistakes and losing funds, you simply need to allocate funds into YieldVault, sit back, relax and enjoy the rewards generated.
Transparency - all YieldVault transactions happen directly on the blockchain. This means that you can always verify what's happening with your investments, and that the rewards can be tracked and verified on-chain through the wallet address given on our Transparency Page.
No Counterparty Risk -  since your allocated funds are not loaned out to other users or institutional partners, you're not subject to any counterparty risks.
No Risk of Impermanent Loss - YieldVault is not a liquidity mining service. Therefore, you're not subject to the risk known as impermanent loss.
Liquidity - as mentioned earlier, YieldVault rewards are paid out in the native token and can be withdrawn from the vault any time. This allows for flexibility and having peace of mind on your part that your allocated funds are safe and protected from being locked up.
Access to DeFi - in essence, YieldVault provides you with reliable access to DeFi protocols. You don't need to worry about having a high-level understanding of how DeFi works or having the required skills to generate crypto yields on your own. With just a click of a button, you can put your crypto to work and reap the rewards.
How do you start using YieldVault?
To start using YieldVault, just follow these simple steps:
If you want to know more about YieldVault, click here.
And that's it! If you want to generate yields on your EUROC but haven't signed up for a Cake DeFi account yet, you may click here. Also, stay tuned for official announcements on other Cake DeFi services that you can allocate EUROC into and generate yields on soon.  
So, what are you waiting for? Sign up now and take control of your financial destiny!