On 28 March 2023, Ethereum core developers announced in a blog post that the highly-anticipated Shapella network upgrade will take place on 12 April 2023 at 22:27:35 UTC. But what exactly is this upgrade? And why should you – an ETH investor or someone who has previously staked their ETH – care about it?
In this article, we'll cover all the basics that you need to know about the Ethereum Shapella upgrade, its implications for both the future of the Ethereum network and for ETH investors like yourself.
But first, what is ETH staking?
Ethereum staking is the process of locking up Ether, the native cryptocurrency of the Ethereum blockchain, in order to receive rewards. It allows users to earn passive income without needing to actively risk their capital by trading or other means. This process is greatly facilitated by smart contracts on Ethereum's network which enable secure and decentralized interactions between decentralized apps (dapps) and users without the need for an intermediary - allowing for users to maintain full control over their funds at all times.
When the Ethereum blockchain upgrade known as The Merge took place on 15 September 2022, the unstaking of ETH was made temporarily unavailable.
What is the Ethereum Shapella upgrade?
The Ethereum Shapella upgrade follows The Merge and enables validators to withdraw their staked ETH from the Beacon Chain back to the execution layer.
Moreover, it combines changes to the execution layer (Shanghai), consensus layer (Capella) and the Engine API - hence, the term "Shapella."
As an ETH investor or holder, is there anything that you need to do?
In short, no. The team at Ethereum simply advises ETH investors to check if there are additional steps required by the exchange, wallet provider or platform that they're using.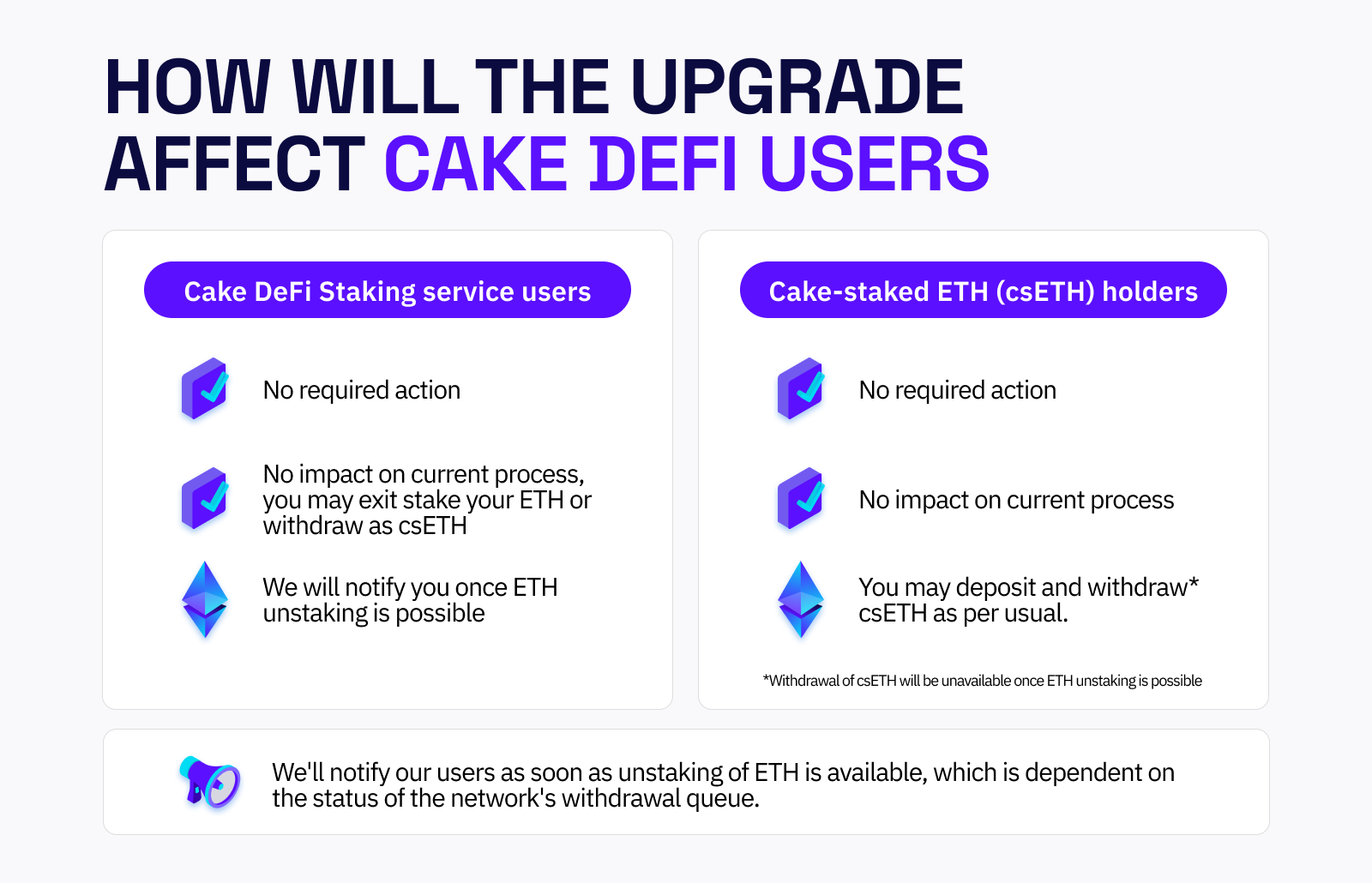 How will the upgrade affect Cake DeFi users?
If you're a Cake DeFi Staking service user:  
No required actions for you to take.
Your staked ETH continues to generate rewards of up to 4.6% APY.
You may exit stake your ETH or withdraw as csETH. For more information, please check this article: How can I exit ETH Staking?
We'll notify you once unstaking of ETH is possible. Note that this is dependent on the network withdrawal queue.
If you have Cake-staked ETH (csETH):
No required actions for you to take.
You may deposit and withdraw csETH as per usual.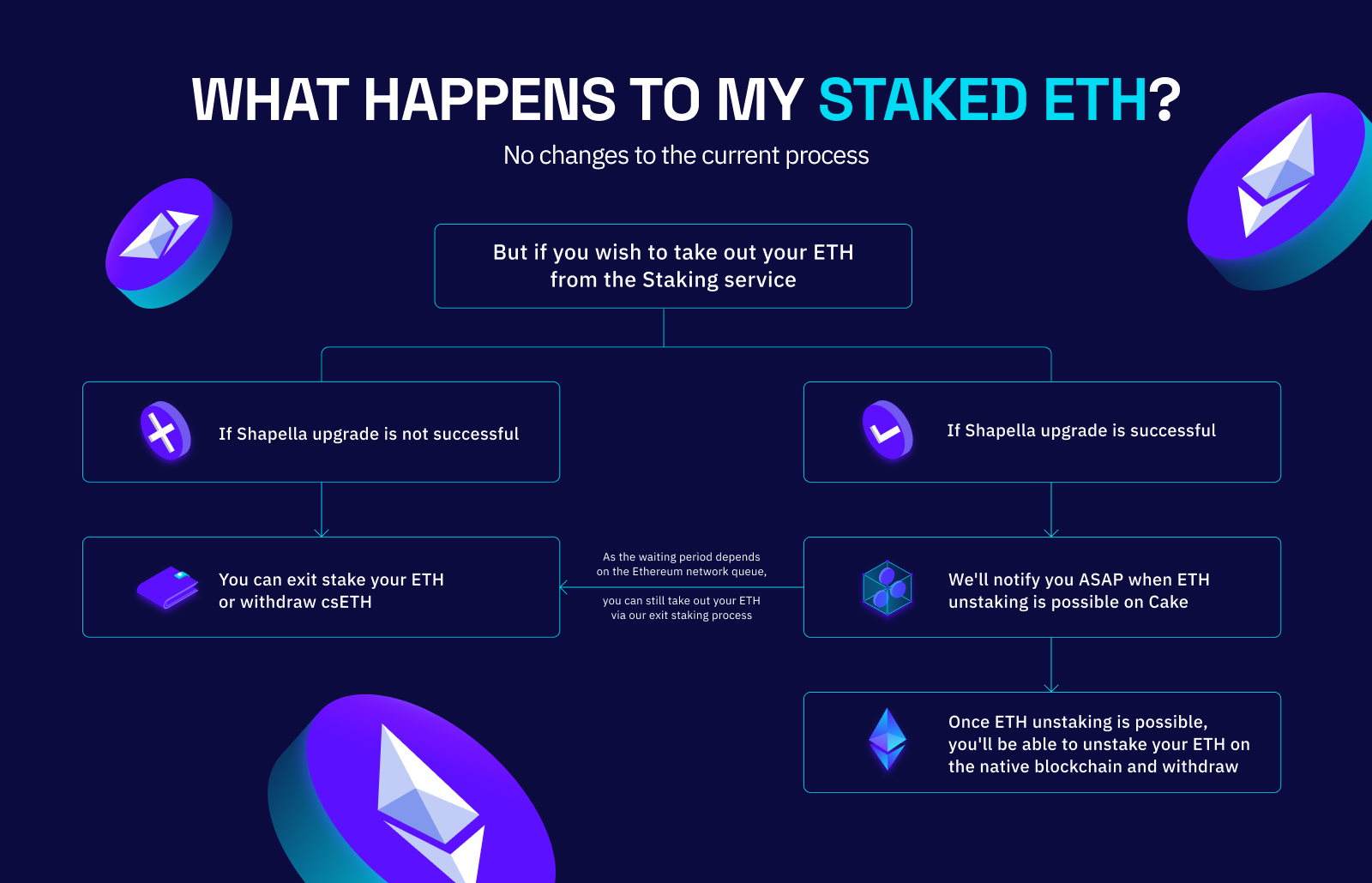 All in All
Users of the Cake DeFi Staking service will still be able to initiate a withdrawal of their ETH regardless of the outcome of the Shapella upgrade on 12 April 2023.
Unlike other platforms, where the time it takes to process unstaking and withdrawal requests is reliant on the network withdrawal queue, we've made it hassle-free and worry-free for our users to unstake and withdraw their ETH.
This is well- aligned with our goal to provide DeFi services that are not only easy-to-use, secure and transparent, but are also the perfect choice for generating passive income on your ETH and other cryptocurrencies.

And that's it. If you want to use our services but haven't signed up for a Cake DeFi account yet, click here and take control of your financial destiny!