Did you know you can now automate your recurring buys" on the Bake mobile app? This new tool allows you to gradually build your crypto portfolio by investing a fixed amount regularly.
But how does it work? And how exactly can using this dollar cost averaging strategy on the Bake mobile app help you make the most of your investments? In this article, we'll break down these concepts and provide answers to all your questions. 
Dollar Cost Averaging Revisited
In a previous article, we introduced the concept of dollar cost averaging (DCA) as a strategic investment approach. Simply put, DCA involves consistently investing the same amount of money into an asset at regular intervals, regardless of its price fluctuations.
Originally popularized by Benjamin Graham in his influential book, "The Intelligent Investor," this strategy has gained widespread acceptance among successful investors like Warren Buffett and John Bogle.
How does it work? The process is straightforward:
Choose the asset you want to invest in.
Determine the amount you can comfortably afford to invest.
Commit to investing that fixed amount at a frequency that fits your budget and schedule.
To find out more about the advantages and disadvantages of DCA, check out the article "Maximizing Returns and Minimizing Risk with Dollar-Cost Averaging" on our blog section. 
Is Dollar Cost Averaging Effective in Crypto?
While dollar cost averaging is traditionally associated with stocks and funds, it's also popular in cryptocurrency. How so? As a newer asset class, crypto is considered volatile — with the potential for significant upward and downward movements over shorter periods. 
As an investor, that puts you in a tough spot. If you're worried about managing your crypto portfolio while dealing with the unpredictable nature of the crypto market, it's worth considering DCA. 
For example, you invest $100 in bitcoin (BTC) weekly. If the price of BTC is high that week, you'll receive fewer units. However, if the price drops, you can accumulate more BTC with your $100 investment. Over time, this approach can mitigate the impact of market volatility and potentially lead to significant gains.
Dollar Cost Average with Bake and Maximize Your Crypto Earnings as an ELITE 
By using "recurring buys" on the Bake mobile app, you can take advantage of dollar cost averaging while enjoying additional benefits such as: 
Easy crypto purchases: Use your credit card to buy crypto effortlessly.
Zero transaction fees: Save money on every recurring purchase you make.
Bonus rewards: Earn an extra bonus of up to 11% each time you make a recurring buy. This monthly bonus can be further increased by 1% if you are a member of our ELITE program.
Curious about how the bonus works? Refer to the table below for more details.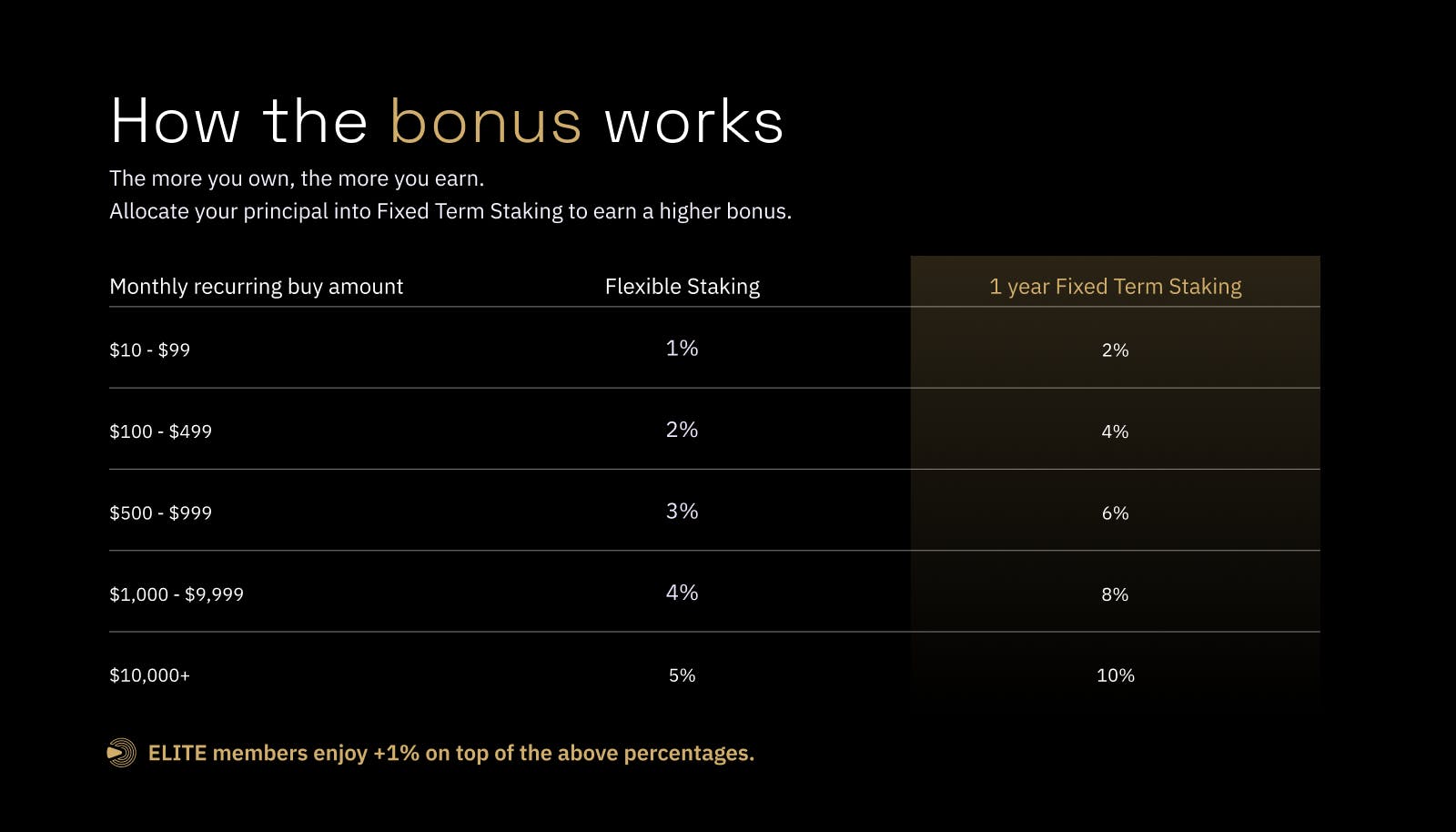 Currently, DeFiChain (DFI) is the first cryptocurrency available for this option. However, stay tuned for updates on other supported coins in the future.
While waiting for those updates, you can participate in our exciting "Baking Hot Summer Giveaway" promotion. Running from August 1, 2023, to November 1, 2023, this promotion gives you a chance to win fantastic prizes, including a brand new Tesla. 
Simply use the "recurring buys" option on the Bake mobile app to earn tickets for the lucky draw. You can also earn more tickets by inviting your friends to join Bake and the promotion. Not only will you receive additional tickets for their participation, but you'll also earn referral commission for each successful sign-up.
For more information on the promotion mechanics, prizes, and other details, visit the "Baking Hot Summer Giveaway" promo page. Stay tuned for updates and good luck in the giveaway!

Start dollar cost averaging by visiting our product page.
DISCLAIMER: Please note that the information on this blog and in any articles posted on this blog is for general information only and should not be relied upon as financial advice. Cake Pte. Ltd., Cake DeFi, UAB, and its affiliates (the "Cake Group") are not licensed financial advisers. You may wish to approach your own independent financial advisor before making any decision to buy, sell or hold any product and/or digital assets mentioned in this blog.
Any views, opinions, references, assertions of fact and/or other statements are not necessarily the views held by the Cake Group. The Cake Group disclaims any liability whatsoever that may arise out of or in connection with such statements. Always do your own research before investing in any financial assets and consult a qualified financial advisor if necessary.