If you've recently entered the world of cryptocurrency, you may have come across the term DeFi or Decentralized Finance. In this beginner-friendly guide, we will explore what DeFi is and delve into both DeFiChain, a prominent player in the domain of decentralized finance, and its native cryptocurrency DFI. 
What is DeFi?
DeFi, short for Decentralized Finance, refers to a range of financial applications built on blockchain technology that aim to disrupt traditional intermediaries. Unlike traditional banking systems, DeFi offers users direct access to services such as lending, borrowing, trading, insurance, and earning interest on assets. It eliminates the need for intermediaries, making financial transactions faster, peer-to-peer, and paperless.
Introducing DeFiChain
In 2019, the DeFiChain Foundation developed DeFiChain, a dedicated blockchain platform designed specifically for decentralized financial applications. The core principle behind DeFiChain is to empower individuals by giving them control over their finances. By leveraging the Bitcoin ecosystem, DeFiChain aims to make decentralized financial services accessible to everyone.
The Connection Between DeFiChain and Bitcoin
DeFiChain is a hard fork of Bitcoin. What does that mean? It means that much of DeFiChain's programming code is similar to that of Bitcoin's.
Furthermore, similar to Bitcoin, DeFiChain is a non-turing complete blockchain. This  means it does not support any function apart from those needed for DeFi - which allows it to provide higher throughput and better functionality, specifically for decentralized applications (dApps) related to finance.
DeFiChain periodically anchors on the bitcoin blockchain. This means that for every few blocks, a specific data set from the DeFiChain blockchain is stored on the bitcoin blockchain.
So, why Bitcoin? 
In one of the earliest videos published by DeFiChain, Julian Hosp - a well-known contributor to DeFiChain - explained that "We wanted to develop something that is actually built around the ecosystem that we believe in the most, which is Bitcoin.
He continued to say that "Ethereum is quite exciting, but it has some challenges.. So, it made sense to have a foundation that is not for profit and start building decentralized finance on top of Bitcoin"
What Makes DeFiChain Uniquely Different from Bitcoin
Bitcoin's scalability is quite limited, as it suffers from slow transaction speed and expensive transaction costs on the base layer. For this reason, DeFiChain opted for a hybrid proof-of-stake/proof-of-work consensus mechanism instead of Bitcoin's proof-of-work.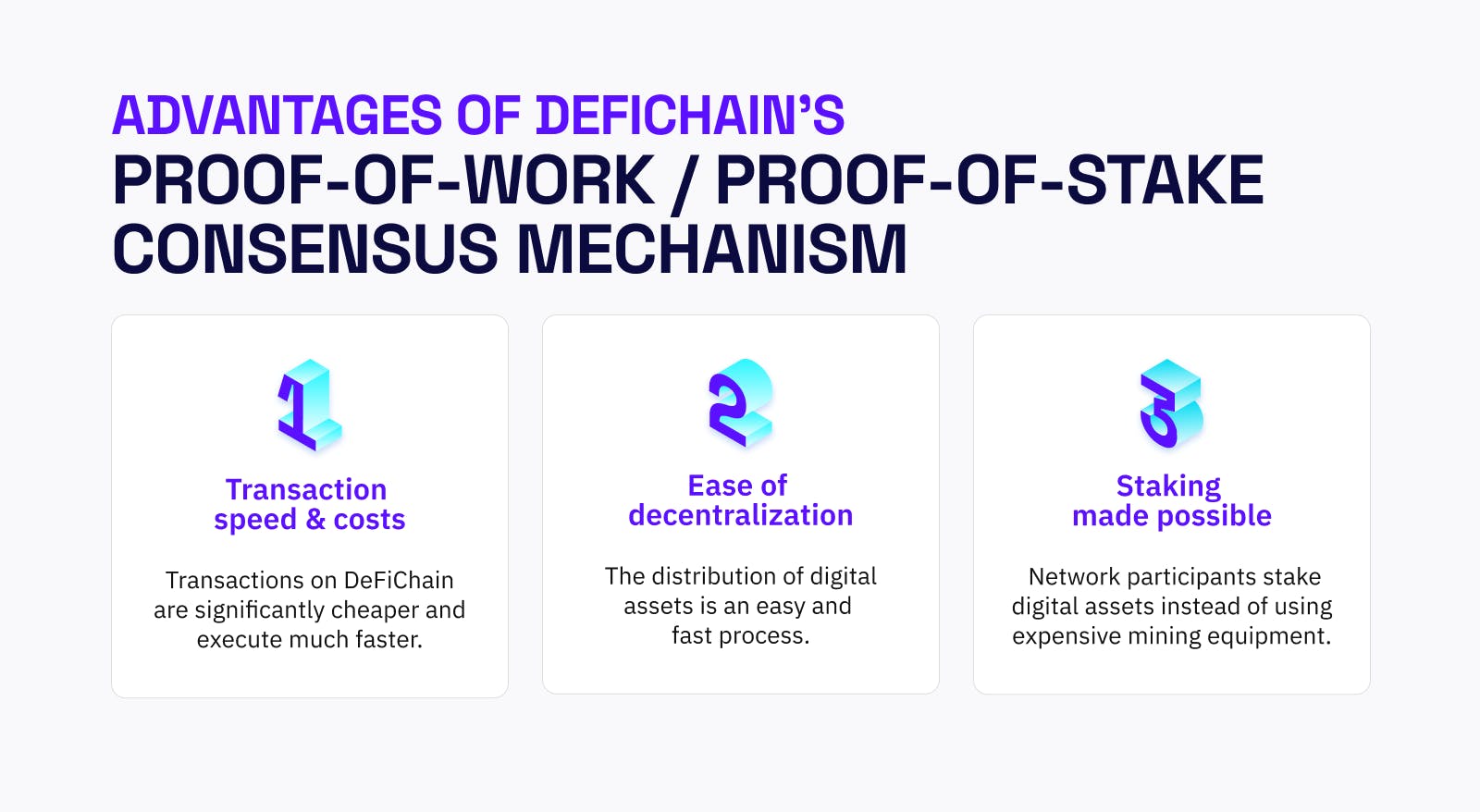 DFI Utility 
Other Functions of DFI (DeFiChain Applications)
Today, DeFiChain is widely popular among proponents of DeFi as it supports various dApps such as tokenization of assets, wrapped tokens, decentralized oracles, liquidity mining and more. Top 50 in Total Value Locked (TVL).
For it's part, DFI plays a particularly important role in the following dApps:
Decentralized assets - users may obtain loans in the form of dTokens (e.g. dTSLA, dGOOGL etc.) by creating vaults and depositing crypto as collateral with a minimum collateralization ratio of at least 150% (at least 50% has to be in DFI or DeFiChain's stablecoin DUSD).


The DEX (Decentralized Exchange): The DEX is the place where users can exchange DFI for other crypto or dTokens.
Other Interesting Facts About DFI

Similar to Bitcoin, DeFiChain also has a maximum supply of its native token. In fact, the maximum number of DFI ever in circulation is limited to 1.2 billion. Around half of those coins have already been distributed, and the rest should follow around five to seven years.

Also, anyone can submit a DeFiChain Improvement Proposals (DFIP) to modify an integral part of the blockchain or its mechanism, as well as a

Community Funding Proposal (CFP) to fund an individual project that would benefit the DeFiChain community and the whole DeFiChain ecosystem.

Applicants simply pay a 10 DFI fee.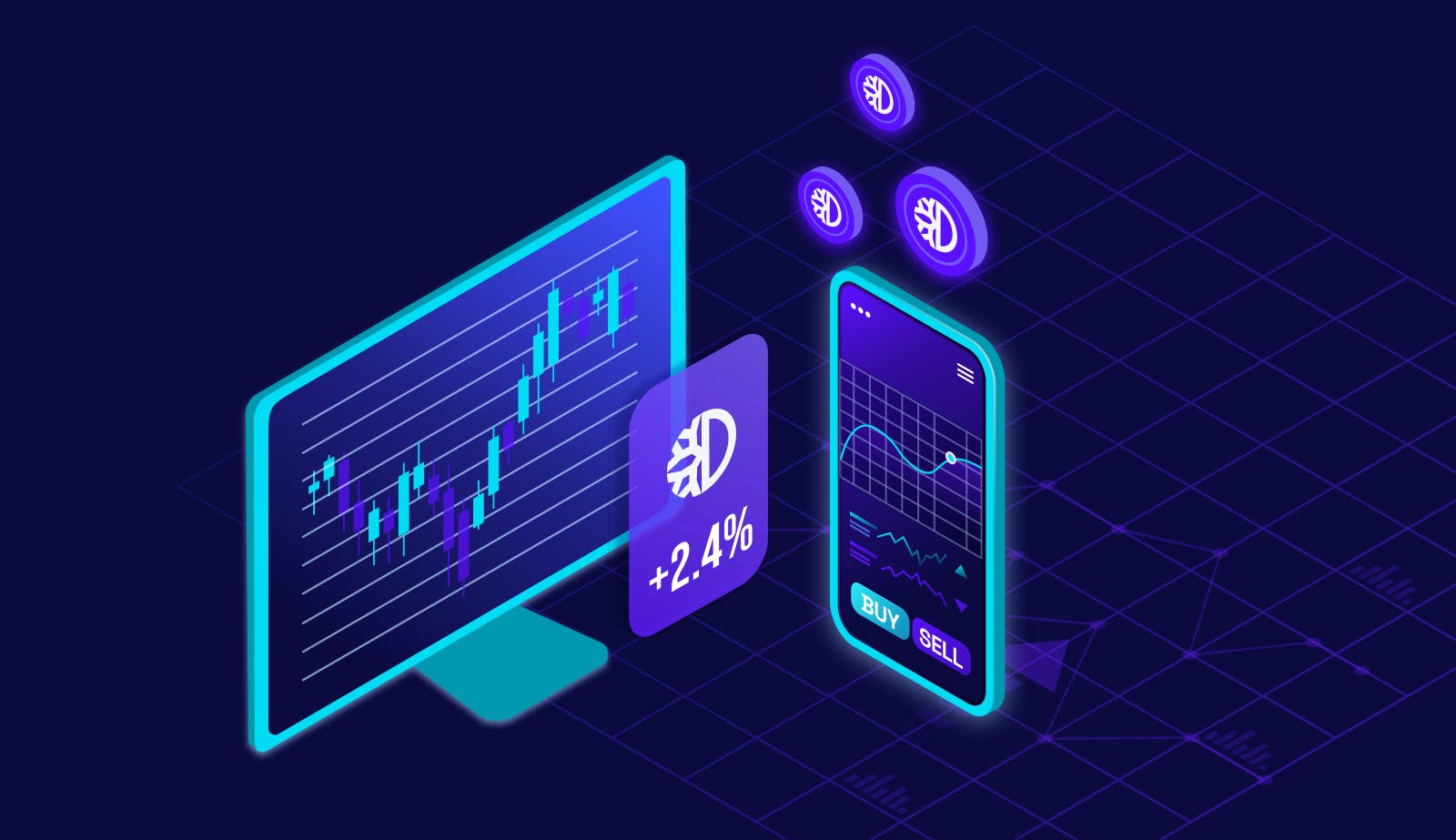 Enter the World of DeFi Through Bake 
Bake is a trusted,  transparent and easy-to-use platform, designed to enable crypto enthusiasts worldwide to access a diverse range of DeFi services. If you're a crypto enthusiast and own DFI, you can experience the benefits of DeFi and generate passive income by using the following Bake services: 
STAKING - by staking your DFI with our Staking service, you not only earn rewards but also contribute to the security and efficiency of the DeFiChain blockchain network. To start earning staking rewards on your DFI, go to our Staking service page. 
YIELDVAULT - earning interest on DeFiChain just got simpler with our YieldVault service. You don't need to own a large amount of DFI or tech skills to start earning. And you can always check how your investments are doing on our Transparency page.
LIQUIDITY MINING - pair your DFI with another cryptocurrency and earn passive income on both using our Liquidity Mining service. To start liquidity mining rewards on your DFI, go to our Liquidity Mining page. 
Other Ways To Earn DFI Rewards 
By participating in the following, users may receive DFI as a bonus or reward:
DFIP - users who have allocated their DFI into our Freezer can earn DFI bonuses by participating in DFIP voting. Have your say on which proposals should be approved by casting your vote using the official Bake mobile app.
LEARN AND EARN - put your crypto knowledge to the test and earn DFI as bonus if you pass the quiz on DeFiChain.
REFERRAL - refer Bake to your friends and earn bonuses in DFI for every successful sign up.
ELITE - be a member of our ELITE program to boost your DFI earnings and enjoy other exclusive benefits.

If you wish to generate passive income on your DFI or receive DFI bonuses but have not signed up for a Bake account yet, click here and take control of your financial destiny.
DISCLAIMER: Please note that the information on this blog and in any articles posted on this blog is for general information only and should not be relied upon as financial advice. Cake Pte. Ltd., Cake DeFi, UAB, and its affiliates (the "Cake Group") are not licensed financial advisers. You may wish to approach your own independent financial advisor before making any decision to buy, sell or hold any product and/or digital assets mentioned in this blog.
Any views, opinions, references, assertions of fact and/or other statements are not necessarily the views held by the Cake Group. The Cake Group disclaims any liability whatsoever that may arise out of or in connection with such statements. Always do your own research before investing in any financial assets and consult a qualified financial advisor if necessary.