Dear Customers, Partners, Team Members, and Crypto Enthusiasts!
It's a pleasure to share the second quarter overview of the Cake Group's performance for 2023. 
In navigating the nuances of a recent restructuring (details below), our primary focus was on four distinct verticals:
Bake
Levain
Birthday Research
Whisk
The following summary is an overarching, bird's-eye perspective on performance and initiatives. This will set the context for each vertical's performance and future plans.
Markets
Before discussing strategic next steps, it's essential to pause and reflect on the developments in the cryptocurrency landscape during the quarter. Many coined the second quarter a "lost quarter for crypto," as very little seemed to have happened from a builder and price perspective. 
However, in my observation, there have been three particular events that left a notable impact - not only on our operations and strategic outlook - but on the entire market:
The April Shapella Upgrade for Ethereum: This significant development saw the Ethereum network undergo an essential upgrade known as Shapella. As a result, it was now possible to unstake ETH for the first time. This positively impacted ETH's price and our retail platform (Bake) since we had to invest resources to offer unstaking to our customers, previously using csETH.

Regulatory Instabilities in Late May and Early June: One cannot discuss the recent state of the crypto market without noting the considerable regulatory turbulence, particularly from the Securities and Exchange Commission (SEC). These developments have instigated a need for us to recalibrate our geographical strategies. The regulatory landscape's uncertainty requires a more flexible and adaptable approach, demanding constant vigilance to regulatory shifts and their potential impacts on our operations. You can find further details in the Compliance section of the Bake report.

Bitcoin Spot ETF in Late June: The hope of a Bitcoin Spot Exchange-Traded Fund (ETF) was a significant inflection point in the crypto markets. This development injected a fresh dose of optimism—'hopium,' if you will—back into the markets. The introduction of this new investment vehicle presents a double-edged sword. It could lead to broader institutional adoption of cryptocurrencies and increased market liquidity if approved. It also raises concerns about greater market volatility and regulatory scrutiny. If not approved, it could cause a significant pullback.
Each noteworthy occurrence holds significant implications for our strategic roadmap, necessitating deliberate evaluation as we craft our trajectory into the third and fourth quarters of 2023. 
To that end, I invite you to join me in an all-encompassing examination of the entire Cake group.
Restructuring
The first part that stands out is our entire restructuring, where all four verticals are now within https://cake.group. What is the Cake Group? It's an assemblage of businesses that all share a joint mission: 
"Advance blockchain for the benefit of humanity." 
The largest vertical in the group is Cake DeFi, renamed to Bake, our retail-first platform. When we started in 2019, we had envisioned a platform that would shift the focus of the crypto community from mere trading to generating cash flow from their assets. Since inception, we've always been committed to doing more with what we have and making a meaningful difference.
Cake DeFi was doing exceptionally well. Yet, we needed to further streamline our organization for higher accountability. So on June 7th, 2023, and on our 4th anniversary - aka fourth Cakeaversary - we expanded the company to become the Cake Group. Cake DeFi metamorphosed into Bake (https://bake.io) with the mission: 
"To level the investment playing field."
Bake was joined by Birthday Research, our R&D arm, in 2020 (https://birthday.dev); Whisk Ventures (https://whisk.vc), our venture capital arm in 2021; and Levain (https://levain.tech), our B2B arm, in 2022; with ambition for more verticals in the future. 
We are not intending for the group to become a big consumer brand with related products. The idea is that each business under the Cake Group has the independence to develop its own brands with core audiences and value propositions, which is essential for our team members, customers, and partners.
Exemplifying our commitment to excellence was 36 key strategic hires this quarter while simultaneously addressing performance bottlenecks, enabling our team to expand from 171 to 185 members. With our current momentum, we are confidently on course to reach our ambitious year-end target of 210 and about 200 by the end of Q3. This growth aligns seamlessly with our established budget, Objectives, and Key Results (OKRs). 
All open positions are featured on our dedicated careers page at https://bake.io/careers. However, to streamline the application process and enhance the candidate experience, we're migrating all career opportunities to our group website at https://cake.group/careers. 
Highlight
The Q2 highlight for our team was undoubtedly the company-wide retreat to Phuket in May. This cost-effective venture, representing less than 10% of a month's salary expense for the company, united our team in a vibrant and inspiring setting. The event bolstered camaraderie and cultivated deeper interpersonal connections. The experiences shared and friendships strengthened throughout this journey were invaluable. 
Consequently, the trip is a strategic investment in our team's synergy and morale. The retreat's success convinced us to make it an annual tradition, signifying our commitment to team bonding and mutual growth. Looking ahead, I anticipate many memorable moments that enhance our collective spirit and drive our company's success.
People
With that, for the first time in the history of the Cake Group, we are implementing a comprehensive 'Job Levelling' program. This initiative ensures we retain, reward, and motivate the top-performing 20% of employees while offering targeted training and development opportunities for our middle 70%. This program is not just about promotion and reward—it's also about continually challenging our team to rise to their potential and drive the success of the Cake Group.
As for the bottom 10% of our workforce, our approach is twofold:
Bring out their best by providing them with specific, actionable feedback and resources to improve their performance. 
In the event of no measurable improvement, we are prepared to make tough decisions for the company's best interest and our team's collective productivity.
Another critical development I am thrilled to announce is the appointment of our new Chief Marketing Officer (CMO). This crucial hire rounds out our C-Suite and demonstrates our commitment to strengthening our marketing initiatives. We are confident that the CMO's strategic insights and innovative vision will significantly enhance our marketing efforts, brand positioning, and customer engagement. As a result of this hire, our C-Suite is set to be complete and formally recognized by the end of Q3.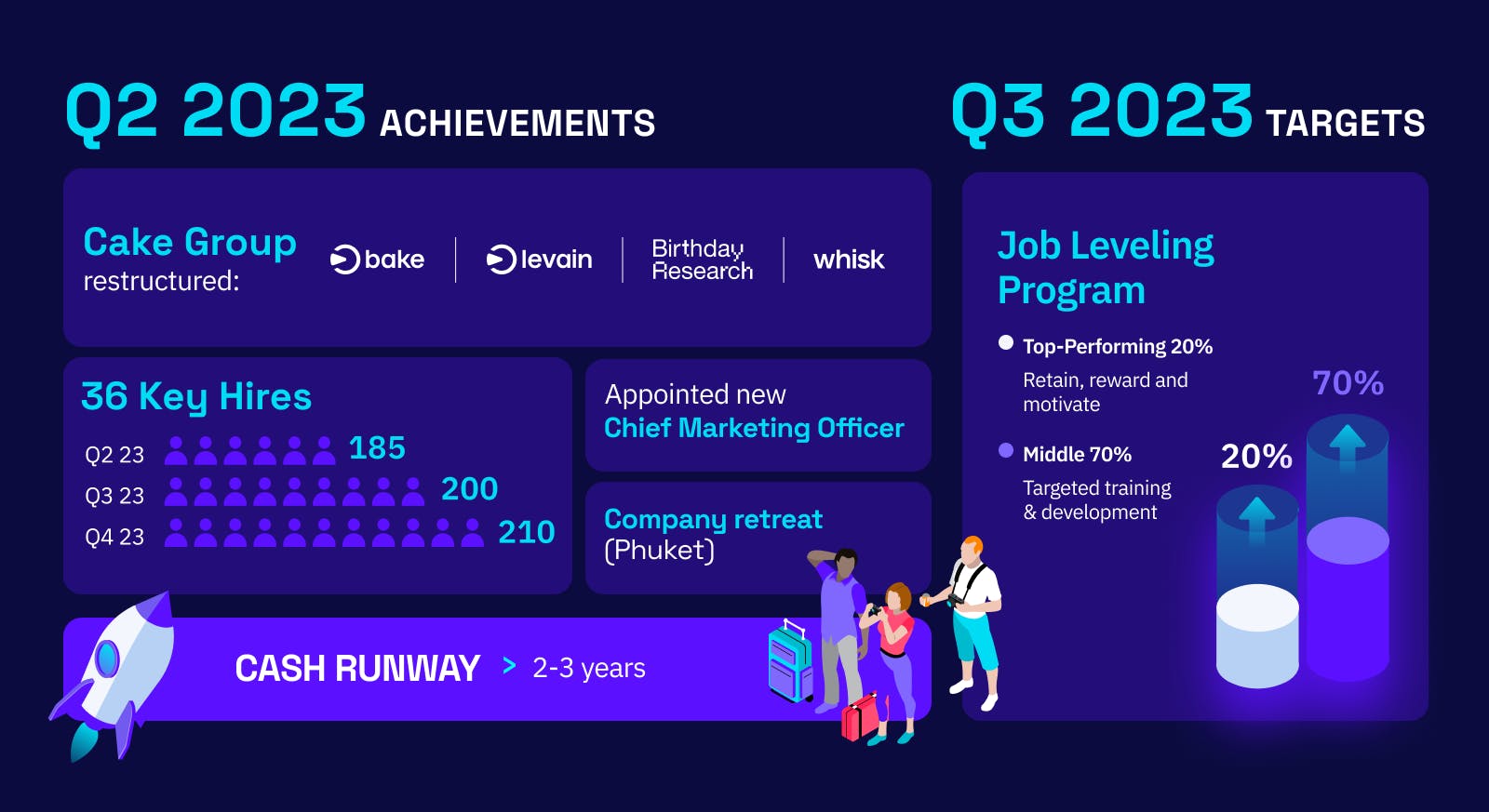 Bake
As we delve into the performance of our individual verticals, let us begin with Bake, our retail division, which has proven to be an essential part of our operations. A significant milestone we achieved was the rebranding of Cake DeFi to Bake. This strategic move aligns our identity with our broader vision and sets the stage for our future endeavors.
One of the most exciting achievements of this period was the launch of our new mobile application. Initially rolled out on Android, the Bake App brings our services right to the fingertips of our users, providing them with an intuitive and seamless platform for their cryptocurrency needs. The iOS version is also set to launch, subject to approval by Apple. This has been a long-awaited development, and its realization marks a significant step forward in our service expansion strategy.
Other stand-out highlights from Q2:
ELITE Membership: Our ELITE membership has increased, yet we can improve by adding attractive benefits for our customers and communicating them clearer: https://bake.io/elite 

ETH Unstaking: We introduced ETH unstaking this quarter. We had some challenges initially, and as we understand the critical importance of a seamless experience for our users, we are working to improve future roll-outs.

SOL Staking: We successfully launched SOL staking: https://bake.io/services/staking 

DUSD Yield Vault: With YieldVault, our customers can achieve even higher returns on Bitcoin, Ethereum, Stablecoins, and much more: https://bake.io/services/yield-vault 

Stability of the System: While our platform was stable, deposits sometimes took longer than expected for our customers, and reward payouts could have been more predictable. This is an opportunity for improvement, and we are committed to doing better in Q3.

User Base: User numbers grew slightly slower than expected. This trend indicates the overall sector, but there is room for improvement in Q3. We have specifically hired a marketing lead from Binance to join us at Bake in August 2023.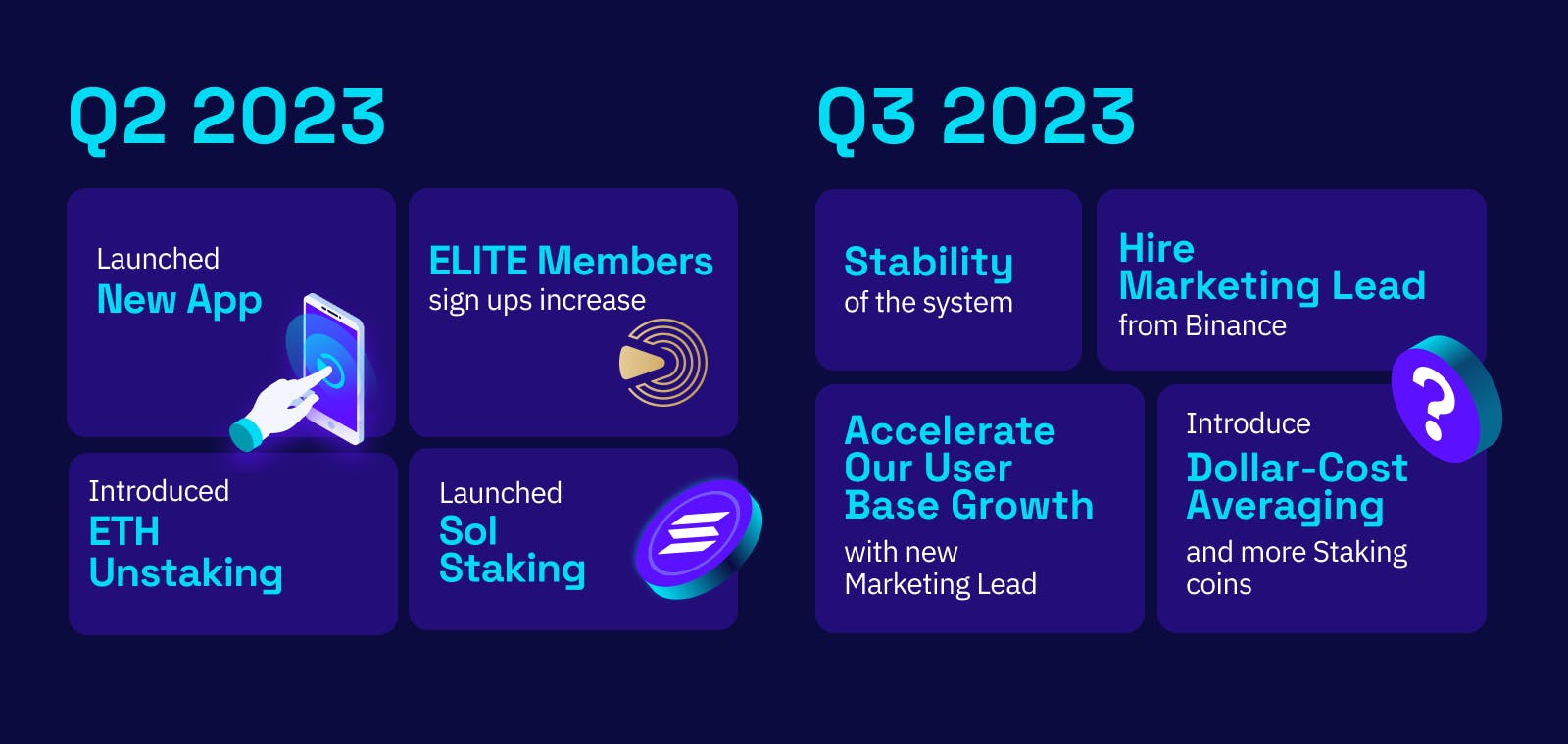 Reflecting on how to dramatically improve Bake for our customers, we are thrilled to look into some transformative ideas for Bake. 
We intend to pivot from merely listing coins to becoming a comprehensive platform for everything related to cryptocurrency. This will require significant adjustments in how we approach different aspects of the vertical, encompassing Product, Marketing, Compliance/Risk, and Operations. More to come in later reports. 
In pursuing this exciting new vision, we aim to revolutionize the crypto finance landscape by offering a platform that caters to our users' diverse needs and preferences. We aim to become a one-stop shop for everything crypto, encapsulating a range of financial products and services as Amazon does in retail. This is an ambitious objective, but we are confident we can realize this vision with our collective efforts and unwavering dedication.
In working towards our ambitious vision, we fully know the transformation will require a few more quarters to be realized, with an aspirational target to release the first version in Q4. However, we have identified several 'quick wins' that we plan to implement in Q3 to create immediate value for our customers:
Dollar-Cost Averaging (DCA): We aim to integrate DCA into our offerings.

Add Staking Coins: We plan to add more staking coins to our platform. This will not only broaden our product range but also cater to the diverse needs of our users.

Grow ELITE Customers: We plan to significantly expand our ELITE customer base by offering clear benefits and communicating these benefits better.
These strategies will serve as stepping stones toward our long-term vision and create immediate user value.
Levain
Shifting attention to Levain, our enterprise arm, which has made considerable progress this quarter, but still lagging behind our competition:
Product Development: I'm thrilled to share that our product is now live: https://levain.tech. Our team is rigorously working to expand our capabilities.

Client Acquisition: We've begun to onboard live clients, marking an exciting milestone in Levain's journey. We look forward to working closely with these early adopters and leveraging their feedback to refine our offerings. 

Marketing and Sales Initiatives: We've hired our Marketing Lead and kickstarted our marketing and sales efforts. 

Looking ahead to Q3, the main goal will be around dApp Access: We aim to offer decentralized app (dApp) access with all EVMs. We further intend to extend this feature to UTXO blockchains, such as Bitcoin, particularly for BRC20 and Ordinals.

Integration with Bake: Levain was conceived with the vision of serving as an integral building block for Bake. As such, we're enhancing the synergy between the two verticals to unlock new growth opportunities.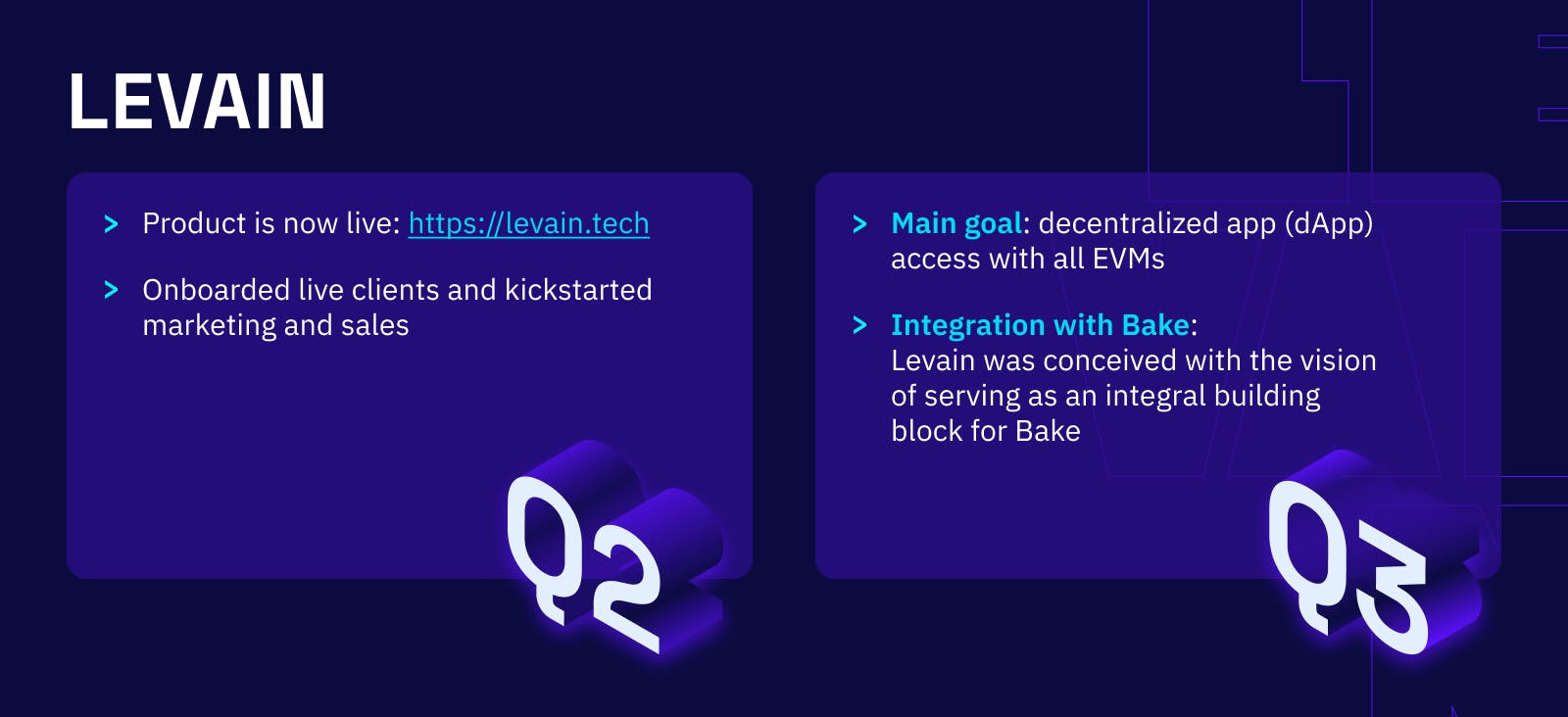 I am optimistic about Levain's potential to significantly impact the enterprise blockchain space. I look forward to updating you on our progress in the coming quarter.
Birthday Research Open-Source-and Products-Work
The Birthday Research team (https://birthday.dev) is actively engaged in two pivotal areas of work:
Firstly, they contribute significantly to open-source work on various blockchains, including Ethereum, Bitcoin, and DefiChain. This work is channeled through projects like Wrytes for Ethereum and the Sado Protocol for Bitcoin. These initiatives don't offer us direct intellectual property ownership as they belong to the broader community. Nevertheless, they provide essential services and tools that our other verticals, such as Bake and Levain, can leverage to enhance their product offerings. This makes it a worthwhile investment of time and resources, despite being a pure R&D expense.

Unfortunately, open-source blockchain development is complex and time-consuming, and we've faced some delays. The most significant delay has been working on DeFiChain, where we're developing an application layer known as MetaChain. Initially projected to be completed in Q2, the launch is now scheduled for early August.

The second focus of the Birthday Research team is the development of proprietary products where we retain IP rights. While we have yet monetized any of these products, they represent potential future revenue streams. These products include:

a. Light wallet, a non-custodial wallet solution.

b. DefiScan/MetaScan, a block explorer.

c. Ocean Infrastructure is a service for hosting and running blockchain node infrastructure.

d. And a few more
During Q2, we made small but significant improvements to these products. These enhancements will strengthen our product suite, offering us more options for future monetization and improving our services. Presently, most of this infrastructure is centered around DeFiChain. Still, we intend to expand it to other ecosystems, both driving value to our products and uniting blockchain communities.
In summary, while the Birthday Research team faced some challenges this quarter, they also achieved noteworthy progress. As we move into Q3, we aim to address the challenges and seize the opportunities these projects present. We are confident that both our open-source contributions and proprietary product development will yield significant benefits in the long term.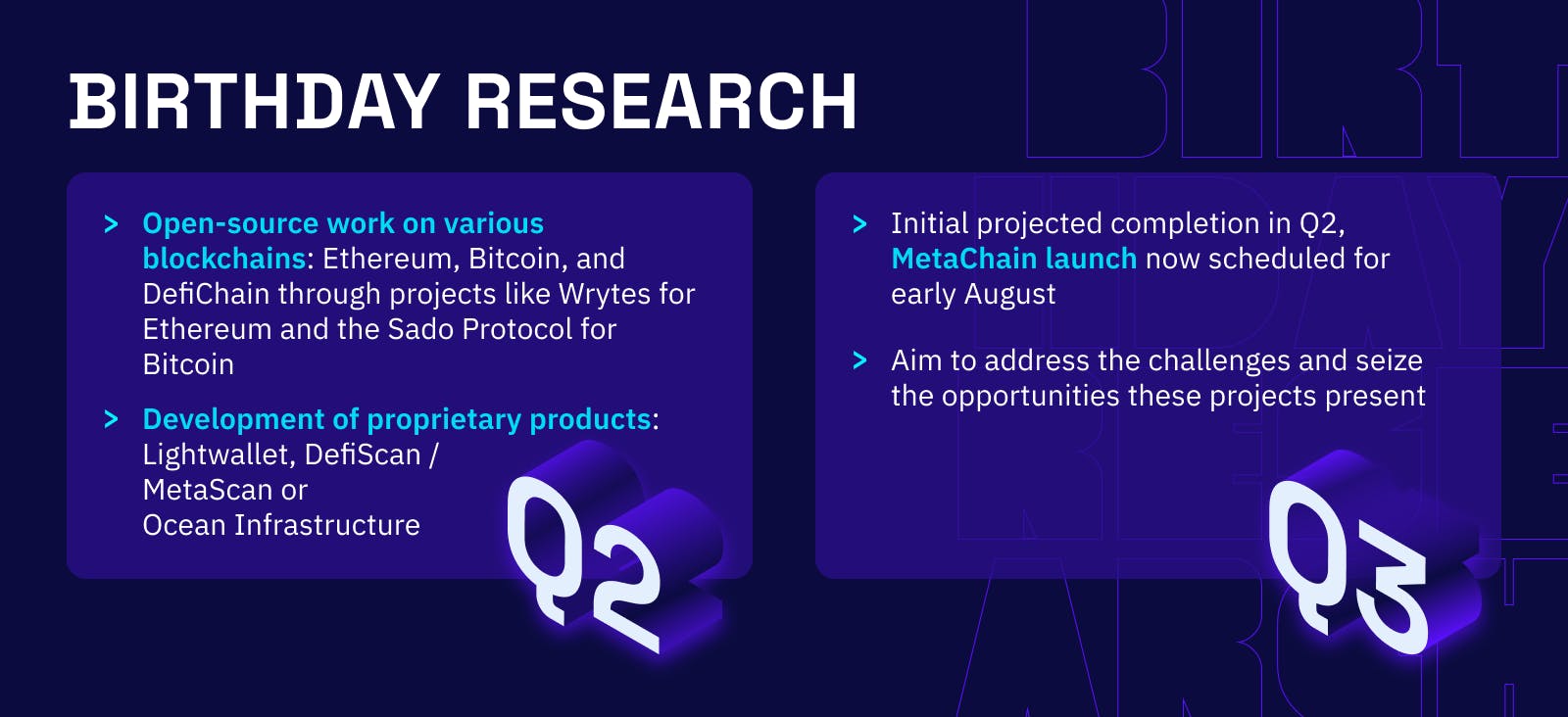 Whisk Ventures
Whisk Ventures (https://whisk.vc) represents our strategic investment wing. In Q2, we invested $1 million into an Ordinals Project, further reflecting our commitment to fostering innovation and growth in the blockchain ecosystem. Our investment strategy remains focused and lean, ensuring we prioritize quality over quantity.
Moving forward into Q3, our investment strategy is primarily centered around four key areas:
MetaChain Layer Projects: We're looking to invest in promising projects in the DeFiChain space, owing to its growing potential to drive innovative solutions within the blockchain industry while being able to use our DFI and DUSD.

Ordinal Investments: Given our recent involvement, we aim to make more investments within the Ordinals space and see significant opportunities for growth and impact in this sector.

Supporting Levain and Bake: To reinforce our synergy and ensure mutual growth, we're actively seeking investment opportunities to benefit our other verticals, Levain and Bake. By doing so, we aim to create a robust and interconnected network that can drive collective growth.

Preservation of Capital: While actively exploring investment opportunities, we also recognize the importance of maintaining a solid financial position. Hence, we follow a 'Cash is King' philosophy, ensuring our liquidity is not compromised.

I look forward to sharing more details about our investments and their potential impact in our next report.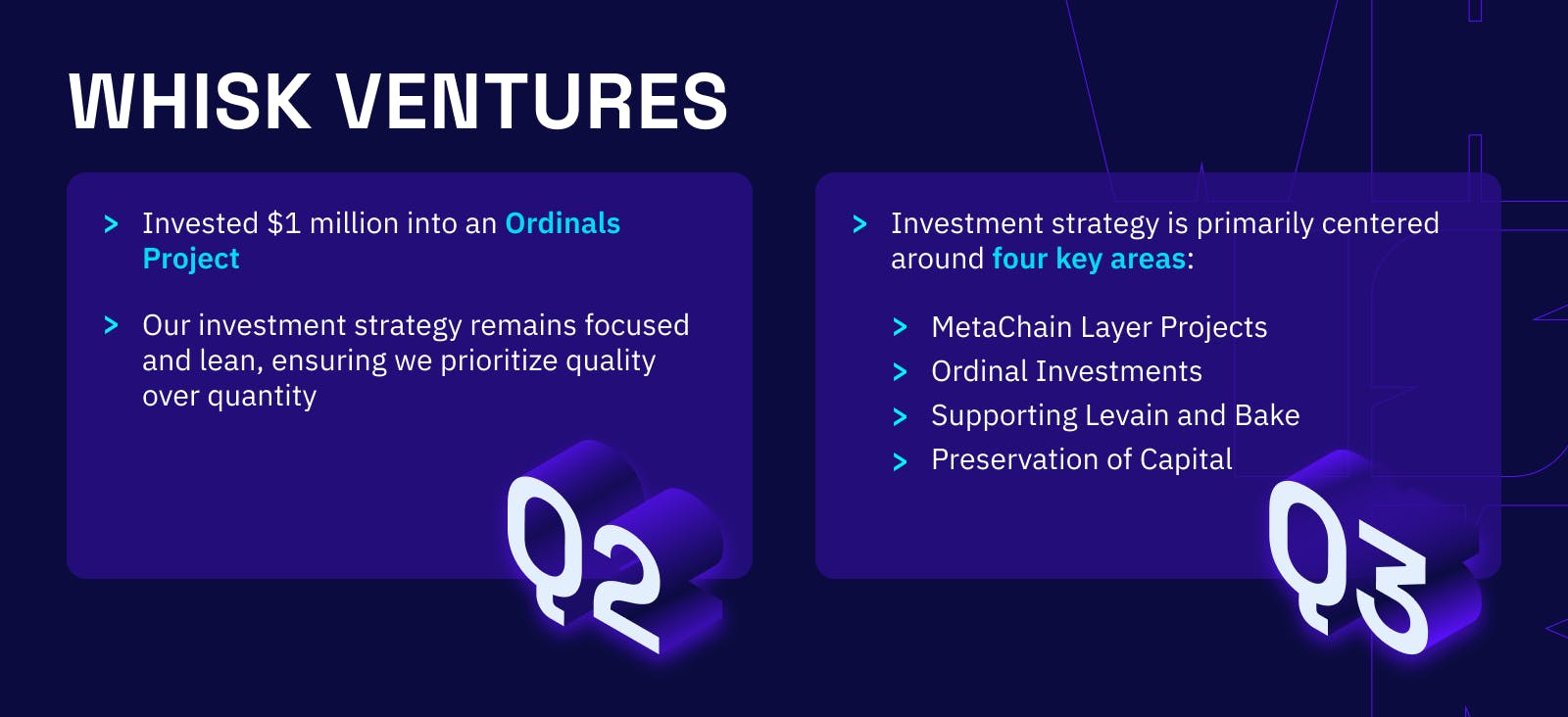 Closing
As we bring this report to a close, it is important to recognize we are navigating through unpredictable and tumultuous markets. The uncertainties ahead are like dark clouds on the horizon, potentially foreshadowing storms we must weather. However, I remain wholeheartedly confident that our ship is helmed by a crew that understands the urgency of our situation and is motivated and equipped to confront the challenges that lie ahead.
I want to express my immense pride in our team. Their dedication, resilience, and ceaseless commitment to our mission have been the bedrock upon which our successes have been built. They've exhibited an exceptional ability to adapt, learn, and innovate in adversity. For this, they have my utmost admiration and gratitude. 
And while recognition of our accomplishments is crucial, we must also confront our shortcomings with unwavering honesty and determination. We've learned valuable lessons, and I am confident we will leverage these experiences to fuel our growth and improvement.
Looking towards Q3 and beyond, our path is far from easy, but it is one we are prepared to traverse. We will rise above the trials, staying true to our commitment to drive transformation in the blockchain and crypto space. 
We will continue to innovate, improve, and strive to turn challenges into opportunities. Our targets are aggressive. We may not achieve them, but I prefer we reach for the moon and land with the stars than never reach escape velocity. It is my absolute pleasure to be on this rocket ship with you.
Julian
CEO, Co-Founder, and Executive Chairman of the Board