Amidst the ever-evolving world of crypto, one coin continues to rule them all: Bitcoin (BTC). Despite going through several cycles of highs and lows, BTC has never lost hold of its crown, firmly standing as the most valuable crypto asset in the world.
But getting a slice of the BTC pie can be tricky business, especially if you're not prepared to deal with its periodic bouts of wild highs and lows. Many investors have succumbed to the temptations of FOMO (fear of missing out) or FUD (fear, uncertainty, and doubt) and have paid the price when they ill-time the market.
This is where dollar-cost averaging (DCA) comes in. By buying a fixed amount of BTC at regular intervals regardless of price, DCA sets you on the right path to profit from your investment in the long haul. With DCA, you'll never have to stress over the wild swings of the BTC market again; just sit back and let your investments pay off over time!
Why Invest in Bitcoin in the First Place?
Bitcoin has performed consistently well over the years, steadily climbing in value to reach its current price point of USD 25,740.50 (accurate as of 5 Sep 2023). 
Source: Bytwork
Despite fluctuations, bitcoin has significantly increased in value since its creation in 2009. Even during periods of market turmoil and negative sentiment, bitcoin always held strong and increased in value over time.
Bitcoin's track record of stability and resilience shows it's still one of the best investment options whether you're a beginner or a seasoned investor.
Is Dollar-Cost Averaging Good for Bitcoin?
Absolutely! And the not-so-secret secret lies in DCA's star ingredients: simplicity and consistency. 
If you believe in Bitcoin's potential but want to avoid the stress of dealing with its volatility, DCA is the way to go. By using DCA, you reduce your likelihood of being swayed by short-term price swings and benefit from the long-term growth potential of Bitcoin.
DCA ensures you remain razor-sharp in your focus on your long-term financial goals - never mind how the markets behave as you chart your way forward. 
To illustrate, assume you have USD 10,000 and want to buy BTC. You can: 
Buy USD 10,000 worth of BTC in one lump sum investment (LSI), or
DCA USD 10,000 worth of BTC every month for six months.
Let's say you started investing on 1 March 2023. Here's how your investment would perform by August 2023, based on the historical closing prices of BTC from Yahoo Finance: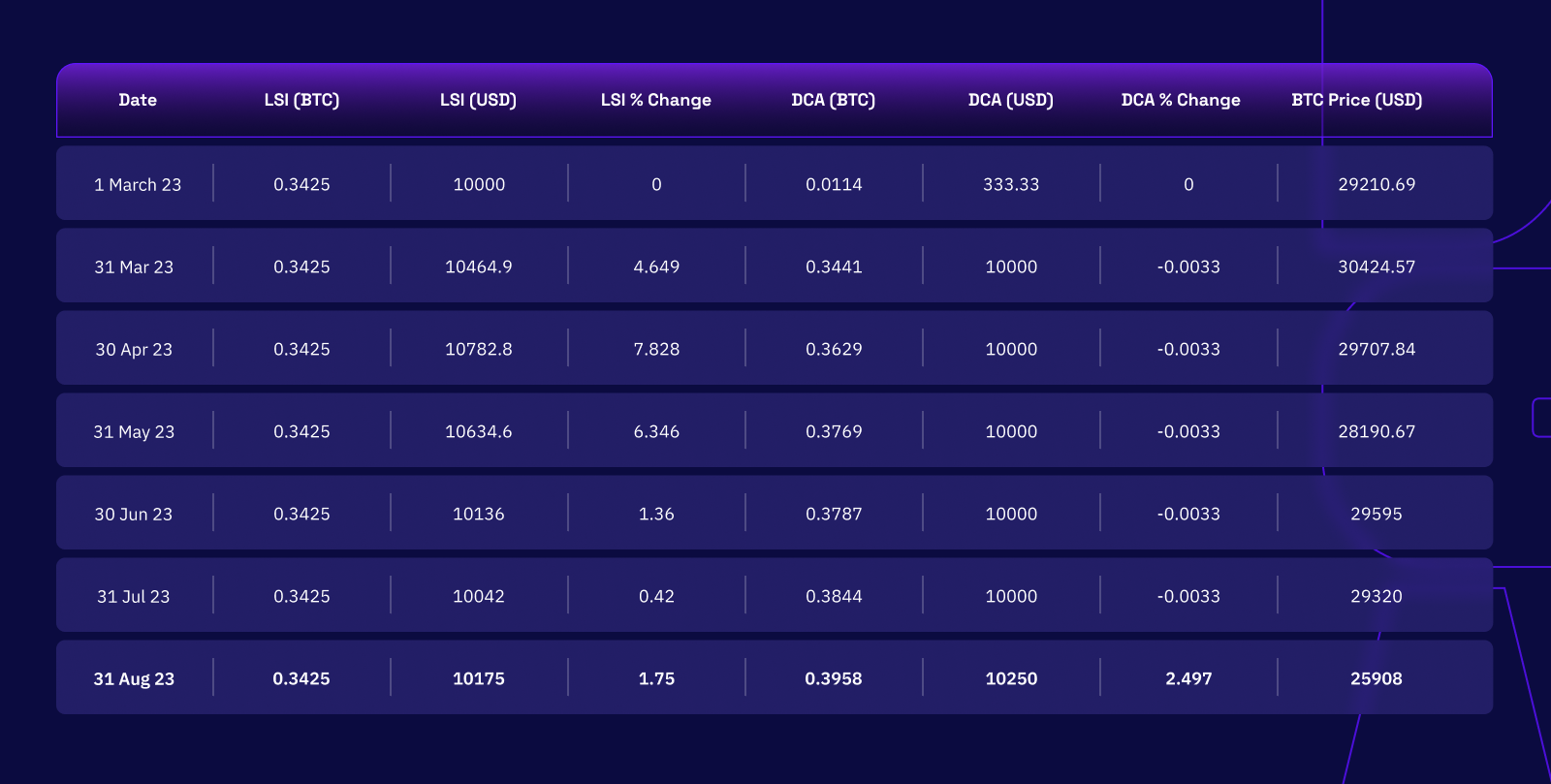 From the table above, using DCA will net you 0.3958 BTC from investing USD 10,000 over 6 months. 
In this example, the average cost for both strategies, DCA and lump sum:
DCA: USD 10,000 ÷ 0.3958 BTC = USD 25,265.29 per BTC
Lump sum: USD 10,000 ÷ 0.3425 BTC = USD 29,197.08 per BTC
Overall, DCA resulted in a positive return of 2.497%, as opposed to LSI's lower return of 1.75%. DCA can be more profitable than LSI - especially since it nets you more BTC when the price is lower and less when the price is higher. 
What is the Best DCA Strategy for Bitcoin?
There's no definitive answer to this question. How you plan your Bitcoin DCA strategy is entirely dependent on your risk appetite, time horizon, and objectives. 
As a general rule of thumb, you can weave the following pointers into your strategy:
1. Start small and increase gradually. 
If you're a Bitcoin newbie, you may want to start with small purchases at lower frequencies until you build your expertise. You can then consider increasing your investment gradually as you learn more about crypto and become more confident.
2. Stay consistent. 
DCA won't work unless you're disciplined! Make sure you stick to your plan and avoid deviating from it. 
While it may be tempting to buy in when Bitcoin performs well, there's no knowing how long such good times are slated to last. You could very well find yourself in a rut if Bitcoin's price drops the day after you buy in!
Just buy Bitcoin regularly and patiently, and trust the process. You'll thank yourself later.
3. Be flexible and adaptable. 
While fortune definitely favors the consistent, you should also be open to adjusting your strategy when your circumstances and goals change. 
Maybe you've gotten a huge pay raise at work. Or perhaps you need to tone down your expenses to prepare for a major shift in life.
Regardless, you'll want to keep an open mind and adapt where necessary. And hey, it's perfectly alright if you need to stop your DCA purchases if an emergency crops up. Remember, your life comes first before all else.
What Platform Does Dollar-Cost Averaging for Bitcoin?
Now that you're poised to start your Bitcoin DCA journey, the next step is to find a platform to set up and execute your strategy. 
You'll find that you're spoilt for choice, as the crypto ecosystem is rich with platforms that simplify the process for you. 
Generally, you'll want to look at the following options: 
1. Cryptocurrency Exchanges: Most major exchanges, such as Coinbase, Binance, and Bake, offer DCA as "Recurring Buys,"  allowing you to set up your DCA plan easily. Check out the 8 best exchanges to DCA crypto to decide where to set up your strategy for Bitcoin.
2. Bitcoin Investment Apps: There are dedicated apps like Swan Bitcoin and Cash App that cater specifically to Bitcoin investments, cutting out the noise to keep you focused on Bitcoin.
3. Crypto Wallets: Unlike the other two categories, crypto wallets require you to manually purchase Bitcoin at regular intervals. As no automation is involved, the onus is entirely on you to stick to your plan.
You can set up DCA manually by transferring funds to your own Bitcoin wallet at regular intervals and making purchases when you choose.
With a DCA tool or platform, you can monitor your progress, adjust your investment frequency or amount, and track your cost basis effortlessly.
Fast Track Your Bitcoin DCA Strategy with Bake
Bitcoin is a reliable choice to invest in, and a sound DCA strategy will go a long way in helping you grow your wealth. 
And you can start right away by setting up your recurring buys with Bake. With the lowest fees on the market and guaranteed rewards, Bake is here to help you achieve your goals faster.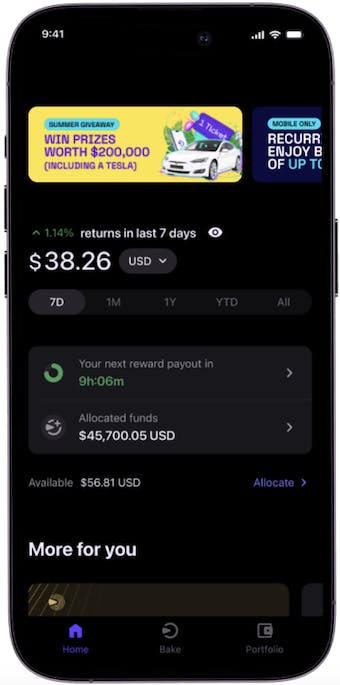 That's not all - from now until 01 November 2023, you can win a Tesla and a share of US$200,000 in prizes in Bake's "Baking Hot Summer Giveaway." 
Win tickets for every BTC recurring buy you make, and increase your chances of winning by inviting your friends to sign up for a Bake account. You'll also earn referral commissions for every successful sign-up.

DISCLAIMER: Please note that the information on this blog and in any articles posted on this blog is for general information only and should not be relied upon as financial advice. Cake Pte. Ltd., Bake, UAB, and its affiliates (the "Cake Group") are not licensed financial advisers. You may wish to approach your own independent financial advisor before making any decision to buy, sell or hold any product and/or digital assets mentioned in this blog.
Any views, opinions, references, assertions of fact and/or other statements are not necessarily the views held by the Cake Group. The Cake Group disclaims any liability whatsoever that may arise out of or in connection with such statements. Always do your own research before investing in any financial assets and consult a qualified financial advisor if necessary.