Are you bothered by the increasing incidents of funds being withheld or withdrawals being suspended by various crypto platforms? Or, perhaps, you simply feel like you don't have full control or autonomy over your crypto portfolio?
Empower yourself and invest with confidence with the new Bake mobile app, a revolutionary tool coming to crypto investors who want to take control of their financial destiny this July 2023.
In this article, we'll give you a sneak peek at the amazing new features of the Bake mobile app and explain why it's a game-changer for crypto investors everywhere.
Why rename the mobile app into Bake?
Bake is more than just a name for our newly-introduced mobile app. It symbolizes our mission to empower users to "bake" their crypto portfolios using the best decentralized finance services available, entirely based on their own preferences and without limitations. We understand that each user has specific goals and requirements when it comes to managing their crypto portfolios, which is why the new Bake mobile app is the perfect tool for them.
Moreover, the introduction of the new Bake mobile app is part of our highly-anticipated company rebrand, which we will reveal more information about in the coming weeks. Stay tuned to learn more about the exciting changes happening at Bake!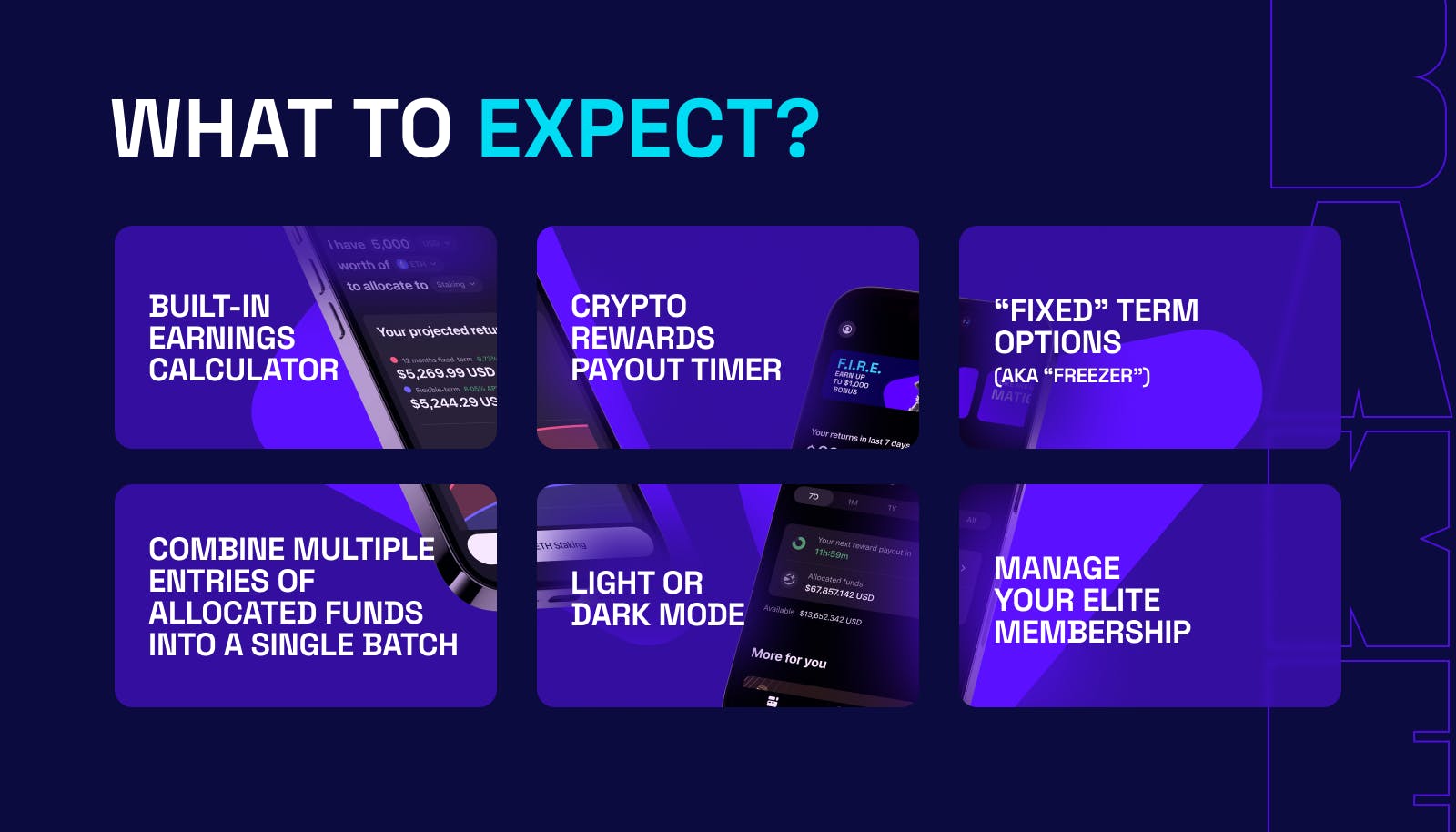 What Can Users Expect from the New Bake Mobile App?

Built-In Earnings Calculator
Want to know how much you could earn before actually allocating funds into any of our services? Our built-in calculator lets you enter a sample amount and duration to estimate your potential earnings from YieldVault, Staking, Liquidity Mining.
That said, it's important to remember that these estimates may vary depending on market conditions.
Crypto Rewards Payout Timer
With the new Bake mobile app, you can be confident that your crypto rewards will be generated and reflected in your account balance on time. Our built-in timer provides complete transparency and certainty, so you no longer have to second-guess when your rewards will be available. 
"Fixed" (Formerly Known as "Freezer") or "Flexible" Term Options
With the launch of our new Bake mobile app, we're excited to offer our Staking and Liquidity Mining users the choice between a Fixed Term or Flexible Term investment option. If this sounds familiar, that's because fixed-term functions similarly to our "Freezer" feature - which we've now renamed and further simplified for your convenience.
As before, users can enjoy even greater flexibility when choosing the duration that best suits their financial goals. Whether you want to allocate funds for the long term or prefer more flexibility when withdrawing your funds, our new investment options have got you covered.
If you've previously allocated funds to our Freezer, there's no need to take action. Your funds remain safe and secure as Fixed Term Staking or Fixed Term Liquidity Mining, and you can continue enjoying the passive income generated from our services without any interruption.
Combine Multiple Entries of Allocated Funds Into a Single Batch 
To make tracking easier, users can now combine multiple entries of allocated funds into a single batch with a unified APY and allocation period, or even upgrade to a longer-term duration to earn higher returns. This applies to same-token entries made into our Staking service or Liquidity Mining service.
Light Mode and Dark Mode 
Users can now personalize their experience with the new Bake mobile app by switching between light mode and dark mode. This feature provides maximum comfort for users while navigating the app.
The new Bake mobile app makes it easy to apply for and manage your ELITE membership. You can also receive important updates about the program and enjoy all the exclusive benefits that only ELITES can enjoy.
As part of this exciting launch, the current VIP program will end and transition into the ELITE membership program upon the launch of the new Bake app on 10 Jul 2023. VIP users who have yet to join ELITE will receive a complimentary membership to experience these privileges. We will send you more details about this via email.

In the meantime, you may visit our ELITE page to learn more about the exclusive benefits that we offer. 

Can't wait to use the new Bake mobile app? Check our Blog Section or follow us on Facebook, Instagram, LinkedIn, Reddit, Telegram, TikTok, Twitter or Youtube for official updates and announcements.  
You want to use the new Bake mobile app but have not signed up for an account yet, please go to our sign up page. So, what are you waiting for? Create an account now and take control of your financial destiny. 
DISCLAIMER: Please note that the information on this blog and in any articles posted on this blog is for general information only and should not be relied upon as financial advice. Cake Pte. Ltd., Cake DeFi, UAB, and its affiliates (the "Cake Group") are not licensed financial advisers. You may wish to approach your own independent financial advisor before making any decision to buy, sell or hold any product and/or digital assets mentioned in this blog.
Any views, opinions, references, assertions of fact and/or other statements are not necessarily the views held by the Cake Group. The Cake Group disclaims any liability whatsoever that may arise out of or in connection with such statements. Always do your own research before investing in any financial assets and consult a qualified financial advisor if necessary.