Whether you're a beginner or a veteran, dollar-cost averaging (DCA) is a proven investment strategy successfully used to lower your average unit cost. DCA also spreads risk over time and reduces market volatility in your portfolio.
But with so many different platforms available today, which one should you use to DCA? 
This article sets the record straight by introducing 8 of the best crypto exchanges you can DCA (also known as 'Recurring Buys').
1. Uphold: All-in-One Crypto Trading Platform
Uphold is a global multi-asset platform where you can buy, sell, and trade over 250 cryptocurrencies, fiat currencies, and precious metals.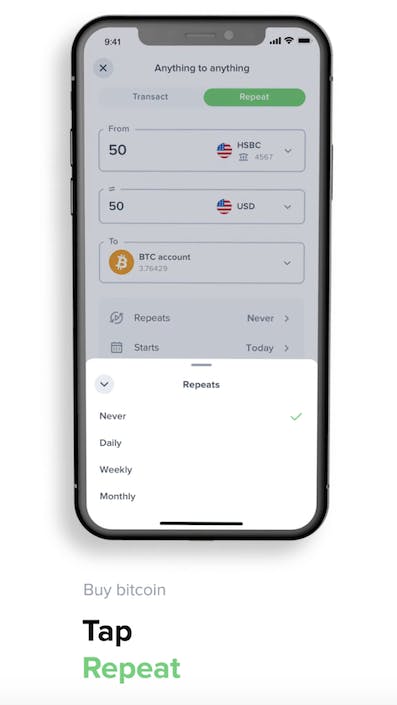 To set up a DCA plan with Uphold, choose its AutoPilot feature, which lets you configure recurring buys for any crypto available on its platform - this includes popular coins like Bitcoin (BTC), Ripple (XRP), Ethereum (ETH), Polkadot (DOT), and Solana (SOL). 
With AutoPilot, you're free to choose the amount, frequency, and payment method for your auto-buy orders, and Uphold will make your purchases at the best possible prices.
Note that Uphold charges funding fees of between 2.49%-3.99% and high spread fees of up to 1.80% for recurring buys.
2. eToro: Social Trading Meets DCA
eToro is a social trading platform where you can trade and invest in more than 70 cryptocurrencies alongside other traditional investment instruments such as stocks, ETFs, and commodities.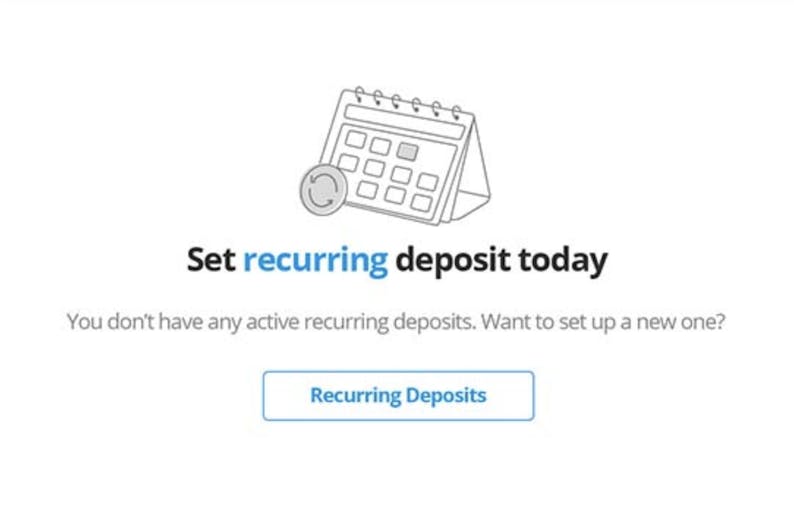 While setting up crypto recurring buys is possible with eToro, the process could be more straightforward. Essentially, eToro doesn't allow you to directly DCA crypto. Instead, you must first configure recurring deposits of fiat currency. Once you receive confirmation of a recurring deposit, you can manually buy your preferred crypto.
Although eToro's process is not very user-friendly, the upside is that fees are relatively cheap. eToro charges 0 funding fees and levies a spread fee of 1% for crypto purchases.
3. Coinbase: Simplicity and Security Combined
One of the most popular and trusted dedicated crypto platforms, Coinbase provides you with support for more than 60 cryptocurrencies, encompassing major ones that include Bitcoin (BTC), Ethereum (ETH), Cardano (ADA), and Dogecoin (DOGE).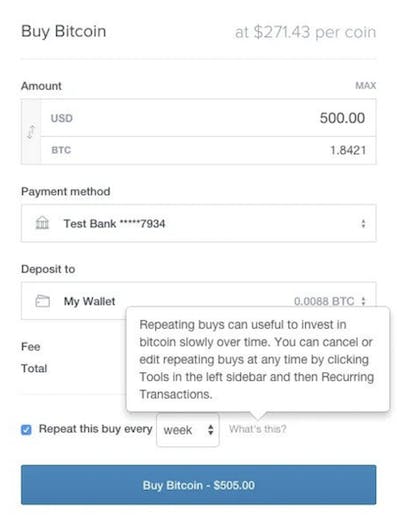 Recurring buys are easy to set up on Coinbase. Whenever you purchase your favorite crypto, check the box to "repeat this buy" and select the cadence you're comfortable with. Coinbase fees for crypto trades are a little on the higher side, adding up to 0.6% spread and a variable (or fixed fee) ranging between $0.99-$2.99.
Subscribing to Coinbase's premium Coinbase One subscription service eliminates crypto trading fees, although your recurring buys may still be subject to spread fees.
4. Binance: Diverse Crypto Universe at Your Fingertips
Similar to Coinbase, Binance is a fully dedicated crypto exchange and by far the largest by trading volume. With support for over 250 cryptocurrencies, including altcoins and emerging tokens not listed elsewhere, Binance allows you to play safe and take risks simultaneously.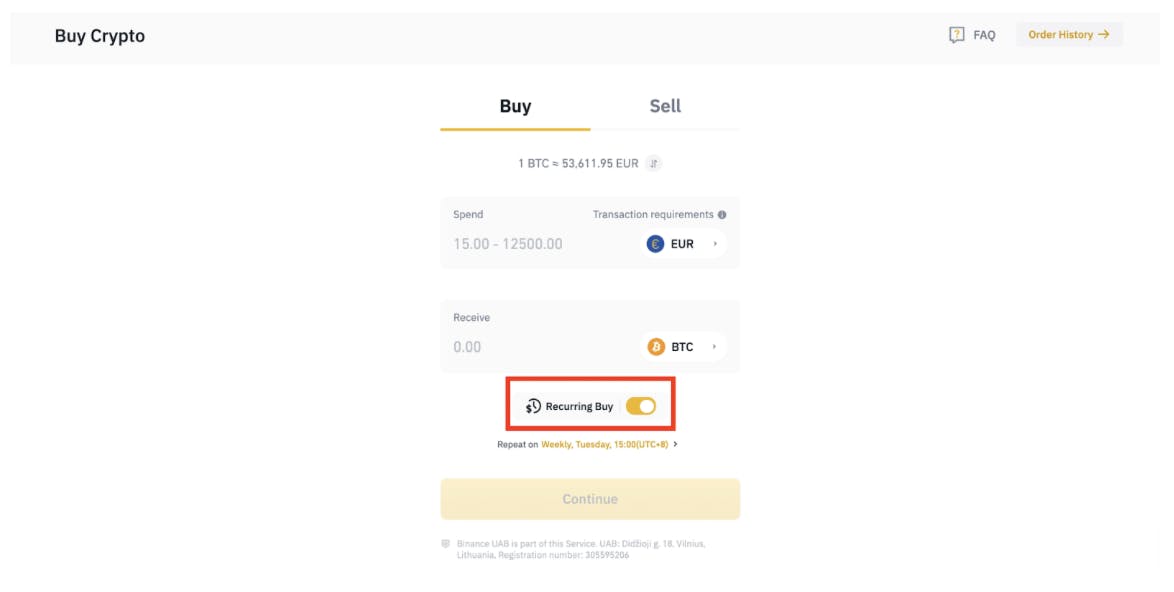 To help you along your journey to buy crypto safely, Binance lets you set up recurring buys. Like Coinbase, you can choose to repeat your crypto purchase weekly, bi-weekly, or monthly. 
Binance levies a flat 0.1% trading fee on all crypto purchases, which you can eliminate by paying with its native Binance Coin (BNB). Should you use a credit or debit card to perform these recurring buys, your transactions will be subject to fees of up to 2%.
When you've purchased your crypto on Binance, you may want to consider deploying its Binance Savings feature, which enables you to earn interest on your idle crypto assets.
Depending on where you live, Binance may not be available to you.
5. Kraken: Tailored DCA Strategies
As one of the oldest and most respected crypto platforms in the world, Kraken provides support for more than 50 cryptocurrencies, including bitcoin (BTC), ether (ETH), Litecoin (LTC), and Ripple (XRP).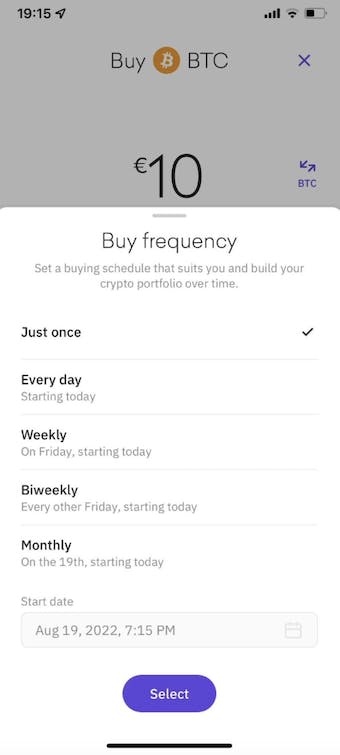 Similar to Binance and Coinbase, you can set up your recurring buys when you select a cryptocurrency to buy. You'll also be charged transaction and spread fees on your recurring buys; according to Kraken, these vary depending on the size of your transaction, your chosen crypto, and prevailing market conditions.
Consider signing up for Kraken's premium Kraken Pro service to keep your fees low. Under Kraken Pro, you'll incur maker-taker fees ranging from 0% to 0.26% on your recurring buys, depending on how much you're setting aside for DCA.
6. Gemini: Seamless DCA Setup With Google and Apple Pay
Gemini is the exchange for you if you're looking for a secure and regulated option. Gemini supports over 40 cryptocurrencies, including Bitcoin (BTC) and Ethereum (ETH), giving you many choices to set up a DCA plan.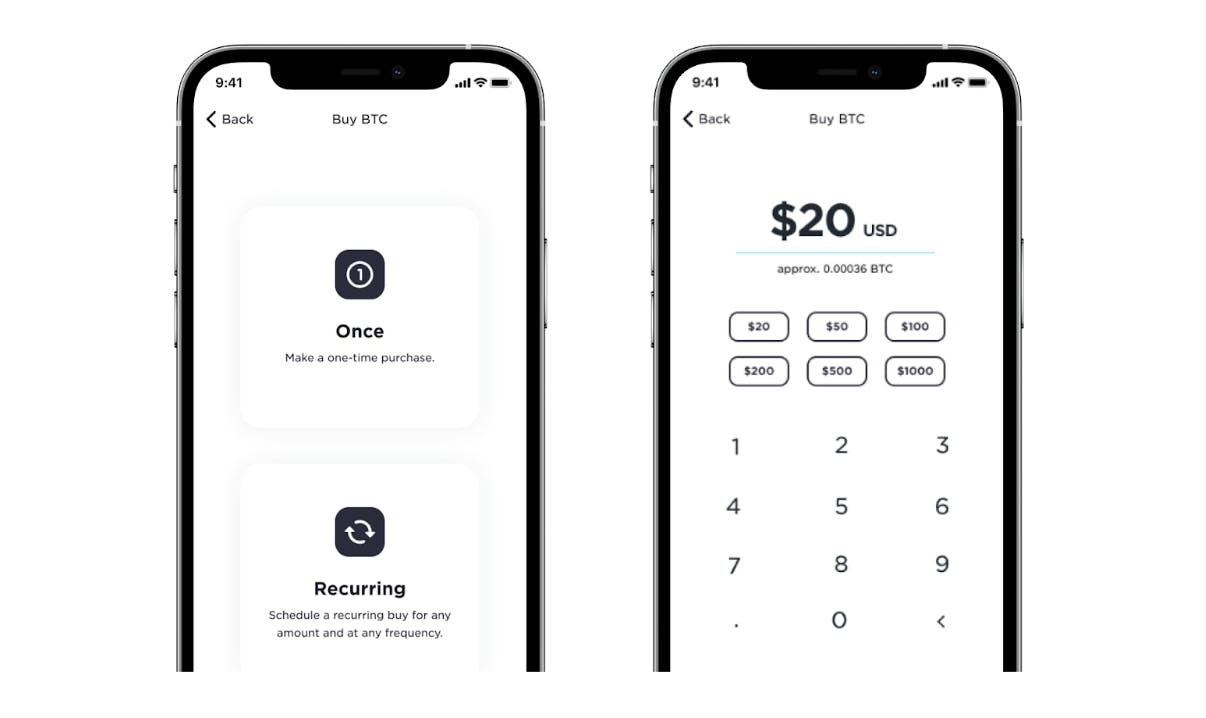 When selecting a cryptocurrency, Gemini presents a clean interface prompting you to decide between making a one-time or recurring purchase. Once you've made your choice, you can select your DCA plan's frequency. To make your life easier, Gemini lets you configure your recurring buy with Google or Apple Pay.
As before, Gemini charges fees on your transactions, which include a convenience fee of 0.5% above the market price. You can lower this fee if you use Gemini's ActiveTrader platform. However, this professional-level option may not be suitable for you if you don't intend to monitor the crypto markets for your investments.
7. Crypto.com: Affordable DCA With Comprehensive Crypto Support  
Crypto.com is similar to Binance, supporting over 100 cryptocurrencies, which includes altcoins and emerging tokens - plenty of variety for you to choose from for your DCA plan.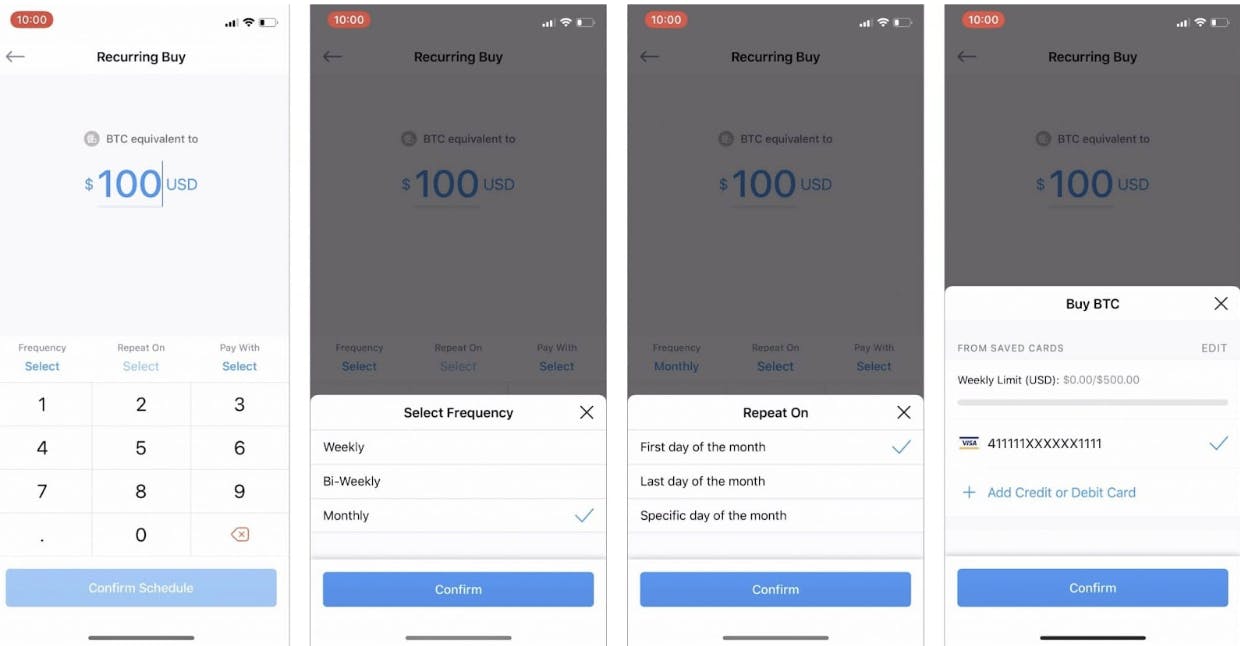 Setting up recurring buys is easy on Crypto.com. Like all the other platforms above, Crypto.com lets you set up a recurring buy plan on a weekly, bi-weekly, or monthly basis when choosing a cryptocurrency. 
While Crypto.com doesn't charge you fees for making crypto purchases, you still need to pay spread fees that vary depending on your chosen crypto. Do note that if you use your credit card for recurring buys, you'll incur an additional charge of 2.99% per transaction - choose your payment method wisely!
8. Bake: Easy DCA With Zero Fees and Bonus Rewards
Bake (previously Cake DeFi) gives you easy access to decentralized finance (DeFi) services such as staking and liquidity mining, enabling you to earn bonuses and rewards on your crypto holdings.
Recurring buys are also possible on Bake, and setting them up is straightforward. To get started, choose the "set up recurring buys" option on the homepage of Bake's mobile app.
You can DCA Bake's native DeFiChain (DFI) and favorites like bitcoin (BTC) and ether (ETH).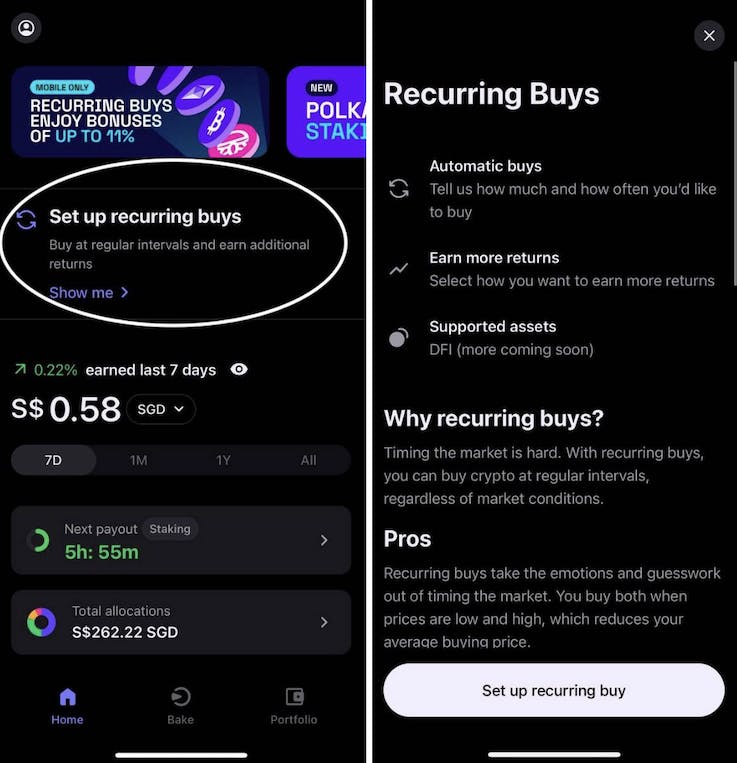 The best part about DCA with Bake is the zero transaction fees and the intuitively-easy app experience. All you need is your credit or debit card to start recurring buys on Bake. 
Bake also awards you a bonus of up to 11% every time you make a recurring buy, which is paid monthly. Here's how the bonus system works: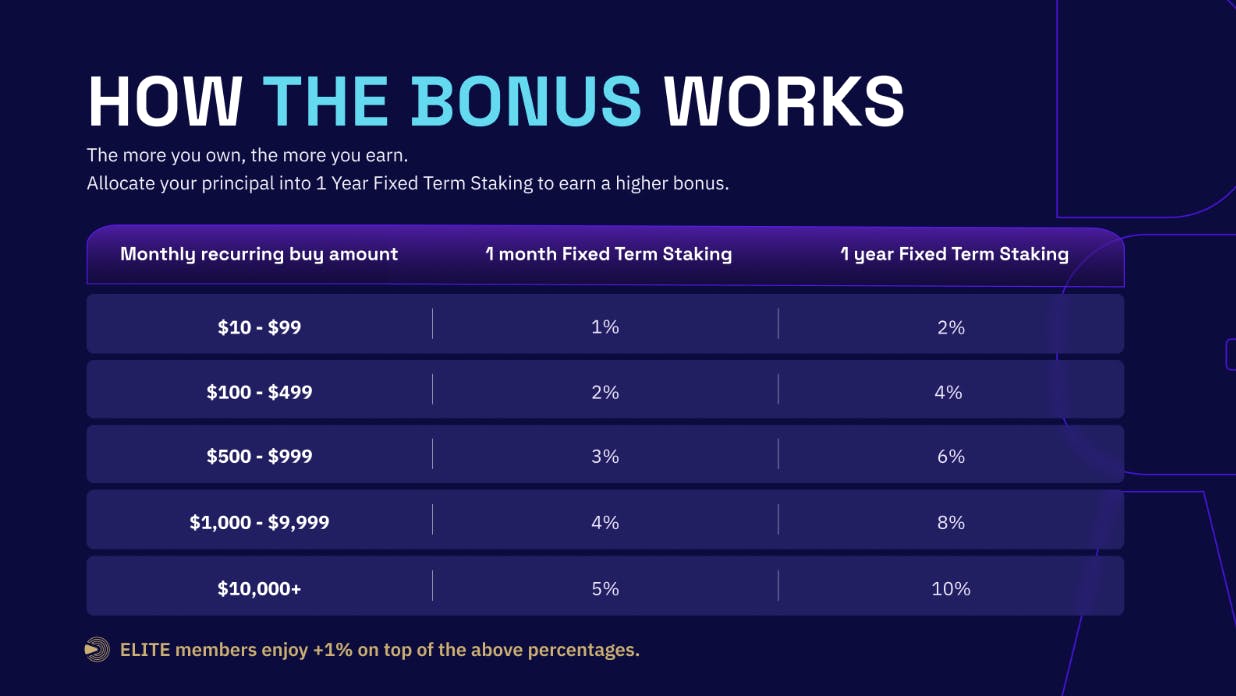 Choose Bake to DCA Crypto 
Among all your options to DCA, Bake's zero fees for recurring buys and guaranteed rewards earned the more you DCA make it the best place to dollar-cost average into the next bull run.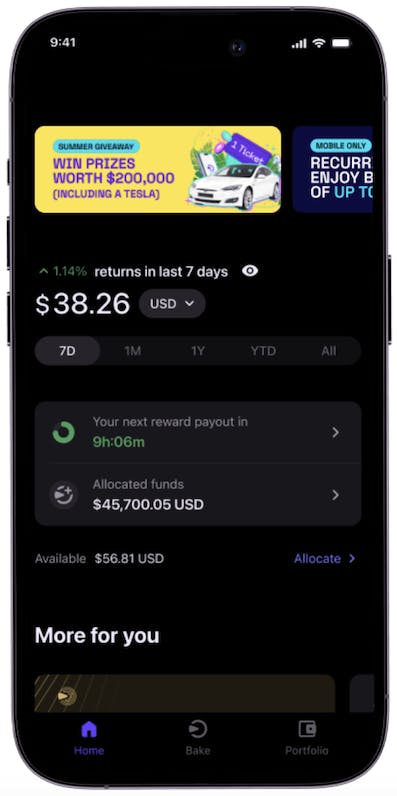 That's not all - from now until 01 November 2023, you can win a Tesla and a share of US$200,000 in prizes in Bake's "Baking Hot Summer Giveaway." 
Win tickets for every recurring buy you make and increase your chances of winning by inviting your friends to sign up for a Bake account. More than just tickets, you'll also earn referral commissions for every successful sign-up.

### 
DISCLAIMER: Please note that the information on this blog and in any articles posted on this blog is for general information only and should not be relied upon as financial advice. Cake Pte. Ltd., Cake DeFi, UAB, and its affiliates (the "Cake Group") are not licensed financial advisers. You may wish to approach your own independent financial advisor before making any decision to buy, sell or hold any product and/or digital assets mentioned in this blog.
Any views, opinions, references, assertions of fact and/or other statements are not necessarily the views held by the Cake Group. The Cake Group disclaims any liability whatsoever that may arise out of or in connection with such statements. Always do your own research before investing in any financial assets and consult a qualified financial advisor if necessary.